I recently received this book as a gift: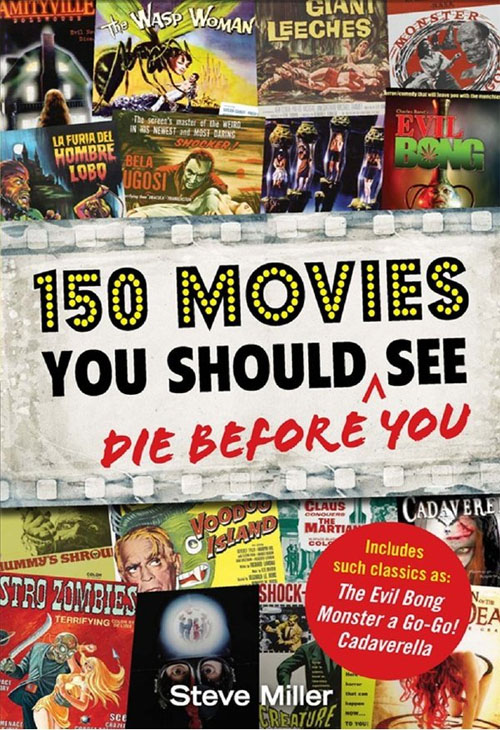 I didn't have the heart to tell the per­son who gave it to me that I've already seen 86.2% of the movies in it. (Seri­ously, I did the math.)
As a self-proclaimed afi­cionado of bad movies, I would love to be able to say I could rec­om­mend this book to you, which would look great on your cof­fee table and might even trick peo­ple into think­ing you're hip­per than you actu­ally are, but sadly I don't feel it's deserv­ing of the offi­cial ShezCrafti Stamp of Approval.
Why?
The author is extremely unfunny.
Actual prod­uct descrip­tion: "Sure, everyone's seen  The Rocky Hor­ror Pic­ture Show '  The Texas Chain Saw Mas­sacre , and  Attack of the Killer Toma­toes . But as you'll learn in this shock­ingly taste­less col­lec­tion of great awful movies, there's so much  more  to the world of truly bad film."
It includes  Sus­piria. 
It includes  Kung Fu Hus­tle .
It includes Red Dawn .
…and many other cult clas­sics that don't deserve the lame attempt at mock­ery that Steve Miller is ped­dling here.
The thing about "bad movies" is that "bad" doesn't always mean "not a good film." Yes, truly bad movies do exist, but most of the ones in this col­lec­tion are hor­ror movies that are sup­posed  to be bad, cult films that actu­ally are good, and exper­i­men­tal odd­i­ties that are notable or ground­break­ing in some way. And the major­ity of them are hor­ror films.
Since all 150 films are listed right in the book's table of contents–which is freely avail­able to pre­view at Ama­zon –I feel no guilt what­so­ever in reveal­ing them to you right here:
Bat­tle­field Earth (2000)
Bride of the Mon­ster (1955)
Crea­ture with the Atom Brain (1955)
Hideous! (1997)
Troll 2 (1990)
The Black Dahlia (2006)
The Con­queror (1956)
Heaven's Gate (1980)
Howard the Duck (1986)
Hud­son Hawk (1991)
Ishtar (1987)
Sahara (2005)
The Spirit (2008)
Black Drag­ons (1942)
Crea­ture From the Black Lagoon (1954)
The Mask of Fu Manchu (1932)
Red Dawn (1984)
Trapped by Tele­vi­sion (1936)
Zom­bies on Broad­way (1945)
Ami­tyville Doll­house (1996)
The Corpse Van­ishes (1942)
The House on Skull Moun­tain (1974)
Lady Franken­stein (1971)
Can­ni­bal Holo­caust (1980)
Ceme­tery Man (1994)
Dead Alive (1992)
Deep Red (1975)
Demons (1985)
The Machine Girl (2008)
Re-Animator (1985)
The Ruins (2008)
The Street Fighter (1974)
Sus­pe­ria (1977)
The Trav­eler (2006)
Urban Flesh: Rebirth Edi­tion (2007)
April Fool's Day (1986)
My Bloody Valen­tine (1981)
Santa Claus Con­quers the Mar­tians (1964)
Satan's Lit­tle Helper (2004)
Silent Night, Bloody Night (1974)
Bad Taste (1987)
The Bloody Brood (1959)
Can­ni­bal: The Musi­cal (1993)
Demen­tia 13 (1963)
Hang­men (1987)
Kiss Daddy Good­night (1987)
Return to Hor­ror High (1987)
Ten Fin­gers of Death (1971)
1941 (1979)
Bal­lis­tic: Ecks vs. Sever (2002)
Bat­man

&

Robin (1997)
Cat­woman (2004)
City Heat (1984)
The Love Guru (2008)
On Deadly Ground (1994)
The Reap­ing (2007)
The Black Cat (1934)
From Beyond (1986)
Mod­esty Blaise (1966)
Moon­raker (1979)
The Pun­isher (1989)
The Raven (1935)
Attack of the Giant Leeches (1959)
Attack of the Giant Leeches (2008)
Attack of the Killer Toma­toes! (1978)
Bite Me! (2004)
Boogey­man (2005)
Cry of the Ban­shee (1970)
Die Hard Drac­ula (1998)
Evil Bong (2006)
The Fury of the Wolf­man (1972)
The Giant Claw (1957)
Humanoids from the Deep (1980)
Jack Frost (1997)
Jeep­ers Creep­ers (2001)
Kung Fu Zom­bie (1982)
The Manster (1959)
Mon­sturd (2003)
The Mummy's Shroud (1967)
Return of the Liv­ing Dead: Rave to the Grave (2005)
Snow­beast (1977)
The Sound of Hor­ror (1964)
Tsui Hark's Vam­pire Hunters (2002)
Undead or Alive (2007)
The Wasp Woman (1959)
Were­wolf in a Girls' Dor­mi­tory (1961)
Zom­bies of Mora Tau (1957)
Attack of the Mon­sters (1969)
Black Magic Wars (1982)
City Hunter (1993)
Fan­tasy Mis­sion Force (1982)
For Your Height Only (1981)
Gam­mera the Invin­ci­ble (1966)
Kung Fu Hus­tle (2004)
Ninja Cham­pion (1985)
Ninja the Pro­tec­tor (1986)
Rein­car­na­tion (2005)
Sis­ter Street Fighter (1974)
The Ape Man (1943)
Buttcrack (1998)
Cadav­erella (2007)
The Creeps (1997)
Dead Dudes in the House (1991)
The Demons of Lud­low (1983)
Fist of Fear, Touch of Death (1980)
Gothic (1986)
Jesus Christ, Vam­pire Hunter (2001)
Nud­ist Colony of the Dead (1991)
Postal (2007)
Satanic Yup­pies (1996)
Skele­ton Key (2006)
Sub­ur­ban Sasquatch (2004)
The Witches' Moun­tain (1972)
Dan­ger: Dia­bo­lik (1968)
My Super Ex-Girlfriend (2006)
Sgt. Kabuki­man, N.Y.P.D. (1990)
Ultra­christ! (2003)
Alien Blood (1999)
Bad Chan­nels (1992)
Killer Klowns From Outer Space (1988)
Plan 9 From Outer Space (1959)
Xtro (1983)
Alone in the Dark (2005)
An Amer­i­can Carol (2008)
The Astro-Zombies (1968)
Back From Hell (1993)
The Cas­tle of Fu Manchu (1969)
The Dead Talk Back (1993)
The Evil Brain From Outer Space (1965)
Freddy Got Fin­gered (2001)
Future Force (1989)
Grave­yard of Hor­ror (1971)
Hob­gob­lins (1988)
The Isle of the Snake Peo­ple (1971)
The Killer Eye (1999)
Laser Mis­sion (1989)
Maniac (1934)
Mon­ster a-Go-Go (1965)
Night Crawlers (1996)
The Night Eve­lyn Came Out of the Grave (1971)
Ninja Phan­tom Heroes (1987)
Oasis of the Zom­bies (1981)
Ring of Ter­ror (1962)
Rock­a­billy Vam­pire (1996)
Scream Bloody Mur­der (1973)
Sin, You Sin­ners! (1963)
See No Evil (2006)
Skele­ton Man (2004)
The St. Fran­cisville Exper­i­ment (2000)
Track of the Moon Beast (1976)
Tran­syl­ma­nia (2009)

UFO

: Tar­get Earth (1974)
The Under­taker and His Pals (1966)
Copy & paste for the win.
ShezCrafti's Rating:
3 out of 10 stars.