With the 85th Annual Acad­emy Awards hav­ing come and gone, this week's League topic was an  Oscar-worthy  one. But the thing is, I don't really care about the Acad­emy Awards like I once used to. I can't stand the pre­ten­tious­ness, the media hype, the scripted jokes. Not even Seth Mac­Far­lane host­ing this year was enough to get me excited about them, so I was more than happy to spend the evening catch­ing up on video games and casu­ally mon­i­tor­ing my Twit­ter feed as friends reacted to the win­ners and  Ann Hathaway's nip­ples .
Any­way, for this post I thought it would be fun to look back on The Oscars of a time when they mat­tered more to me: the 1980s. More specif­i­cally, I was curi­ous about past Oscar win­ners for Best Orig­i­nal Song. (Another post about 80's music? Gee that never hap­pens around here.) What were the big 80s movies that spawned the most mem­o­rable songs of the decade? And look­ing back on them, do I agree with the win­ners? It was a fun exer­cise and trip down movie mem­ory lane. I mostly came to the real­iza­tion that the 1980s Acad­emy had a hard-on for what we con­sider today as "soft rock" or "easy listening"–you know, the kind of music you'd hear at your dentist's office.
I rounded up all the win­ners for each year and posted them below for, um, easy lis­ten­ing . I also shared a cou­ple of my ran­dom thoughts on each song, and whether or not I think it should have won for Best Orig­i­nal Song.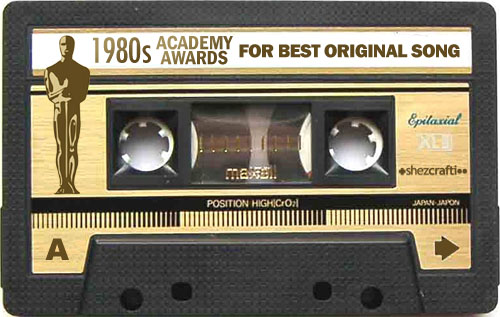 1980 — "Fame"
Film:   Fame (1980)
Per­formed by: Irene Cara
As much as I love 80's movies about danc­ing AND musi­cals, I'm actu­ally not a big fan of Fame– hard to believe, I know. But I do love the title song by Irene Cara, which clings to that dying era of disco for all its worth. In 1980, Fame  won Oscars for Best Score  and Best Song (in fact, two Fame songs were up for the award: "Fame" and "Out Here On My Own", both by Irene Cara), but lost for Best Orig­i­nal Screen­play, Best Adapted Screen­play, and Best Sound. That sounds about right. This is one of those movies I think is more mem­o­rable for the music. (For what it's worth, my 80's musi­cal movie about musi­cals of choice is A Cho­rus Line .)
1981 — "Arthur's Theme"
Film:   Arthur (1981)
Per­formed by: Christo­pher Cross
My mom had a huge obses­sion with Dud­ley Moore back in the 80s, which means I've seen almost every Dud­ley Moore movie there is to see, includ­ing Arthur , mul­ti­ple times. I'm not sure I would have picked Christo­pher Cross' "Arthur's Theme" over, say, "End­less Love" by Lionel Richie, but Christo­pher "I'm so sen­si­tive because I'm kind of ugly" Cross seems to have had a lock on on those smooth, early 80s love bal­lads that made women like my mom drop their panties at the first slow, drawn-out string note.
1982 — "Up Where We Belong"
Film:   An Offi­cer and a Gen­tle­man (1982)
Per­formed by: Joe Cocker & Jen­nifer Warnes
How to win an Oscar for Best Orig­i­nal Song in the 80's: per­form your song in a duet with Jen­nifer Warnes. This song won an Oscar, along with her other famous duet, "(I've Had) The Time of My Life" from Dirty Danc­ing,  which we'll get to in a minute.   This is another song that makes me think of my mom, who was really into those cheesy 80s love songs. In fact, at one point she owned a whole set of pastel-colored cas­sette tapes she bought from Time-Life Music called "Secret Love" that was full of songs just like this. She's also the rea­son I've seen this movie more times than I care to admit. It's not so bad, I guess; I like Deb­o­rah Winger. But if I were in charge of the Oscars that year, you  know  I would have cho­sen "Eye of the Tiger" by Sur­vivor, which lost out to this gag-fest of a ballad.
1983 — "Flashdance…What a Feeling"
Film:   Flash­dance (1983)
Per­formed by: Irene Cara
YESSSSSSSSSSSS. This song, you guys. Not only do I love Flash­dance , I LOVE THIS GODDAMN SONG. Like, you have no idea. It's #1 on my list of cheesy moti­va­tional songs of the 1980s  and every now and then, if you get enough drinks in me, I'll belt it out at karaoke. I def­i­nitely agree it should have won that year, con­sid­er­ing it was up against yet another song from Flash­dance ("Maniac" by Michael Sem­bello), some crap I've never heard of , and fuck­ing Yentl . A+, Academy.
1984 — "I Just Called to Say I Love You"
Film:  The Woman in Red (1984)
Per­formed by: Ste­vie Wonder
Wow, this was a tough year for Best Orig­i­nal Song. Look at the other con­tenders here:
"Against All Odds"  - Phil Collins ( Against All Odds )
"Foot­loose" — Kenny Log­gins ( Foot­loose )
"Let's Hear it for the Boy" — Deniece Williams ( Foot­loose )
"Ghost­busters" — Ray Parker, Jr. ( Ghost­busters )
I know you fan­boys would have wanted me to declare Ghost­busters my fan­tasy win­ner, but I would have gone Phil Collins on this one. I'm sorry, but that song–along with most Phill Collins songs–is just fuck­ing fan­tas­tic . To steal a joke from my buddy Scott : My friends thought I'd never get over my Phil Collins obses­sion, but take a look at me now.
1985 — "Say You, Say Me"
Film:   White Nights (1985)
Per­formed by: Lionel Richie
I love ya, Lionel, but NO to this song. Not when I know "The Power of Love" from  Back to the Future could have won. I don't care how lus­cious your mus­tache is–I'd rather ride Huey Lewis's train even if I have to pay with a credit card.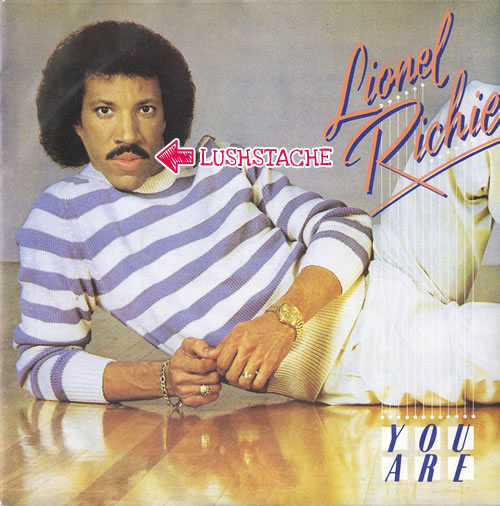 1986 — "Take My Breath Away"
Film:   Top Gun (1986)
Per­formed by: Berlin
Who doesn't love Top Gun? I'll try to under­stand if you don't, but just know you're not any­body I could ever be BFFs with. I'm not a huge fan of this song, which I always found kind of depress­ing, but I can  under­stand the Acad­emy want­ing to give an award to Top Gun for  some­thing .   How­ever, this was another one of those years where some really tough deci­sions had to be made. "Take My Breath Away" was up against "Some­where Out There" from  An Amer­i­can Tail and Peter Cetera's "Glory of Love" from The Karate Kid Part II. I would have fought for Glory of Love's honor, all the way. It's one of my favorite songs of all time. In fact, I'm lis­ten­ing to it on Spo­tify and singing it like a damn fool as loud as I pos­si­bly can RIGHT NOW. My cat is more than a lit­tle freaked out.
1987 — "(I've Had) The Time of My Life"
Film:   Dirty Danc­ing (1987)
Per­formed by: Bill Med­ley & Jen­nifer Warnes
NOBODY PUTS BILL MEDLEY & JENNIFER WARNES IN A CORNER! Again, another duet with Jen­nifer Warnes, another Oscar. You know, I don't even know what the hell Jen­nifer Warnes does out­side of singing shitty duets that win Oscars. I sup­pose I could look her up and what she's all about, but I just can't muster the enthu­si­asm. While I do love me some Dirty Danc­ing and "The Swaze," I actu­ally loathe this par­tic­u­lar song on a deep, deep level. How­ever, I used to love this song when the movie first came out, but so did the rest of Amer­ica, which means it was EVERYWHERE. Back in 1988, my ele­men­tary school even put on a tal­ent show where no less than ten acts all used songs from Dirty Danc­ing, and guess which one was the most pop­u­lar? It haunted my life, it haunted my dreams, and nowa­days it haunts my tele­vi­sion every time I see one of those fuck­ing San­dals commercials.
Do I think it should have won for Best Song that year? Eh, sure, why not. I try to remem­ber that I too once loved this song, but if I could go back in time, I'd def­i­nitely pick Starship's "Nothing's Gonna Stop Us Now" from the movie Man­nequin instead. That's right up there with Peter Cetera's "Glory of Love" in my book.
1988 — "Let the River Run"
Film:   Work­ing Girl (1988)
Per­formed by: Carly Simon
Here's some­thing you prob­a­bly don't know about me because I don't think I've ever men­tioned it on this blog, but  Work­ing Girl is one of my favorite movies of the 80s. I love Melanie Grif­fith, who I just find adorable (pre-plastic surgery, obvi­ously), and of course Har­ri­son Ford and the always great Sigour­ney Weaver. And Joan Cusack! And Alec Bald­win! And a coked-up Kevin Spacey! And the fact that this movie takes place in New York City in the 80s. I love films that take place in 80s-era NYC. It's just a great movie all around, and I love the big "fuck you" moment Tess gets to have at the end.
Any­way, it was slim pick­ins for Oscar music this year, with only two other con­tenders, both from movies I've never seen. I have no prob­lems with Carly Simon's inspi­ra­tional "Let the River Run" win­ning for Best Orig­i­nal Song. When you hear it in the movie accom­pa­ny­ing those breath­tak­ing shots of the Twin Tow­ers, it's almost enough to make me cry.
1989 — "Under the Sea"
Film:   The Lit­tle Mer­maid (1989)
Per­formed by: Samuel E. Wright
Ah, the start of Disney's come­back era! This year there were two songs from The Lit­tle Mer­maid up for Best Song–this one, along with "Kiss the Girl." Per­son­ally I would have picked "Kiss the Girl," but both songs are pretty good. I'm cer­tainly glad Randy New­man didn't win.
Any­way, I hope you enjoyed this look back at Oscar-worthy music from the 80s as much as I enjoyed pre­tend­ing to have bet­ter taste than The Academy!
Because you know you still love Top Gun and that damn song…
Won­der­ing what this is all about?  This week's assign­ment from The League of Extra­or­di­nary Blog­gers was sim­ply, "The Oscars." Here's how my fel­low Lea­guers inter­preted the topic: