Spotify is the wildly popular music streaming service that took Europe by storm with its "any track, any time, anywhere" concept, and just recently launched here in the States.  I was beyond thrilled when I heard Spotify was coming to the U.S. and even more so when the invite code showed up in my inbox (currently the service is invite-only).  Spotify's library currently consists of 15 million tracks, and is growing by approximately 10,000 tracks per day.
As a heavy consumer of digital music who said "goodbye" to physical media a long time ago, I'm always on the lookout for the best solution to manage and access my ever-growing music collection.  Until I discovered Spotify, iTunes was such a solution for me (and I'm not even a Mac user).  Now, I realize comparing Spotify to iTunes is rather like comparing apples to oranges because iTunes is not a streaming music service, nor does iTunes only deliver music.  The two services can certainly co-exist peacefully as there is a strong demand for what both platforms do.  However, for my needs and the way I consume music, I've decided that the better solution is Spotify.
Here are five reasons why:
1. It's Super Affordable
Spotify Premium only costs $9.99/month and is essentially an all-access pass to all the music and features Spotify offers, with zero advertisements and streamed in premium quality.  If that still sounds too expensive, Spotify also has an Unlimited account for $4.99/month which gets you unlimited streaming music with no ads.  A basic Spotify account is 100% free, but you'll be served both audio and banner ads while using the service, plus the song library is limited and you won't have access to all the features that make Spotify so great, like mobile streaming.
Spotify Premium is the only level of the service that really compares to iTunes, so that's what I'm focusing on for the purpose of this blog post.  It boils down to this:  For $9.99/month you could have unlimited instant access to all of the music in Spotify's library (as well as your own) from anywhere, or, for the same amount, you could download 10 songs from iTunes to keep for good.
2. A Netflix-Like Experience for Music
Spotify's interface is clean, simple and fast—the benefit of a native application versus a web-based one.  The music tracks are presented alongside album art, track information, artist biographies, a popularity meter (based on number of plays), and related artists.  Loading up a new song is as simple as double-clicking on any track you see, and in my experience, it all happens lightning fast.  It's easy to search for music by artist, song, or album name and sort the results by the same parameters (as well as others).  The Related Artists feature is a great discovery tool that serves up music similar to the artist you're currently viewing/listening to.  The overall Spotify experience is streamlined and incredibly easy to use, making it a breeze to hop around from artist to artist, track to track and play anything you want on a whim.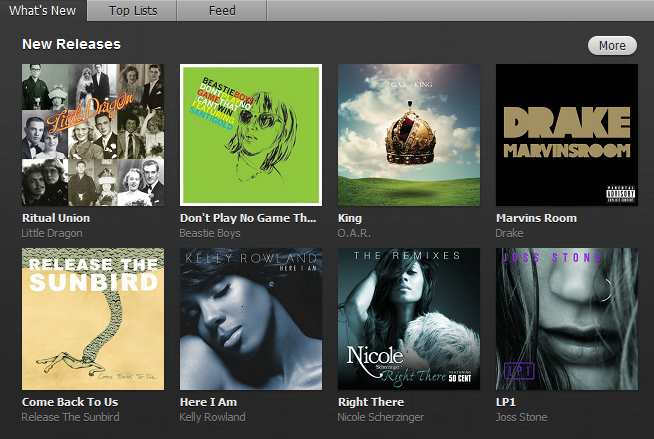 3. Listen From Anywhere
Listening on multiple computers and devices is easy, as Spotify's lightweight client is available for Windows and Mac, with a Linux version in the works (currently available as a preview).  Spotify Premium users gain access to the Spotify mobile app that's available for iPhone, Android, Windows phones, Palms, and Symbians.  There is no complicated syncing, importing, or other nonsense to deal with because all of the music lives within Spotify. It's simply there, ready to be played from any device.
4. Effortlessly Manage Your Personal Music Library
If, like me, you have hundreds of gigs of music files living on your PC or an external harddrive, Spotify can manage and play them as part of your music library as well—all without any effort on your part.  Even without doing anything, Spotify automatically finds music files on your PC and makes them available in your library.  If you have an external harrdrive or some other USB device, you can point Spotify to those sources to import your music files, which are integrated seamlessly into Spotify and made available for streaming (even while offline), searching, incorporating into your playlists, and social sharing.  You can even import your iTunes library.  Spotify is even nice enough to automatically fill in any missing music file info with Gracenote.  (By the way, Spotify imported my entire 150GB+ music collection in about 2 minutes flat, compared to the literally HOURS of wait time I've experienced with iTunes.)  In short, Spotify makes your entire music library—not just the Spotify library—easily accessible from anywhere.
5. Built-In Social Sharing
Unlike iTunes, Spotify doesn't try to re-invent the wheel when it comes to socially sharing your music.  With built-in sharing features, you'll never have to leave Spotify to tell your friends what you're listening to.  Sharing your music is as easy as connecting your Facebook and Twitter accounts.  From then on, you can right-click on any track (or an entire playlist) within Spotify and choose "Share To…" for a simple pop-up menu of options.  Are any of your friends using Spotify? Add them to your People list and you'll be able to see their published playlists, Top Artists, and Top Tracks (based on number of plays).  You can even subscribe to other people's playlists so you'll always have access to their latest additions and favorites.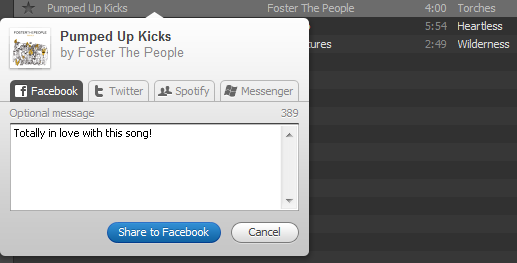 Conclusion
If you're married to the concept of owning your music outright by individually paying for every track you want to listen to a la iTunes, Spotify probably won't be your cup of tea.  Spotify Premium delivers more of a Netflix-like experience where you're essentially paying a small monthly fee for unlimited access to millions of songs, with the added benefit of being able to manage your entire personal music library and listen to it from anywhere.  As a service, Spotify doesn't try to be all things to all people, but this is one of its strengths; for example, there are far better services out there for discovering new music or notifying you of new releases.  By focusing mainly on one thing and doing it really well—that is, giving you fast, simple, and affordable access to as much music as possible—Spotify, quite frankly, kicks the asses of most other online music services.