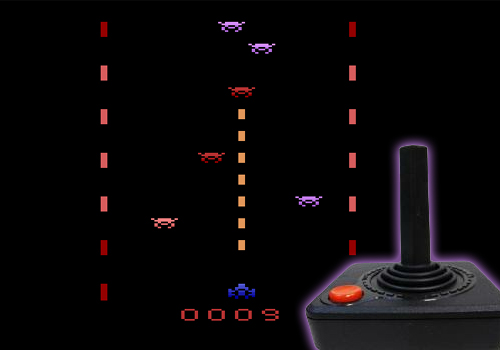 As my gen­er­a­tion of gamers, and those who came before us, pass into our thir­ties, for­ties and beyond as the so-called "next gen" con­tin­ues to dis­ap­point, we yearn for the sim­pler, less extreme gam­ing expe­ri­ences like the ones we grew up with. Games don't need "cutting-edge" graph­ics and eleventy thou­sand hours of game­play and "replay value" to be fun. These days there's rarely a new release from a major pub­lisher that truly excites me. Like Hol­ly­wood, the major play­ers in the gam­ing indus­try seem to be suf­fer­ing from remakea­holism and sequelitis.
Thank­fully, there's a ton of cool things hap­pen­ing in the retro gam­ing scene lately: Nintendo's 8bit Sum­mer pro­mo­tion that starts next month, KickStarter's recent revival of clas­sic point-and-click adven­tures and other retro games, and the recent trend of brand new games with old school aes­thet­ics like Wiz­orb '  Oniken and  Retro City Ram­page .
And then, per­haps most inter­est­ingly, there's the retro gam­ing revival hap­pen­ing in the home­brew scene of your favorite old plat­forms like Atari 2600, NES and Com­modore 64, among oth­ers. Indie devel­op­ers mak­ing new games for old con­soles gives you a rea­son to hang on to those old pieces of plas­tic (or in some cases wood and metal).
Here's a sam­pling of some of the more rad-looking new or upcom­ing "faux-stalgic" games I've seen that I'd really like to get my thumbs on:
Fairy Well
Plat­form: Com­modore 64
Devel­oper: Wide Pixel Games
Fairy Well is a unique and ambi­tious flick-screen collect-em-up arcade adven­ture of epic pro­por­tions squeezed into a tiny 16KB of ROM space. It was the win­ning entry of RGCD's 2011 C64 car­tridge game devel­op­ment con­test. Guide your fairy through the labyrinthine under­world on your quest to res­cue the cap­tured princess and restore peace to the forest!
Night­mare Busters
Plat­form: Super Nin­tendo
Devel­oper:  Super Fighter Team 

An upcom­ing run and gun game for the Super Nin­tendo, Super Fam­i­com and all com­pat­i­ble video game sys­tems, Night­mare Busters will be the first new game to be released for these machines in the United States since 1998! Devel­oped by Super Fighter Team, who has also devel­oped "old" new games for the Sega Gen­e­sis and Atari Lynx.
Knight 'n' Grail
Plat­form:  Com­modore 64
Devel­oper:  Wide Pixel Games
Knight 'n' Grail is an epic arcade adven­ture that fea­tures a brave Knight on a quest to find the only thing that will release his beloved from a curse that has turned her into a dragon — the mag­i­cal Grail. Many dan­gers await as you explore over 200 screens on your quest to find the Grail. Along the way you'll find var­i­ous weaponry and armour upgrades and you will even dis­cover new pow­ers that allow you to reach pre­vi­ously inac­ces­si­ble areas.
Super Bat Puncher
Plat­form:  NES
Devel­oper:  Mor­phcat Games
Super Bat Puncher is an orig­i­nal home­brew game for the Nin­tendo Enter­tain­ment Sys­tem. Explore the deep, dark cav­erns of a mys­te­ri­ous planet and find out about the plague that threat­ens Earth. The game fea­tures spe­cial moves, a 2-player mode, a great sound­track and "explicit bat punching."
Lead
Plat­form: Atari 2600
Devel­oper: Simone Serra
Lead  is a fast paced Atari 2600 shooter that will keep you on your toes! There are four types of stages: "Fire", in which you must shoot ene­mies down. "Dodge" where you must dodge aster­oids plum­met­ing towards you. "Scram­ble" where you must avoid sen­tinels. And "Catch" stages where you must catch satel­lites. There are Smart Bombs and Power-ups you can cap­ture to help you in your goal to stay alive!