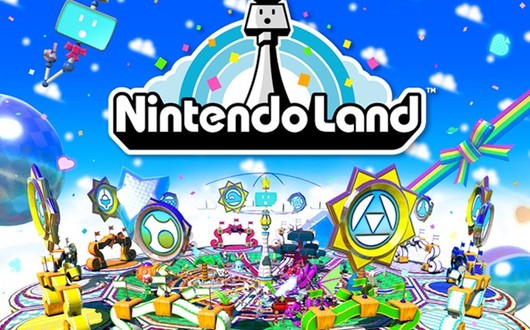 Yes­ter­day Nin­tendo turned out another epic yawn of an E3 pre­sen­ta­tion this year, to nobody's sur­prise. We didn't get a Wii U announce­ment for Zelda, Metroid, or any of the cool Nin­tendo stuff we Nin­tendo fans actu­ally care about (besides the oblig­a­tory Mario game), but we did get a demo of some­thing called Nin­ten­doLand .
Just what the hell is it? Wired explains:
There's no theme park called  Nin­ten­doLand , but one of the key launch titles for Wii U imag­ines what life would be like if there were. Nin­ten­doLand, set to be one of the key launch titles for Nintendo's new game machine that it will launch later this year, is a col­lec­tion of 12 minigames that each fea­ture a unique spin on the console's most dis­tinc­tive new fea­ture: The "GamePad" con­troller, which has a large tablet-style screen in its cen­ter that can be used to inter­act with the TV. Each of the games is a twist on a clas­sic Nin­tendo fran­chise; some well-known and some obscure.
Great. So basi­cally with we're get­ting a cross between Mario Party and Wii Car­ni­val set in a theme park and fea­tur­ing char­ac­ters from Nintendo's B-list. For exam­ple, there's a go-kart like attrac­tion called Don­key Kong's Crash Course , and Luigi's Ghost Man­sion , a haunted house multi-player game (okay, I'll admit this one actu­ally sounds kind of cool ).
Being a dis­grun­tled Nin­tendo fan, as well as a theme park ride enthu­si­ast, I have a few of my own ideas about the types of mini-game attrac­tions Nin­ten­doLand should include. And here are some badly-Photoshopped images to illus­trate them!
Samus Aran's Super Space Gravitron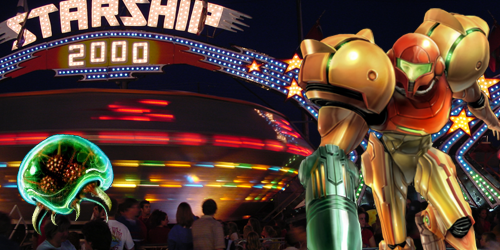 Many Miis enter  Samus Aran's Super Space Grav­it­ron,  only one Mii ever comes out. It's a bat­tle against metroids and cen­trifu­gal force as you try to cling to the Gravitron's walls to avoid cer­tain death. If the metroids don't kill you, the bot­tom­less drop into deep space will.
Lit­tle Nemo: The Dream Master's Dark Ride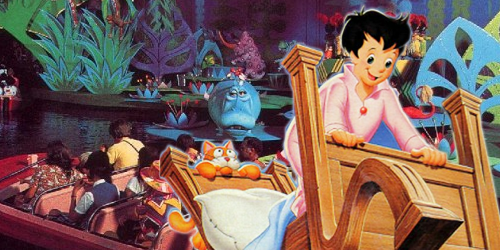 I love dark rides like Disney's Pirates of the Car­ribean, and Lit­tle Nemo: The Dream Mas­ter is a Nin­tendo game that would fit the bill per­fectly for such an attrac­tion. I mean, it's about a kid hav­ing sur­real fever dreams as he journey's off to Slum­ber­land where he encoun­ters all man­ner of strange, talk­ing crea­tures. In the Wii U minigame, you'd guide Nemo's fly­ing bed through a 2D side-scrolling dark ride with scenery rep­re­sen­ta­tive of lev­els from Lit­tle Nemo  to col­lect as many keys as you can while this music plays.  Oh wait, I think I just described the orig­i­nal game.
Ice Climbers' Drop Tower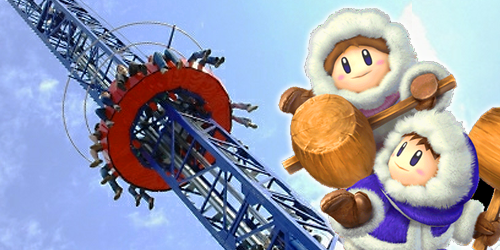 In Ice Climbers Drop Tower , it's a race against time and your oppo­nents to climb and club ene­mies out of your way to the top of an icy tower where you'll strive to be the first one to hit the release switch on a drop tower car­riage full of angry, sweaty rid­ers who are pissed off they just waited in line over two hours for an expe­ri­ence that lasts two seconds.
Blaster Master's Bumper Cars
It's just like reg­u­lar bumper cars, except there's a giant gun mounted on your tank-like vehi­cle which you'll use to blast the ever­liv­ing shit out of any­one who gets in your way. And there's also an unlock­able level where you get to play as Fred.
Mappy-Land Log Flume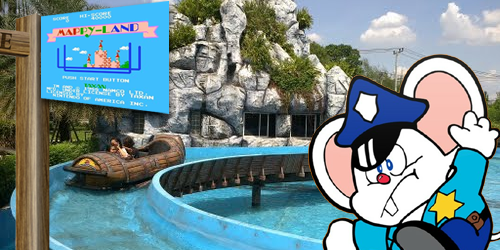 A fast-paced, log flume chase that's also part obsta­cle course inspired by Mappy-Land's jun­gle level.  Ride the logs down the flume as you jump to col­lect giant pieces of cheese and set off traps to throw the Mewkies' log off-course.
Cas­tle Shad­ow­gate Funhouse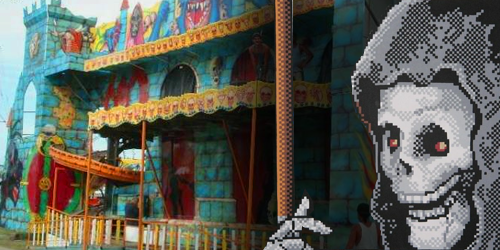 A first-person, adventure-style mini-game where you use the Wii U's touch screen with com­mands like "Look," "Open," and "Use"  to explore a haunted fun­house rem­i­nis­cent of Cas­tle Shad­ow­gate. It's not ter­ri­bly excit­ing, so there are lots of point­less and unfor­giv­ing "Sur­prise!" deaths just to fuck with you.
Mega Man's Blast Coaster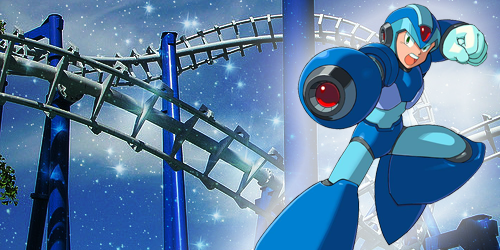 Mega Man and roller coast­ers are two of the most awe­some things I could think of to com­bine. This mini-game is exactly like play­ing Mega Man, except you're on a roller coaster. Pretty self-explanatory.
Birdo's Spin­ning Teacups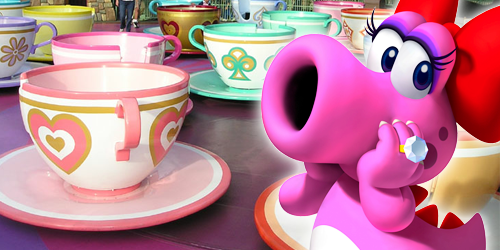 Why? Because every theme park needs a spin­ning teacup ride. It's like a rule of theme parks or some­thing. The twist here is that Birdo ran­domly shoots explo­sive eggs at your Mii's head, so you'll need to do a lot of dodg­ing and praying.
I know there's a big­ger chance of see­ing an  Antic­i­pa­tion remake  for Wii U than there is of Nin­tendo ever includ­ing any of these games in Nin­ten­doLand, but hey, it's fun to pretend.