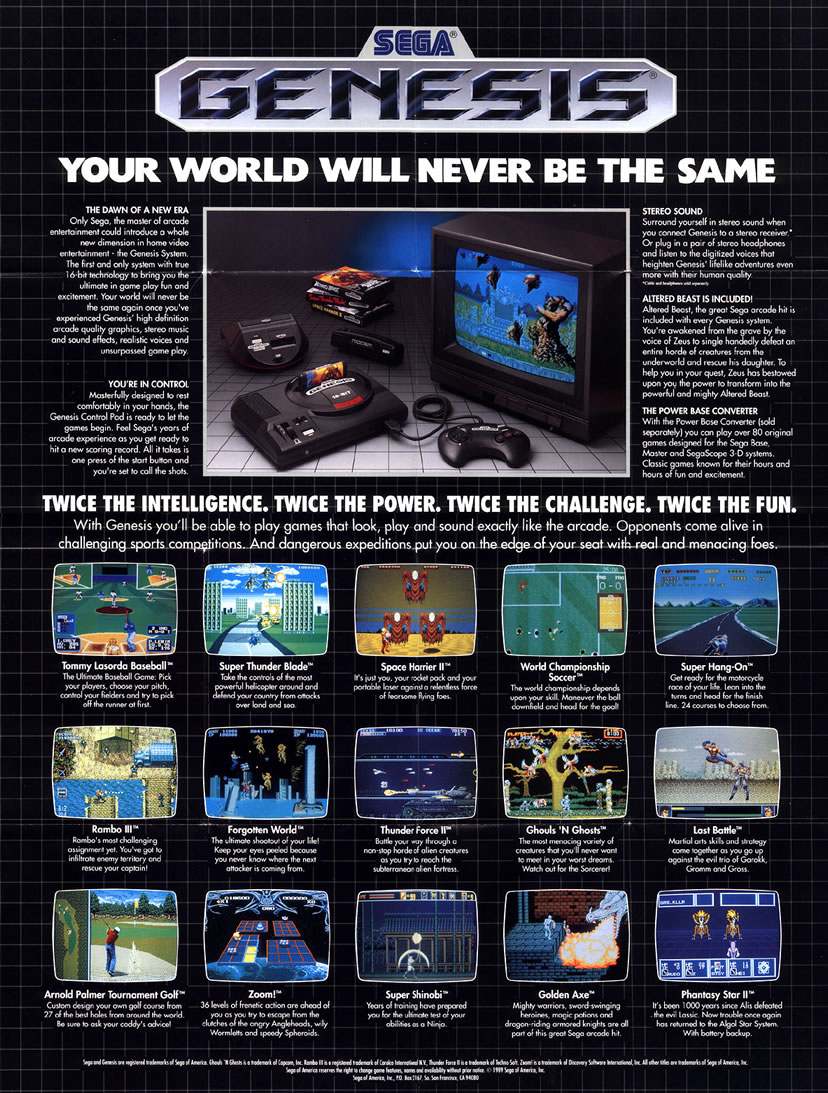 Remem­ber the sheer awe­some­ness of Sonic the Hedge­hog?  Remem­ber how great the 6-button con­troller was?  Remem­ber Sega Visions mag­a­zine?
I got my first glimpse into that 16-bit world one sum­mer when my older cousin came to visit and brought along his shiny new Sega Gen­e­sis .  All I knew at the time was that it wasn't a Nin­tendo, the only con­sole I'd ever really known.  The Sega Gen­e­sis was black and mys­te­ri­ous, almost as if it were inten­tion­ally designed to be in stark con­trast with the pedes­trian light gray of Nin­tendo.  I had no con­cept of graph­ics, hard­ware, or these things called "bits." I just knew video games were fun to play.  But when my cousin showed me those early Gen­e­sis games for the first time–games like Golden Axe and Alex Kidd–my world changed.  These games looked like noth­ing I had ever seen before.  I vividly remem­ber the first time my cousin and I played Altered Beast.  The char­ac­ters looked real. The sound effects used real voices (POWER UP!).  It blew my lit­tle 7-year-old mind.  Sud­denly my Nin­tendo games seemed bor­ing and amateur.
And you must admit, the graph­ics were amaz­ing for 1990.  It was at a time when most kids had never heard of Sega Gen­e­sis, and if they did, their par­ents prob­a­bly couldn't afford to buy them one.  And if they could, good luck con­vinc­ing them it was some­how dif­fer­ent or bet­ter than "that Nin­tendo you already have."  Lots of beg­ging and tons of chores later, I was one of the proud but few kids in my neigh­bor­hood with a Sega Gen­e­sis.  When I went to the local video rental store (this was before Block­buster), I was one of the hand­ful of cus­tomers who had any rea­son to go near the small but brand spank­ing new selec­tion of Gen­e­sis games.
Two years later, Super Nin­tendo arrived.  And inven­tiably, us kids were divided on whose video game sys­tem was supe­rior. (Funny how some things never change.)  The lucky kids had both.  The rest of us were forced to choose one or the other.  The Super Nin­tendo kids were the soft­ies, the kids with the "toy" con­sole.  Us Sega kids were the hard­core gamers, the ones with the con­sole that actu­ally showed blood in Mor­tal Kom­bat.  Choos­ing your alliance was crit­i­cal to your social sta­tus and geek cred, and I defended my console's honor with a noble fist.  A side-by-side screen­shot com­par­i­son of every sin­gle game looked more real­is­tic on the Gen­e­sis, and that was all the jus­ti­fi­ca­tion I needed.  And though years later I even­tu­ally did get a Super Nin­tendo (and yes it was a great con­sole) for the major­ity of the 1990s I was first and fore­most a Sega girl.
Remem­ber this?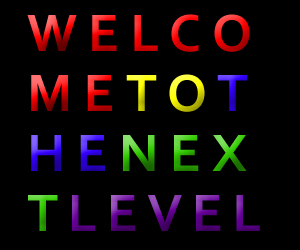 Nat­u­rally when the Sega CD came out, I knew I had to have that too.  And like the Gen­e­sis, the Sega CD blew me away with its graph­ics and sound.  Video games on a com­pact disc?  Sega has always been ahead of its time.  (Their exper­i­men­ta­tion and for­ward think­ing is per­haps the rea­son for where they're at right now, but that's another blog post for another time.)  Before Playsta­tion, even before the Pana­sonic 3DO, us Sega CD own­ers were play­ing mas­sive games with full-motion video and CD-quality sound.  The Sega CD is also the con­sole (or should I say pseudo con­sole) that really ignited my love for adven­ture games.  Willy Beamish, Snatcher, Rise of the Dragon; no other con­sole was putting out games like these.  I remem­ber lust­ing after the CDX, one of the first multi-purpose con­soles on the market.
Although it even­tu­ally became unpop­u­lar, I kept right on play­ing my Genesis/CD, even when the games began to dis­ap­pear from that local video rental store.  There were so many great games, the con­sole kept me play­ing for a long time after its even­tual demise.  Over the years other con­soles came and went in my life, and some­where in between I got Sat­urn and Dream­cast too.  But my fond­est Sega mem­o­ries cen­ter around the Genesis/CD years, which to this day remains my favorite con­sole of all time.
I guess what I'm really try­ing to say is, I heart you, Sega. Thanks for mak­ing my child­hood a lit­tle more awesome.