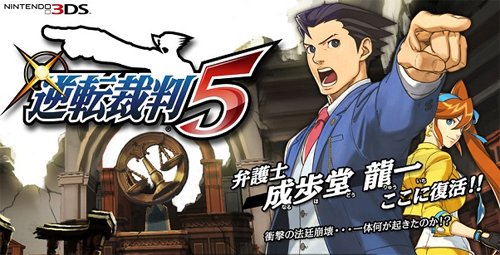 As I explained in an ear­lier post, I've been hold­ing off on buy­ing a 3DS because it's hard for me to jus­tify spend­ing money on yet another gam­ing device when my old DS Lite still gets so much use . On top of that, there haven't been too many 3DS games that I've been absolutely dying to play, apart from Kid Icarus: Upris­ing , Spirit Cam­era: The Cursed Mem­oir , and of course the Mario titles. Last year's price drop wasn't even enough to win me over.
But yes­ter­day the news broke that Ace Attor­ney 5 , Capcom's much-anticipated sequel to the Phoenix Wright series of games, was con­firmed for a U.S. release . Well now, that just changes everything!
I've said it many times before on this blog, if there is one thing that will com­pel me to spend money on a new gam­ing sys­tem, it is platform-exclusive titles, espe­cially if they hap­pen to be part of one of my favorite series (rare excep­tion: Uncharted: Golden Abyss for Playsta­tion Vita, which at this point I doubt I'm ever going to purchase).
The Phoenix Wright games, along with the Pro­fes­sor Lay­ton series, have been the biggest draws for me on the DS plat­form. I've played every sin­gle (Amer­i­can) game in each series, and I'm still anx­iously await­ing any news on that Phoenix Wright/Professor Lay­ton crossover game; namely, whether or not it will be local­ized.  Ace Attor­ney 5 com­ing to the west is a great sign.