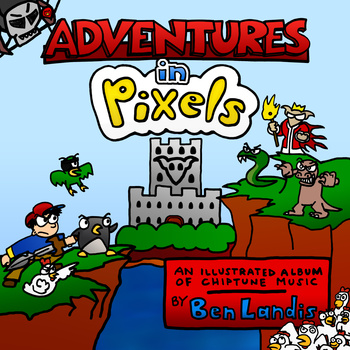 If you enjoy chip­tunes music–and ever spent hours on end crawl­ing dun­geons and slay­ing 8-bit dragons–then you'll want to check out Adven­tures in Pix­els  by song­writer and musi­cian Ben Lan­dis .
It's an album full of delight­ful chip­tunes accom­pa­nied by a comic of orig­i­nal art­work that illus­trates each song with added humor that only gamers can appreciate.
Here's a sam­pling of just one of the 20 tracks:
With song titles like "Ter­ri­ble Taran­tu­loid" and "May­hem in the Vil­lage" , Adven­tures in Pix­els  harkens back to sim­pler times when we spent our days tra­vers­ing vast pixel maps and gain­ing XP one ran­domly gen­er­ated encounter at a time.
Many of the tracks sound like they could have come straight out of your favorite old school RPG.  For exam­ple, "Voices of Expe­ri­ence" is one of my favorites.  With its arrange­ment of  sooth­ing strings and whim­si­cal flute, the first half reminds me of the For­est music from Zelda: A Link to the Past .
Adven­tures in Pix­els is avail­able to down­load for free from Ben Lan­dis' web­site through April 9.  If you enjoy Ben's music and want to sup­port his work, you can also name your price to pur­chase the album.  The full album is also avail­able on Spotify.