My fifth and final AESNWBWAST to close out the week is Pet Shop Boys, arguably the most well-known and cel­e­brated of the five bands I've spot­lighted here (it's a close call with Duran Duran , though). Other than Era­sure, they're also the only two-man group I've featured.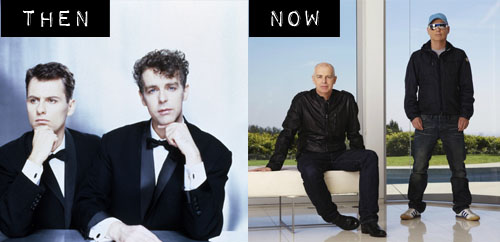 Post­mod­ern iro­nists cloaked behind a veil of buoy­antly melodic and lushly roman­tic synth pop con­fec­tions, Pet Shop Boys estab­lished them­selves among the most com­mer­cially and crit­i­cally suc­cess­ful groups of their era with cheeky, smart, and utterly dance able music. Always remain­ing one step ahead of their con­tem­po­raries, the British duo nav­i­gated the con­stantly shift­ing land­scape of mod­ern dance-pop with rare grace and intel­li­gence, mov­ing eas­ily from disco to house to techno with thier own dis­tinc­tive image remain­ing com­pletely intact.
Pet Shop Boys also have the honor of being the only AESNWBWAST I've fea­tured who haven't gone through some kind of tran­si­tional tur­moil, and since their for­ma­tion in 1981 have remained the col­lab­o­ra­tive duo of Neil Ten­nant (main vocals, key­boards) and Chris Lowe (key­boards).  The group has sold over 100 mil­lion records, have had six sin­gles in the Bill­board Top 10 and 22 in the UK charts, and are six-time Grammy nominees.
Though Pet Shop Boys were a defin­ing artist of the '80s, I didn't really dis­cover them until 1991; up until that point I was only famil­iar with their biggest hit sin­gle, West End Girls .  My real intro­duc­tion to Pet Shop Boys was via my older sis­ter. One of the first CDs she ever pur­chased was their com­pi­la­tion album, Discog­ra­phy: The Com­plete Sin­gles Col­lec­tion, and I snuck it from her bed­room at every avail­able oppor­tu­nity. I absolutely fell in love with that CD, which is the album I credit with intro­duc­ing me to Europop, a love that would later lead me to dis­cov­er­ing and devel­op­ing a pas­sion for many more artists of a sim­i­lar style.
As recently as this week, the Pet Shop Boys released a brand new Olympics-inspired sin­gle and video "Win­ner", which I've embed­ded below. Their eleventh stu­dio album, Ely­sium, is set to release on Sep­tem­ber 17th.
WTF

 is 

AESNWBWAST

 Aware­ness Week?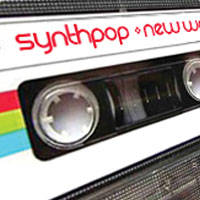 AESNWBWAST    = "Awe­some Eight­ies Syn­th­pop &New Wave Bands Who Are Still Together" Aware­ness Week  (it's a shitty name, I know, just deal with it). I offi­cially kicked things off    with this post    , in which I express my dis­ap­point­ment that most peo­ple aren't aware that there are a lot of awe­some synthpop/new wave bands from the '80s who are still together and putting out albums of music that sound just as good if not bet­ter than the '80s stuff you already know and love. Each day this week I'll re-introduce you to one of these bands, and tell you why they're STILL awesome.