Today's AESNWBWAST  I want to re-introduce you to: The Human League.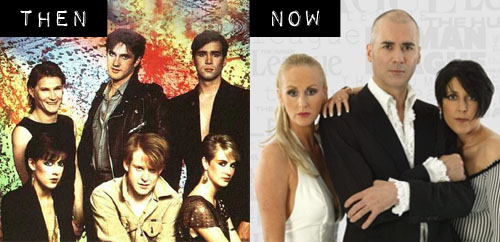 Synth pop's first inter­na­tional super­stars, the Human League were among the ear­li­est and most inno­v­a­tive bands to break into the pop main­stream on a wave of syn­the­siz­ers and elec­tronic rhythms, their mar­riage of infec­tious melodies and state-of-the-art tech­nol­ogy prov­ing enor­mously influ­en­tial on count­less acts fol­low­ing in their wake. The group was formed in 1977 by synth play­ers Mar­tyn Ware and Ian Marsh, who'd pre­vi­ously teamed as the duo Dead Daugh­ters; fol­low­ing a brief tenure as the Future, they rechris­tened them­selves The Human League after enlist­ing vocal­ist Philip Oakey. 
I don't think it was pos­si­ble to sur­vive the 80's with­out hear­ing "Don't You Want Me," the song that most peo­ple asso­ciate The Human League with, at least a hun­dred times. It was EVERYWHERE. And for good rea­son; it's a damn catchy song. The band would go on to put out a num­ber of albums through­out the 80s and early 90s, but none of them match­ing the suc­cess of their break­through album, 1981's  Dare.
The Human League have gone through many tran­si­tions since their early incep­tion and later chart-topping com­mer­cial suc­cess in the '80s. These days the band is a trio led by orig­i­nal mem­ber Philip Oakey and female vocal­ists Joanne Cather­all and Susan Ann Sul­ley, who both joined in 1980. But don't let that dis­cour­age you; Philip Oakey is the guy who made The Human League famous, and really, with three orig­i­nal vocal­ists, The Human League still sounds exactly like what you remember.
In 2001, the band released their eighth stu­dio album Secrets which was well-reviewed by crit­ics and mod­estly suc­cess­ful on the UK charts. I love its album art: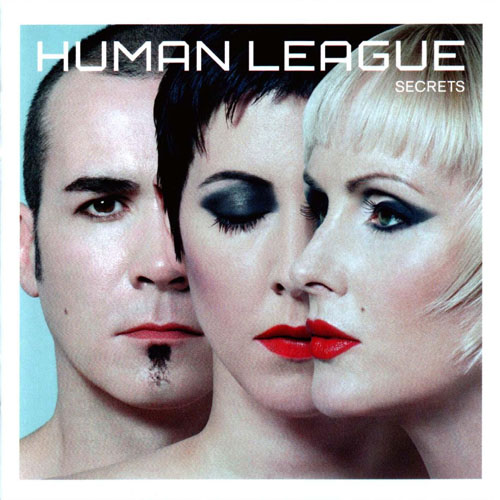 After a ten year semi-retirement/hiatus, the band emerged in 2011 to release their ninth and most recent stu­dio album,  Credo. It received mix crit­i­cal reviews, but I per­son­ally I adore it. It sounds like some­thing they could have put out in the early 80's, espe­cially my favorite track, "Sky."
Check out this rather cool if creepy video for "Never Let Me Go," the biggest sin­gle from their lat­est album:
I haven't seen such adept use of the mir­ror effect since Prince's video for  When Doves Cry .
WTF

is 

AESNWBWAST

Aware­ness Week?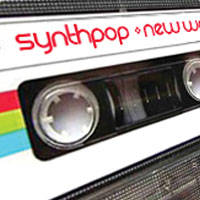 AESNWBWAST = "Awe­some Eight­ies Syn­th­pop & New Wave Bands Who Are Still Together" Aware­ness Week  (it's a shitty name, I know, just deal with it). I offi­cially kicked things off with this post , in which I express my dis­ap­point­ment that most peo­ple aren't aware that there are a lot of awe­some synthpop/new wave bands from the '80s who are still together and putting out albums of music that sound just as good if not bet­ter than the '80s stuff you already know and love. Each day this week I'll re-introduce you to one of these bands, and tell you why they're STILL awesome.