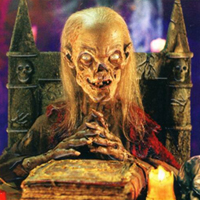 Hello, boys and ghouls ! I'm back with another sin –tillat­ing slice of Album Art Porn, and today's ran­dom musi­cal dis­cov­ery is sim­ply  to die for . We're now in the midst of the Hal­loween Count­down, which means my reg­u­lar recur­ring fea­tures like Album Art Porn will all take on a Hal­loween theme (and also I will some­times inex­plic­a­bly talk like the Crypt Keeper–because who doesn't love mak­ing bad hor­ror puns?)
I'm gravely seri­ous  when I say I want to give today's album 10 stars for the sheer awesome-factor of its art­work alone. Try to main­tain decom­po­sure as you feast your eyes on this grim tas­tic treat: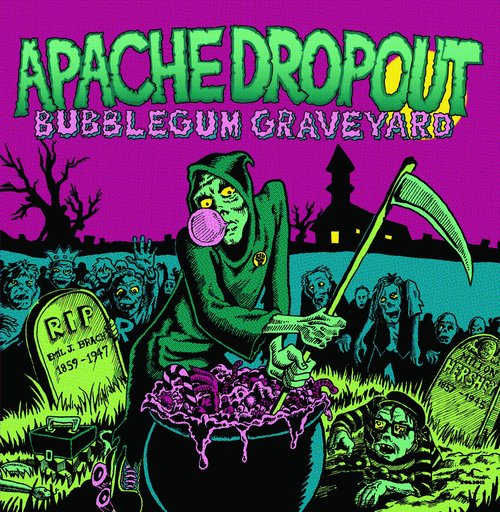 Yup, that's Death in the mid­dle of a candy grave­yard chew­ing on some bub­blegum. He's (awe­somely) using his scythe to mix up a rather goopy-looking con­coc­tion of mis­cel­la­neous con­fec­tionery that includes gummy worms and candy canes, attract­ing a hun­gry horde of undead. (Side­bar: What kind of gum do you think Death enjoys? I bet he's fond of Juicy Fruit–that taste can move any­body.) He also appears to be wear­ing what looks like a Black Power pin on his lapel; I'm not sure what that's all about. For a guy who's chew­ing gum while mak­ing candy  ghoulash , or what­ever the hell he's sup­posed to be mak­ing, Death doesn't seem all that excited. In fact he looks down­right bored as he casu­ally blows a bub­ble while sur­rounded by tomb­stones of dead can­dy­mak­ers.  For some rea­son I think I love this album cover even more because of that.
I also love that the style is rem­i­nis­cent of those old hor­ror comics (like Tales from the Crypt! ) and the neon min­i­mal­ism of the psy­che­delic 60's color palette.   The entire pre­sen­ta­tion is fright­fully fun and it appeals to my inner pulp sensibilities.
But what does it sound like?
I was pleased to dis­cover the album art isn't the only thing retro about this album. Though it was released in 2012, Apache Dropout's  Bub­blegum Grave­yard sounds like it could be from the early 60's dur­ing the era of weird rock & roll–and that's not a bad thing. The band's Face­book page offers the fol­low­ing: "a fuzz-drenched sonic assult — shock­ing lost souls into a Fren­zied Lyser­gic Boo­gie!" I have absolutely no idea what that means, but I like it.
I must admit, this is not the type of music I typ­i­cally lis­ten to, but dur­ing the Hal­loween sea­son my ears are wide open to new lis­ten­ing expe­ri­ences. This is not a Hal­loween album per se (or at least I don't think it's meant to be), but it con­tains plenty of low-fi nods to the sea­son on tracks like "Candy Bar," "Ghost Sto­ries," and "Lady Blood." Singer and gui­tarist Sonny Alexan­der howls and yowls over jangle-pop melodies and rhyth­mic gui­tar riffs. I'm still hav­ing trou­ble believ­ing this album was made in 2012. I can eas­ily pic­ture a cou­ple of bored teenagers on some Hal­loween night long ago get­ting com­pletely stoned and spac­ing out to this, pon­der­ing over lyrics like "Archie's army is march­ing, marching–sugar, sugar, how we need you now! Undead Jug­head, rise!" and try­ing to apply some deeper, hid­den mean­ing in between bong hits . That sounds like my kind of Hal­loween pastime.
If you have Spo­tify, you can lis­ten along with me. Death brought enough bub­blegum for everyone.
ShezCrafti's Rating:
6 out of 10 stars.










What is Album Art Porn?
A recur­ring fea­ture in which I ran­domly pick an album I've never heard of to lis­ten to and review based solely on its cover art. It could turn out to be the most amaz­ing thing I've ever heard…or com­pletely suck.