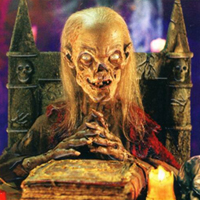 Hello, boys and ghouls! I'm back with another sin-tillating slice of Album Art Porn, and today's random musical discovery is simply to die for. We're now in the midst of the Halloween Countdown, which means my regular recurring features like Album Art Porn will all take on a Halloween theme (and also I will sometimes inexplicably talk like the Crypt Keeper–because who doesn't love making bad horror puns?)
I'm gravely serious when I say I want to give today's album 10 stars for the sheer awesome-factor of its artwork alone. Try to maintain decomposure as you feast your eyes on this grimtastic treat: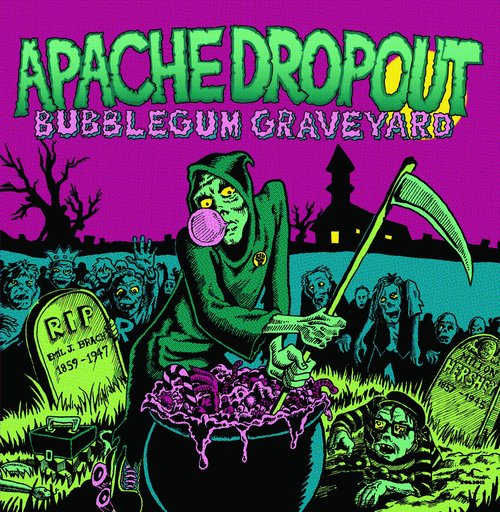 Yup, that's Death in the middle of a candy graveyard chewing on some bubblegum. He's (awesomely) using his scythe to mix up a rather goopy-looking concoction of miscellaneous confectionery that includes gummy worms and candy canes, attracting a hungry horde of undead. (Sidebar: What kind of gum do you think Death enjoys? I bet he's fond of Juicy Fruit–that taste can move anybody.) He also appears to be wearing what looks like a Black Power pin on his lapel; I'm not sure what that's all about. For a guy who's chewing gum while making candy ghoulash, or whatever the hell he's supposed to be making, Death doesn't seem all that excited. In fact he looks downright bored as he casually blows a bubble while surrounded by tombstones of dead candymakers.  For some reason I think I love this album cover even more because of that.
I also love that the style is reminiscent of those old horror comics (like Tales from the Crypt!) and the neon minimalism of the psychedelic 60′s color palette. The entire presentation is frightfully fun and it appeals to my inner pulp sensibilities.
But what does it sound like?
I was pleased to discover the album art isn't the only thing retro about this album. Though it was released in 2012, Apache Dropout's Bubblegum Graveyard sounds like it could be from the early 60′s during the era of weird rock & roll–and that's not a bad thing. The band's Facebook page offers the following: "a fuzz-drenched sonic assult – shocking lost souls into a Frenzied Lysergic Boogie!" I have absolutely no idea what that means, but I like it.
I must admit, this is not the type of music I typically listen to, but during the Halloween season my ears are wide open to new listening experiences. This is not a Halloween album per se (or at least I don't think it's meant to be), but it contains plenty of low-fi nods to the season on tracks like "Candy Bar," "Ghost Stories," and "Lady Blood." Singer and guitarist Sonny Alexander howls and yowls over jangle-pop melodies and rhythmic guitar riffs. I'm still having trouble believing this album was made in 2012. I can easily picture a couple of bored teenagers on some Halloween night long ago getting completely stoned and spacing out to this, pondering over lyrics like "Archie's army is marching, marching–sugar, sugar, how we need you now! Undead Jughead, rise!" and trying to apply some deeper, hidden meaning in between bong hits . That sounds like my kind of Halloween pastime.
If you have Spotify, you can listen along with me. Death brought enough bubblegum for everyone.
ShezCrafti's Rating:
6 out of 10 stars.










What is Album Art Porn?
A recur­ring fea­ture in which I ran­domly pick an album I've never heard of to lis­ten to and review based solely on its cover art. It could turn out to be the most amaz­ing thing I've ever heard…or com­pletely suck.