As it turns out, ran­domly pick­ing albums I've never heard of to lis­ten to based 100% on cover art I find attrac­tive is prov­ing to be a viable method of dis­cov­er­ing good new music. So far my Album Art Porn project has yielded three new-to-me albums with at least a 7/10 rat­ing, and today it pro­duced another win­ner.  I'm 4 and 0.
Today's dis­cov­ery came about dur­ing a highly sci­en­tific process in which I typed a bunch of words into Google Image Search and skimmed through the results. The words I input were "candy," "elec­tric," "fever­ish," and "album." This is the image I was most com­pelled to click on: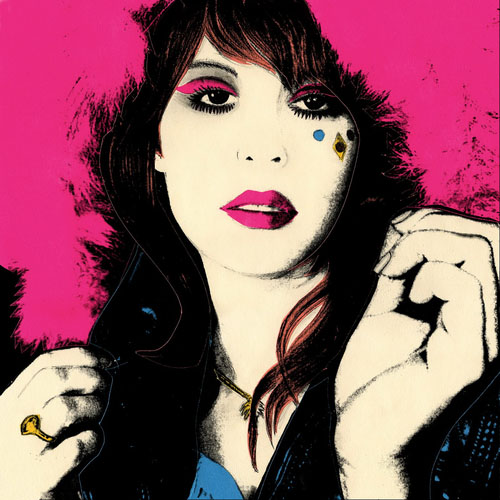 If I were a more attrac­tive, fashion-conscientious kind of girl (and dropped about 20 pounds) and like a thou­sand times more nar­cis­sis­tic, I would totally have a War­ho­lesque self-portrait like this hang­ing in my liv­ing room. I would even glue jew­els to my face, or what­ever those are sup­posed to be on her left cheek. It's hip, it's glam­orous, it says, "I went crazy with the fuch­sia eye shadow by smear­ing it all over my head and look at all the fucks I give!"
I must have an affin­ity for those shock­ing shades of hot pink and elec­tric blue, because that's the same color com­bi­na­tion that drew me to The Elec­tric Punanny Mix­tapes which ended up being unimag­in­ably awe­some. The above album is called Beat­box.  It was released in 2007 and is the sec­ond stu­dio album of the elec­tronic out­fit  Glass Candy , who Wikipedia describes as being a blend of No Wave, glam rock and Italo Disco–so far so good.
But what does it sound like?
The first track was an awk­ward but intrigu­ing intro­duc­tion. It starts off like an 80s aer­o­bics class with the instruc­tor encour­ag­ing every­one to "work that body!" over a sim­plis­tic beat, and then vocal­ist Ida No gives some­thing of a cheesy pseudo-lesson in meta­physics: "Our world, our lives, our bod­ies, they are con­stantly chang­ing. But there's a rhythm that runs through it all and that's where we'll find our true selves. We live in a uni­verse of trans­for­ma­tions, but the heav­enly beat is a con­stant. So keep on danc­ing!" OK, space lady!
The rest of the tracks are pure gold. Some of them, like "Last Night I Met a Cos­tume," could be part of the score for Beyond the Black Rain­bow . Breathy, sen­sual female vocals over heavy synth waves, chill, low-frequency bass lines and sim­ple elec­tri­cal beats with fre­quent square and saw­tooth leads. (At times like these, when I'm try­ing to describe the sub­tle dif­fer­ences in elec­tronic music styles, I wish my musi­cal knowl­edge was more expan­sive.) None of it is very melodic, but it all sounds so very avant-garde and 1984-ish, much like that Rise of the Obsid­ian Inter­stel­lar chip­tunes album I reviewed a while back. I thor­oughly enjoyed all 9 tracks of this Beat­box album and fully plan on fur­ther delv­ing into Glass Candy's other synth-tastic musi­cal offerings.
ShezCrafti's Rating:
8 out of 10 stars.










What is Album Art Porn?
A recur­ring fea­ture in which I ran­domly pick an album I've never heard of to lis­ten to and review based solely on its cover art. It could turn out to be the most amaz­ing thing I've ever heard…or com­pletely suck.