I was ran­domly look­ing up music on Spo­tify dur­ing one of my typ­i­cal "let's type ran­dom shit into the search bar and see what hap­pens!" brows­ing ses­sions when I dis­cov­ered a three-track EP called Key­tar Hero by an artist named Vodge Diper . (Cute.)
My eyes could not help but be drawn to this breath­tak­ing album art for obvi­ous reasons: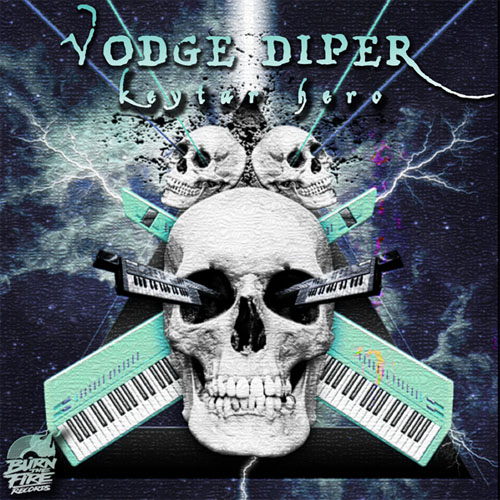 You know, because it's a SKULL WITH KEYTARS COMING OUT OF ITS EYE SOCKETS. As if this weren't awe­some enough, there are two backup skulls blast­ing frickin' laser beams from their eye holes, pre­sum­ably for the pur­pose of vapor­iz­ing peo­ple who don't like key­tars. To which I can totally relate.
Gut Check: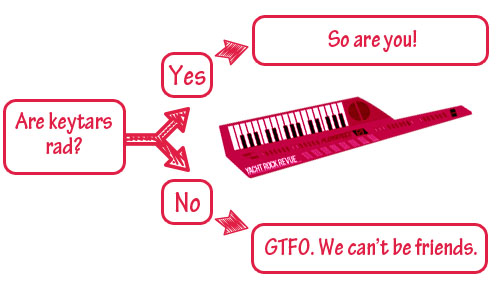 But what does it sound like?
Key­tar­iffic! I quite like all three tracks on this album, so much so that I'm still lis­ten­ing to them on repeat as I type this.  It's a synth-heavy, upbeat instru­men­tal mix of phat beats and dance­able techno/trance that sounds like what I wish was the expanded sound­track for Mar­ble Blast Ultra, for the one nerd read­ing this who under­stands that reference.
Vodge Diper, I think, is a DJ from Daegu, South Korea. At least that's what I was able to piece together from a Sound­Cloud, Face­book, and a few other places I found the artist. I'm giv­ing him (or her?) an enthu­si­as­tic thumbs up for this album, or what­ever it is, and have already started con­sum­ing every­thing else I could find from this artist on Spotify.
Come for the key­tar and laser beam shoot­ing  skulls. Stay for the deli­cious electronica.
ShezCrafti's Rating:
7 out of 10 stars.










What is Album Art Porn?
A recur­ring fea­ture in which I ran­domly pick an album I've never heard of to lis­ten to and review based solely on its cover art. It could turn out to be the most amaz­ing thing I've ever heard…or com­pletely suck.