I was idly brows­ing the "What's New" sec­tion of Spo­tify last night when, like a moth to a flame, my eyes were drawn to the warm, gold­eny brown of syrup-covered pan­cakes. To me, pan­cakes are what I imag­ine crack cocaine must have been like to Whit­ney Hous­ton– the great­est love of all (sorry, too soon?). Once I get pan­cakes on the brain, I won't be sat­is­fied until I'm shov­el­ing fork­fuls of but­tery, sticky-sweet dough cakes down my gul­let. Denny's? 3:00 AM? Grand Slam? Yeah…I do that.
Look­ing a lit­tle closer, I find these pan­cakes are actu­ally Hot Cakes , the new album by The Dark­ness . (By the way, do you call 'em "pan­cakes" or "hot cakes?" Or are you one of those weird "flap­jacks" peo­ple?) And not only do these pan­cakes look deli­cious, they're topped with hot, half-naked women drip­ping with scrump­tious maple syrup!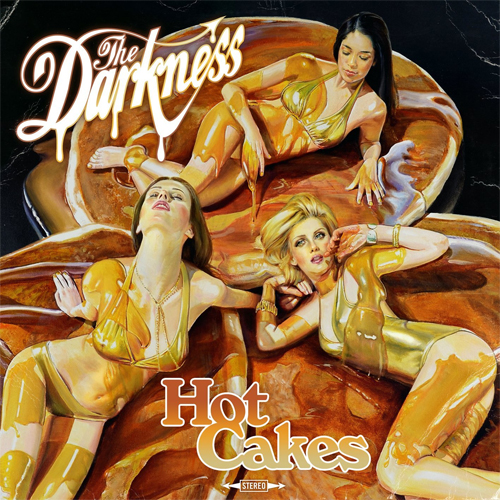 I don't know about you, but sex and pan­cakes is one of the most awe­some com­bi­na­tions I can think of. On the other hand, pubic hair and syrup is one of the most hor­rific com­bi­na­tions I can think of. Ouch. Still, though I give this album art top marks for aim­ing high in con­cept, even if its prac­ti­cal appli­ca­tions are not grounded in reality.
But what does it sound like?
When I first saw this was an album by The Dark­ness, it took me a moment to remem­ber that they were a band I haven't really heard from since 2003, when they came out rock­ing with their first sin­gle, "I Believe in a Thing Called Love." It was mem­o­rable for lead singer Justin Hawkin's ball-grabbing falsetto vocals and bitchin' gui­tar riffs that sounded like a throw­back to late 70s rock. Hard to believe that was almost ten years ago. Remem­ber how awe­some that song was? Well that's what the entire album of Hot Cakes sounds like.
This album rocks HARD. It kind of sounds like some­thing out of Detroit Rock City, with­out the lame­ness of being K.I.S.S. From the first track, "Every Inch of You," which drops a hearty "SUCK MY COOOOOOOCK!" scream on you, I knew I was in for a good time. From start to fin­ish, it's one ban­gin' glam rock song after the next. Hawkins' vocals are just as high-pitched as you might remem­ber, but a lit­tle more refined and con­trolled (read: less annoy­ing). I give The Dark­ness a lot of credit for being the throw­backs that they are and hav­ing the balls to put out an album like this in 2012. It really does sound like some­thing from the 70s, and quite dif­fer­ent from the banal, unlis­ten­able "mod­ern rock" bull­shit of their peers. You just don't hear music like this any­more. Which is a shame, really, because it fuck­ing rocks. \m/
ShezCrafti's Rating:
9 out of 10 stars.










What is Album Art Porn?
A recur­ring fea­ture in which I ran­domly pick an album I've never heard of to lis­ten to and review based solely on its cover art. It could turn out to be the most amaz­ing thing I've ever heard…or com­pletely suck.