Spend­ing eight hours in a cramped car dri­ving  back from vaca­tion  is not my idea of a fun day. I woke up this morn­ing to a sunny, per­fect beach day in Murell's Inlet, South Car­olina and had to tear myself away to get on the road early, if I had any hope of get­ting home at a decent hour. Long road trips home after vaca­tion are the worst , espe­cially when you're leav­ing behind beau­ti­ful weather. All you can think about is how short it was, and stress about all the crap you have to do when you get home. By the time I reached Bal­ti­more, I was in a pretty suck-tastic mood.
When I finally got home, there were a bunch of pack­ages on my doorstep. Look­ing a lit­tle closer, I saw they were all from mem­bers of The League which put an instant smile on my face and made me for­get how tired and cranky I was. I wasted no time tear­ing into them.
Pack­age #1, from Tupa's Treasures
The first pack­age was a big box full of awe­some retro stuff from Christo­pher Tupa, the tal­ented artist and blog­ger behind  Tupa's Trea­sures . Chris sent me an intrigu­ing email a week or so ago say­ing he found "some­thing I might like" that he wanted to send me.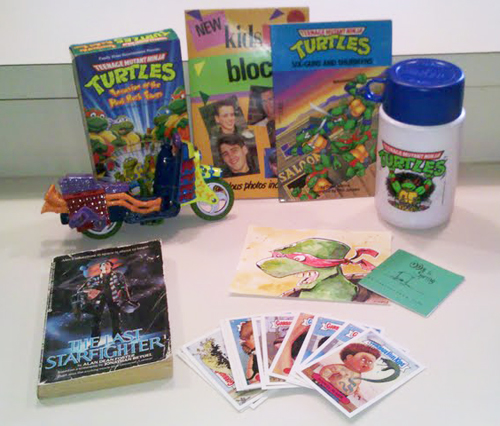 Well Chris, you have def­i­nitely done that and then some! In fact, I'm hav­ing trou­ble fig­ur­ing out what the orig­i­nal "some­thing" is, as pretty much every­thing in this pack­age is a trea­sure. Here's what was inside:
Six Guns and Shurikens , a

TMNT

paper­back book from 1990. This took me back to 5th grade right away. I used to have this book, along with a few other

TMNT

paper­backs that I ordered from my ele­men­tary school's book fair once upon a time. Flip­ping through the pages was like recov­er­ing a lost relic from my past.

TMNT

Ther­mos with my favorite Tur­tle, Raphael on the front! I saw this posted on Chris's blog a few weeks ago , which he scored for a quar­ter at a yard sale.
Inva­sion of the Punk Frogs , a

VHS

of episode 13 from Sea­son 2 of the orig­i­nal 1987

TMNT

car­toon. I can't even imag­ine how much shelf space you'd need to col­lect the entire 80's

TMNT

car­toon on single-episode

VHS

 tapes.

TMNT

toy bike ; I'm actu­ally not sure which

TMNT

toy line the bike is from, but it totally fits my new Nick­elodeon Tur­tles fig­ures. Does any­one out there know?
New Kids on the Block paper­back book — another relic from my past! I never had this book, but my friend/frenemy across the street did. She was obsessed with

NKOTB

and we used to get into stu­pid fights about what was cooler:

TMNT

or

NKOTB

. Obvi­ously I was the one who was correct.
The Last Starfighter movie novel. I had no idea a nov­el­iza­tion of that movie existed until I saw this thing  on Chris's blog . It's one of my favorite cheesy 80's sci-fi movies and I can't wait to read it.
A stack of Garbage Pail Kids stick­ers. Yes! I don't have that many GPKs any­more but would love to start col­lect­ing again. These are a nice head start.
My favorite item, how­ever, is this water­color of Raphael that Chris drew and painted him­self:

I love Chris's car­toony, col­or­ful style which I fell in love with when I saw the super-cute Pop Cul­ture Road Trip sou­venir map he designed for The League. I'd love to see what a whole group shot of the TMNT would look like. (Do you take com­mis­sions, Chris??)
He also included this adorable lit­tle printed art book­let called "Ode to Spring" which is lit­er­ally too cute for words: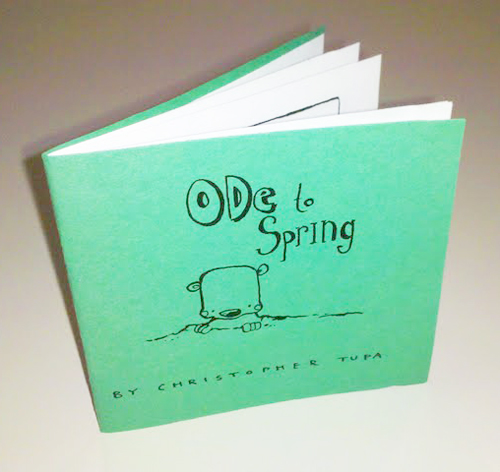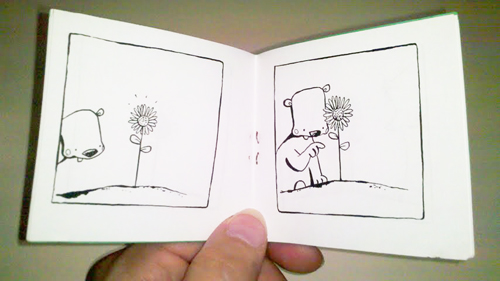 Chris, you have com­pletely over­whelmed me with how much awe­some you packed into this box. I don't know what I did to deserve such a nice sur­prise in the mail, but thank you, thank you, thank you! This made my day.
Pack­age #2, from Top Hat Sasquatch
Mov­ing on to the soft, squishy pack­age I got from Tommy Day of  Top Hat Sasquatch , I knew right away it must have been the kick­ass THS t-shirt I ordered.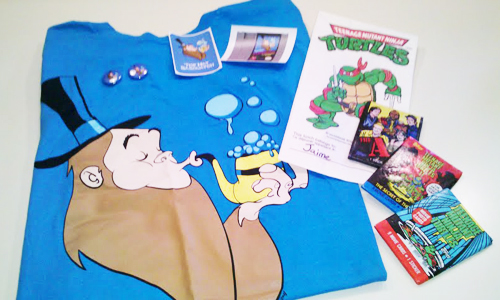 Fea­tur­ing orig­i­nal Alex Deli­gian­nis art­work of the sophis­ti­cated 'Squatch him­self, its high brow design makes it appro­pri­ate for all occa­sions when an extra touch of class is needed–weddings, black tie events, job inter­views, state dinners…
As an added bonus, there were 8-bit THS stick­ers, but­tons, and a TMNT goodie bag full of retro trad­ing cards! The Tur­tles lunch bag was a nice touch and really brought back some mem­o­ries; I prob­a­bly haven't seen one of those things in over twenty years! My Dad used to pack all my lunches in them, and would write funny things inside of drawn-on speech bubbles.
I can't wait to wear the shirt to work and answer the inevitable ques­tions peo­ple will ask about it. ("Why yes, that is a fancy sasquatch in a top hat blow­ing bub­bles from a pipe!") Thank you, Tommy, for the wear­able work of art and con­ver­sa­tion starter!
Pack­age #3, from Branded in the 80s
Last but not least, I received this per­sonal mix­tape (err…mix CD?) from Shawn Robare of Branded in the 80s . (To be hon­est, this has prob­a­bly been chill­ing in my mail­box for a week or more, but I didn't open it until today. Even when I'm not on vaca­tion, I'm lazy about check­ing the mail.)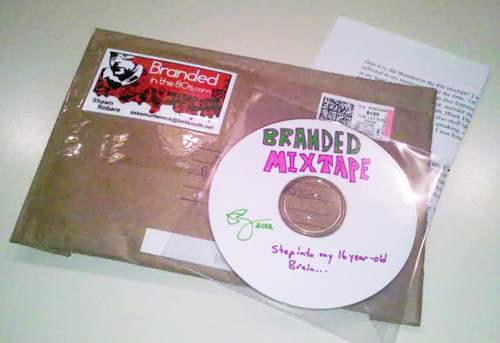 This disc is the phys­i­cal man­i­fes­ta­tion of a recent League assignment–to cre­ate our own per­sonal  high school mix­tape –which Shawn opted to give away for free to any­one who wanted a copy (ana­log piracy!) because he's old school like that.
It's an eclec­tic mix of all the songs Shawn was jam­ming to back in the early '90s, and includes Ween, Weezer, The Rentals, Weird Al, and even some tracks from the ani­mated Trans­form­ers and X-Men movies. My favorite track on it, how­ever, is "Girl­friend" by Matthew Sweet. I'll never for­get the first time I saw that music video and thought how cool it was to have Japan­ese ani­ma­tion in it.
Shawn, thank you for going the extra mile (as you always do!) and tak­ing the time to mix, burn, and mail these CDs out. I really enjoyed your "liner notes" and it was fun tak­ing an audi­ble jour­ney into your past. One of the best ways to get to know some­one is through their music, and your high school mix­tape just con­firms what I already sus­pected: you were one of the cool kids.