There are gen­er­ally two types of  Phan­tom  fans:
The crazy, obses­sive vari­ety who hold every­thing to impos­si­ble stan­dards and will pick apart every per­for­mance and adap­ta­tion of  Phan­tom  like vul­tures (these are the same peo­ple  who write tawdry phan-fiction and believe  Joel Schumacher's  2004 film ver­sion  is a pile of rub­bish), and those like me who sim­ply enjoy  Phan­tom,  in all of its var­i­ous forms, for what it is—a damned good story no mat­ter ho w it's told .  Like Robin Hood or The Count of Monte Cristo , it's one of those clas­sic sto­ries that will be retold and redis­cov­ered through the ages, with or with­out Andrew Lloyd Webber's help.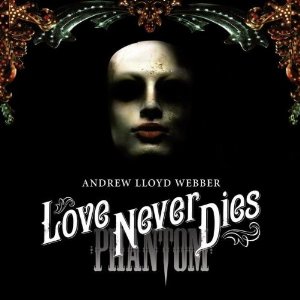 As the sequel to one of the most beloved and obsessed-over musi­cals of all time,  Love Never Dies   was bound to ruf­fle a few feath­ers, but the real­ity is that it has been plagued with prob­lems almost since its incep­tion. Die-hard Phan­tom fans, or "phans" if you will, have been on some­thing of an anti-LND cru­sade . Feel­ing betrayed by Andrew Lloyd Webber's deci­sion to extend the canon of his mas­ter­piece by essen­tially "mak­ing shit up," they argue that the sequel takes too much lib­erty with the story and char­ac­ters of Gas­ton Leroux's orig­i­nal novel. Many phans sim­ply choose not to acknowl­edge that a sequel even exists.
The crit­ics have not been kind either, pan­ning every­thing from the libretto to the chore­og­ra­phy.  One even cru­elly dubbed the show " Paint Never Dries ."  After a dis­ap­point­ing run in London's West End, Love Never Dies was almost com­pletely over­hauled and the pro­duc­tion moved to Mel­bourne, Aus­tralia, then later to Syd­ney, where it's cur­rently set to run until April.
Despite the the harsh crit­i­cism and phan back­lash, the reworked show seems to have found its audi­ence in Aus­tralia where its get­ting rave reviews and play­ing to sold out venues.  The Sep­tem­ber 15, 2011 8:00 PM per­for­mance of the Mel­bourne  pro­duc­tion was filmed for release on DVD and Blu-Ray  and is cur­rently play­ing in the­aters, so that is the ver­sion I will be reviewing.
Synopsis
Beware: lots of spoil­ers below. You've been forewarned!
Set ten years after the events in Phan­tom '  Love Never Dies shifts us from the majes­tic Paris opera house set­ting to the  car­ni­va­lesque spec­ta­cle of 1920's Coney Island. We learn that The Phan­tom has estab­lished a new artis­tic base of oper­a­tions in Phan­tasma, a musi­cal menagerie of sorts, with the help of famil­iar char­ac­ters Madame Giry and her daugh­ter Meg, who smug­gled him out of Paris. Known only to his per­form­ers and patrons as "Mr. Y," The Phan­tom is the mys­te­ri­ous fig­ure behind Phantasma's—and Meg Giry's—success.
Yearn­ing to hear his beloved Chris­tine Daaé sing for him once again, The Phan­tom sends her an anony­mous invi­ta­tion to make her Amer­i­can debut at his the­ater. Now mar­ried to the Vicount de Chagny, Chris­tine accepts the invi­ta­tion and arrives by boat to much fan­fare with her hus­band Raoul and young son Gus­tav in tow. Evi­dently Raoul has become a dis­tant hus­band as well as father, is in dire finan­cial straits, and is also quite fond of the drink.
The Phan­tom soon reveals him­self to Chris­tine in her hotel room, who is of course shocked and bewil­dered, but still unable to resist him. In "Beneath a Moon­less Sky" we learn that Chris­tine and The Phan­tom once shared a secret night of pas­sion, and that "Once Upon Another Time", Chris­tine was pre­pared to break her engage­ment with Raoul for her masked lover. But it was The Phan­tom who in fact rejected Chris­tine, break­ing her heart.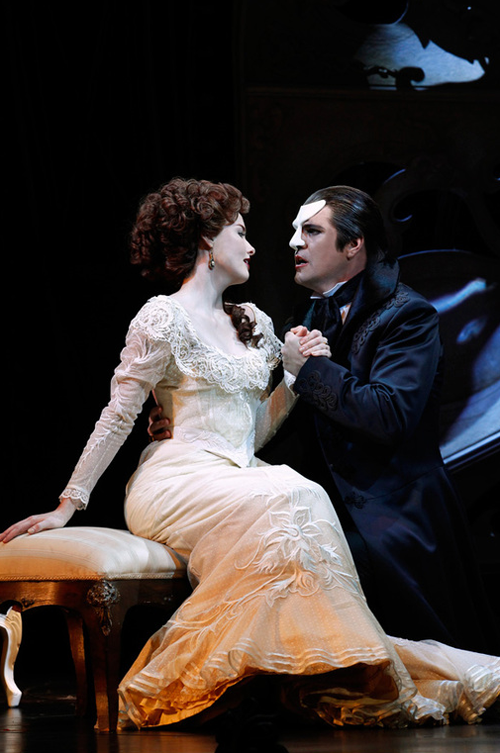 Their semi-romantic inter­lude is inter­rupted by Gus­tav, who awak­ens from a ter­ri­ble night­mare. Chris­tine intro­duces him to "Mr. Y", say­ing that he's an old friend of hers. The Phan­tom is enchanted by the boy, and Gus­tav likewise.
Gus­tav grows increas­ingly enthralled with Phan­tasma as The Phan­tom intro­duces him to his world in "The Beauty Under­neath." When Gus­tav plays a beau­ti­ful melody on the piano, his extra­or­di­nary musi­cal tal­ent causes The Phan­tom to begin to sus­pect that he's really the boy's father. Believ­ing that Gus­tav will accept him, he takes off his mask which causes Gus­tav to run away, scream­ing. He retreats to his mother, who when con­fronted by The Phan­tom, admits that Gus­tav is his son. He makes Chris­tine promise not to ever tell Gus­tav that he is his father, but promises to leave him every­thing he owns. Unfor­tu­nately, Madame Giry over­hears all of this.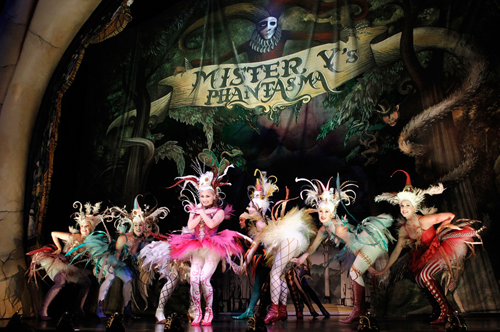 As the reign­ing star of Phan­tasma, Meg con­sid­ers her­self Mr Y's pro­tege. When she learns of Christine's oppor­tu­nity, she can barely hide her jeal­ousy.  Madame Giry is none too thrilled about The Phantom's obses­sion with Chris­tine, hav­ing a vested inter­est in her own daughter's future and feel­ing betrayed after all she's done for him. She exposes The Phan­tom and his plans to Raoul, who storms off in a fit of rage and later goes to drown his sor­rows at the bar, ques­tion­ing Christine's love for him.
The Phan­tom drops in on Raoul and makes a bet: if Chris­tine does not sing for him, she is free to leave with Raoul and her son. If she does sing, how­ever, Raoul must leave alone. To make a long story short (because this syn­op­sis is already get­ting ridicu­lously long), Chris­tine does end up stay­ing and singing for The Phan­tom, despite Raoul's plead­ings that they leave together as soon as possible.
After her stun­ning per­for­mance of "Love Never Dies," Gus­tav mys­te­ri­ously dis­ap­pears. Meg Giry, in a jeal­ous rage, has kid­napped him and taken him to the docks, threat­en­ing to drown him. The Phan­tom, Chris­tine, and Madame Giry arrive just in time, and The Phan­tom is able to get the boy safely away from her. How­ever, Meg pulls out a pis­tol and threat­ens to kill her­self instead. In the midst of a lengthy, emo­tional tirade where Meg reveals all sorts of unsa­vory things about her­self, The Phan­tom tries to wres­tle the gun away from her and she acci­den­tally shoots Chris­tine in the stomach.
As Chris­tine lay dying in The Phantom's arms, she tells Gus­tav that he is the boy's real father. Gus­tav runs off to find Raoul, who arrives on the scene too late. Chris­tine and The Phan­tom pro­fess their undy­ing love and then kiss their final kiss. As the cur­tain closes, Gus­tav removes The Phantom's mask and embraces him.
First, the not-so-good stuff:
To appre­ci­ate Love Never Dies, you have to sort of let go of any pre­con­ceived notions you might have about the char­ac­ters. The Phan­tom a lov­ing father fig­ure? Raoul an abu­sive drunk? Meg Giry a pros­ti­tute? Accept­ing these new real­i­ties requires putting aside the out­comes of the events in The Phan­tom of the Opera . And peo­ple can cer­tainly change a lot in ten years.
Admit­tedly, the plot is kind of a mess, espe­cially toward the end. If I hadn't known what to expect from hav­ing lis­tened to the sound­track so many times, I prob­a­bly would not have fully grasped what was going on. One of the main crit­i­cisms of the show's orig­i­nal pro­duc­tion was its non­sen­si­cal plot. I com­pletely under­stand why it had to be reworked. On the other hand, it feels strange to watch some­thing that you know has been sig­nif­i­cantly tweaked because the edits tend to seem all the more obvious.
Being reworked also means that some musi­cal themes from The Phan­tom of the Opera were injected into the score. In between the new songs, you'll hear hints of Phan­tom songs like "Angel of Music" and "Prima Donna." Sup­pos­edly the cur­rent iter­a­tion of the show includes many more of these inva­sive musi­cal inter­ludes than the orig­i­nal pro­duc­tion. It's dif­fi­cult not to notice these melodies when you hear them, and I found myself won­der­ing if they were nec­es­sary additions.
And now on to the good stuff:
My first intro­duc­tion to Love Never Dies was through its sound­track (the full orig­i­nal cast record­ing is  avail­able on Spo­tify ), which I fell imme­di­ately in love with and ended up lis­ten­ing to on repeat while at work.
Musi­cally,  Love Never Dies  is excep­tional. It's full of haunt­ingly beau­ti­ful themes ("Beneath a Moon­lit Sky" , " Once Upon Another Time" , " 'Till I Hear You Sing") and grand, sweep­ing waltzes ("The Coney Island Waltz", "Look With Your Heart") that, when they bloom, will make your heart swell with emo­tion.  Andrew Lloyd Web­ber has described it as being the most beau­ti­ful score he's ever writ­ten, and I don't believe he's exaggerating.
It's also one of the most visu­ally stun­ning musi­cals ever pro­duced. Coney Island pro­vides a vibrant, spec­tac­u­lar back­drop to the drama unfold­ing on the stage. The cos­tumes, espe­cially those of the cir­cus per­form­ers, are lush and imaginative.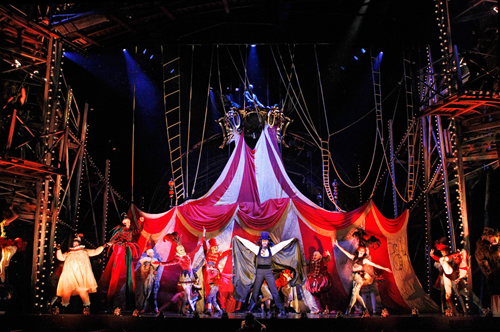 I won't pre­tend to know more than I do about the­ater (which is very lit­tle) but I must com­mend the extra­or­di­nar­ily tal­ented cast. The singing, danc­ing and act­ing were all top notch. The show opens with Ben Lewis' (The Phan­tom) pow­er­ful per­for­mance of "'Till I Hear You Sing", which kicks off the first in a long series of big, ambi­tious musi­cal num­bers to come.  I was espe­cially impressed by Anna O'Byrne (Chris­tine Daaé), whose vocals on songs like "Once Upon Another Time" took my breath away.
In terms of the over­all mes­sage or moral of the story, I much pre­fer  Love Never Dies'   mature view of life and love  over the impos­si­bly ide­al­is­tic "hap­pily ever after" end­ing of  Phan­tom.  Christine's "safe" choice of suit­ors has always both­ered me, and the sequel attempts to explore what might have been had Chris­tine given in to her true desires. It's a flimsy basis for a sequel to be sure, but it does man­age to pro­vide answers to the ques­tions we're left with at the end of Phan­tom . For the peo­ple who were root­ing for The Phan­tom and Chris­tine, Love Never Dies is like a beautifully-wrapped gift.
The bot­tom line:
Though Love Never Dies doesn't quite man­age to cap­ture the same magic as the orig­i­nal (and let's be hon­est, sequels rarely, if ever, do) it's still a highly enjoy­able pro­duc­tion that is well worth watch­ing. But even if the show doesn't man­age to cap­ti­vate you, the music prob­a­bly will.
Does the world really need a sequel to  The Phan­tom of the Opera , the most suc­cess­ful musi­cal of all time? Most peo­ple would prob­a­bly say no.  But those peo­ple would be miss­ing out on some­thing really special.
ShezCrafti's Rating:










8 out of 10 stars.