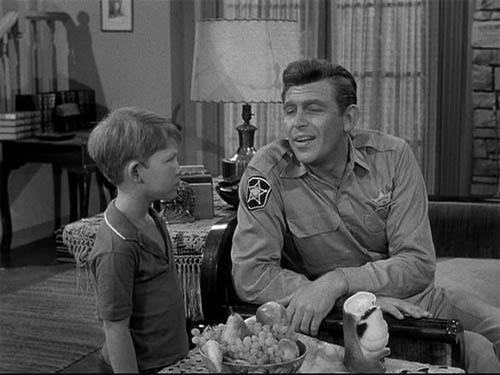 Andy Grif­fith passed away today . He was 86.
As a child of the 80's, The Andy Grif­fith Show was way before my time but its influ­ence on my upbring­ing is no less present. I was raised on a well-rounded tele­vi­sion diet that included Andy Grif­fith , along with other clas­sics like The Donna Reed Show and My Three Sons;  shows with ide­al­is­tic depic­tions of every­day Amer­i­can life.
My father tended to wax nos­tal­gic about these shows and spoke fondly of  "the way things used to be." We'd often watch old re-runs together or I'd catch them on Nick-at-Night. Because of my dad pass­ing on his appre­ci­a­tion for these old clas­sics to me, I'd like to think, in some small way, Andy Grif­fith and shows like his have helped form me into the per­son I am today; for what­ever that's worth.
There's going to be a zil­lion trib­utes about Andy Grif­fith on the inter­net today, so I thought I'd do some­thing a lit­tle dif­fer­ent and share some Andy Griffith-related nos­tal­gia that's more true to my era of tele­vi­sion and the spirit of this blog:
That time 'Mar­ried with Chil­dren' par­o­died 'The Andy Grif­fith Show'
If there were ever two shows that were polar oppo­sites of each other, it would be The Andy Grif­fith Show and Mar­ried With Chil­dren . The Bundys are about as far removed from May­berry as it gets, which I'm sure is the rea­son Andy Grif­fith was par­o­died sev­eral times. When Al Bundy gets depressed about the shit heap his life has become, Andy Grif­fith is prob­a­bly the domes­tic ideal he's day­dream­ing about.
(I apol­o­gize in advance for the Span­ish sub­ti­tles; these clips are the only ver­sions I could find on YouTube!)
The Bundys Do the Andy Grif­fith Intro
Watch Al and Bud chan­nel the spirit of Andy and Opie at the Bundys' retire­ment prop­erty on the beau­ti­ful toxic waste dump of  Lake Chicamacomico.
Greet­ings from Dump­wa­ter, Florida
In the Sea­son 2 two-part episode "Poppy's By The Tree", one of my per­sonal favorite MWC episodes ever, the Bundys go on a vaca­tion to Dump­wa­ter, Florida which only has two things–a ser­ial killer, and the man who met Andy Grif­fith. Unfor­tu­nately for the Bundys, they turn out to be the same man.
The Andy Grif­fith men­tion is at 1:31 in this clip: