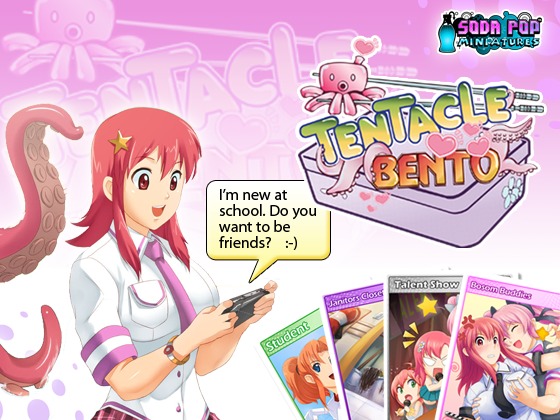 So appar­ently there's a crowd­funded card game on Kick­Starter called Ten­ta­cle Bento , which recently sur­passed and more than dou­bled its $13,000 fundrais­ing goal and still has 24 days left in the cam­paign. Why is it so pop­u­lar? Well for one thing, it's got plenty of super cute anime girls for you to ogle, and oh yeah–it's about (implied) ten­ta­cle rape!
Note  the "implied." That's key for the point I'll make in a bit.
In Ten­ta­cle Bento, a trick tak­ing card game by Soda Pop Minia­tures , you play as an alien mon­ster dis­guised as a stu­dent at an all-girl uni­ver­sity whose mis­sion is to "get your slimy ten­ta­cles on as many of the stu­dent body as you can before time runs out." You do so by cor­ner­ing girls (who are rep­re­sented by the four suits of Cute, Sexy, Sporty and Smart) in loca­tions such as The Fresh­man Dorm and by lay­ing down "Sneaky Snatch Action" cards.
I heard about the game on Twit­ter when @stillgray tweeted a link to this rather assertive post by Bran­don at Insert Credit that pretty much dis­misses the game as noth­ing but offen­sive, rape-glorification mate­r­ial that shouldn't be allowed on KickStarter:
"The style is a cute, light­hearted, pastel-colored look at the won­der­ful world of forc­ing your way inside a female against her will. There are, to my mind, a lot of things wrong with this.

For one thing, rape is not cute.  Amnesty Inter­na­tional states  that 1 in 3 women is molested, sex­u­ally assaulted, or oth­er­wise beaten in her life­time. I've heard many advo­cates say this num­ber is low, due to under-reporting. And it's not cute, and should never be depicted with such sac­cha­rine sweet­ness as Ten­ta­cle Bento does. It is ter­ri­bly dam­ag­ing to any­one it hap­pens to.

The more trou­bling thing is how many peo­ple are sup­port­ing it with­out think­ing about it. Or even worse, maybe they  are  think­ing about it."
While I'm in total agree­ment with Brandon's posi­tion on rape, I can't say I agree that Ten­ta­cle Bento is as bad as he's mak­ing it out be–which is a shame because I had my pitch­fork all cleaned up and ready to go.
After read­ing the Kick­Starter project page, watch­ing the video and look­ing closely at the cards, I've come to the con­clu­sion Ten­ta­cle Bento is a rel­a­tively harm­less slice of tongue-in-cheek humor aimed at anime fans and yes, those weirdos with a ten­ta­cle fetish who are gen­uinely turned on by the idea of being sex­u­ally probed by ten­ta­cles (which, frankly, I will never under­stand, but if that's your thing, hey).  How­ever, I'd wager that for most of the world ten­ta­cle rape fetish is a fringe curiosity–just one more biz­zarre thing to come out of Japan, like used panties vend­ing machines .
Like Munchkin or Killer Bun­nies , this is the type of par­ody card game you whip out at a party to play with your nerdy friends while drink­ing and hav­ing a good laugh about ter­ri­ble anime. Because it's a card game, and not say, a film or videogame, if there's any actual "rape" in this game, it exists solely in the player's imag­i­na­tion. The project descrip­tion and video don't use the word "rape" either, but even as implied rape  I'm not offended. There's a major dif­fer­ence between the real­ity of being bru­tally raped by another human being and this breed of bizarre alien fetish porn that is the stuff of fantasies.
Look­ing through the com­ments sec­tion, I'm inclined to believe the peo­ple who are donat­ing money to this project are not the pro-rape, women-hating, sex­ual assault apol­o­gists the arti­cle above would have you believe. They're just a bunch of dorks who want a cute, funny, mildly-inappropriate card game to play–and some of them are even women.
Update 5/16 — Well, looks like Kick­Starter has given in to the few overly sen­si­tive peo­ple out there cry­ing "rape!" because the Ten­ta­cle Bento project has now been pulled–which I'm sure has a lot to do with Luke Plunkett's hit piece for Kotaku. I'm really dis­ap­pointed in KickStarter's deci­sion to cen­sor this project. What will they cen­sor next? Leisure Suit Larry ?