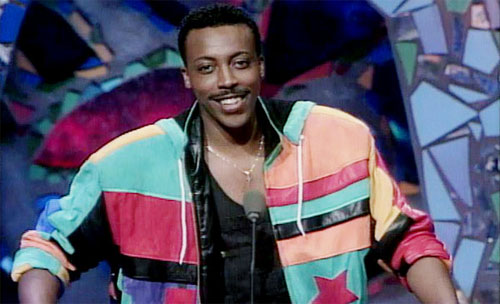 Unlike my last post , here's some­thing from the 80s and early 90s that I'd actu­ally wel­come back with enthusiasm:
Arse­nio Hall's latenight come­back is on track for a fall 2013 debut. CBS TV Dis­tri­b­u­tion has cleared the show on sta­tions cov­er­ing 85 per­cent of U.S. TV house­holds. The still unti­tled show has been cleared largely on the same kind of sta­tions that car­ried his first show in the late 1980s and early 90s: Fox affil­i­ates and indie out­lets now affil­i­ated with the CW. Tri­bune Broadcasting's sta­tions are the show's core launch group, as announced in June.

Hall's return to latenight was spear­headed in large part by Sean Comp­ton, Tri­bune Broadcasting's prexy of pro­gram­ming and enter­tain­ment. "Tribune's invest­ment in Arse­nio reflects our belief in the suc­cess of the show, and we are thrilled our broad­cast peers are equally excited," said Comp­ton. [via Vari­ety ]
Arse­nio Hall was the first late night talk show I ever watched reli­giously. Arse­nio show­cased all the hottest acts of the day, includ­ing up and actors, musi­cians, and fresh, young hip hop acts. At the time it was the hippest talk show on tele­vi­sion. I was really bummed when it got cancelled.
Now, on a more impor­tant note: does any­one know where I can buy a jacket like the one Arse­nio is wear­ing above??
It's Arse­niooooooooooooooooooooo Hall!
For old time's sake, here's a cou­ple of my favorite clips & inter­views from The Arse­nio Hall Show:
Michael Jackson's Sur­prise Guest Appearance
Jason Vorhees Interview
2Pac Interview
Paula Abdul Per­forms "Straight Up"
Bob­cat Goldth­wait Interview
Vanilla Ice Interview
Dig­i­tal Under­ground Per­forms "The Humpty Dance"
Milli Vanilli Interview
Tech­notronic Per­forms "Get Up"
Snoop Dogg Interview