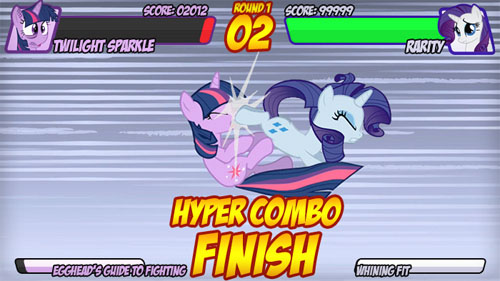 Never, ever under­es­ti­mate the inge­nu­ity and ded­i­ca­tion of Bronies when it comes to their  My Lit­tle Pony: Friend­ship is Magic fan­dom. A cou­ple of them decided a My Lit­tle Pony fight­ing game needed to exist and have got­ten together to make it happen.
"Fan-made" games, while cool, are usu­ally ambi­tious con­cepts with sloppy, ama­teur­ish exe­cu­tion because nobody pays these peo­ple to make this stuff, and obvi­ously they don't own the rights to the con­tent. But that's def­i­nitely not the case with Fight­ing is Magic . These Bronies are fight­ing game fans who actu­ally know what they're doing and have recruited a team of skilled pro­gram­mers, ani­ma­tors, musi­cians and voice tal­ents to pro­duce what looks like a professional-quality game you'd actu­ally want to spend money on. Damn shame they can't accept any for all this hard work, because I'd gladly toss some their way.
Check it out:
Who are the guys behind such awe­some­ness? A devel­op­ment team called Mane6. From their  FAQ page :
Truly, we're just a group of bronies who thought "Wouldn't it be a cool if some­body made a MLP fight­ing game?"
It doesn't say this in the FAQ, but the answer is obvi­ously a huge FUCK YES!
Unfor­tu­nately, as Kotaku reports , Mane6 was recently burned by a mem­ber of their own team who leaked an unfin­ished EVO build of the game on the inter­net. The team is still mov­ing ahead with devel­op­ment, but being a lot more secure and secre­tive about it now.
To the douchebag who leaked the game, I offer this: