This isn't going to be much of a post, I just wanted to give more atten­tion to a cer­tain (now infa­mous?) sticker from my 80s sticker book I shared the other day: this weird, kind of dis­turb­ing sticker of an uncom­monly intel­li­gent fish lay­ing on a din­ner plat­ter encir­cled by lemons. He's pretty enthu­si­as­tic for a fish who's about to be eaten. He's also self-aware enough to real­ize fish smells pretty bad, cooked or not.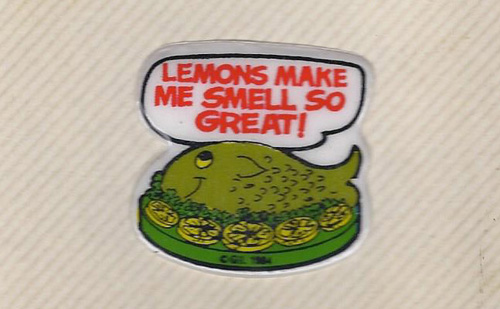 And before you ask, yes, I pur­posely cropped the fea­tured image of the lemon sticker so that it spells "emo." This fish should be fuck­ing emo, but instead he has rather com­pla­cently accepted his fate.
What's his backstory?