It's tomor­row, peo­ple! So I hope all your affairs are in order, all your meat clos­ets are stocked , you've spent qual­ity time with loved ones, and most impor­tantly, you're all caught up on your favorite TV shows. It would've really sucked to die a fiery death with­out know­ing whether or not Mag­gie and Glenn ever made it out of the Governor's camp alive.
One of the best Christ­mas gifts I got last year was this 2012 page-a-day Dooms­day count­down cal­en­dar from my boyfriend: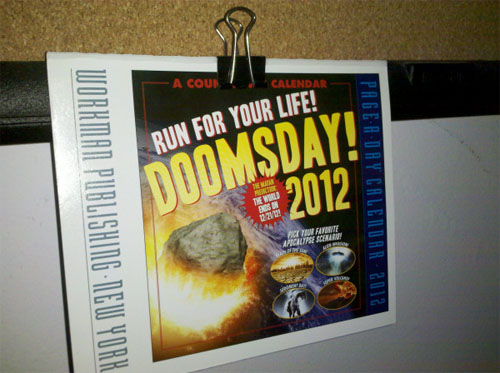 Like the  Jelly of the Month Club , it's a gift that has kept on giv­ing the whole year. I've looked for­ward each and every day to Armaged­don pre­pared­ness tips, apoc­a­lyp­tic movie and music rec­om­men­da­tions, pop­u­lar end-of-days sce­nario pre­dic­tions, things to do before you die, failed Dooms­day prophe­cies (I assume they included those to keep my spir­its up), and all kinds of other apoc­a­lyp­tic fun.
I'm proud of myself for hav­ing suc­cess­fully resisted all temp­ta­tion this year to sneak a peek at what the cal­en­dar says for Decem­ber 21st and beyond, so tomor­row will be quite a big day for me, assum­ing, of course, I'll still be alive to tear that page off.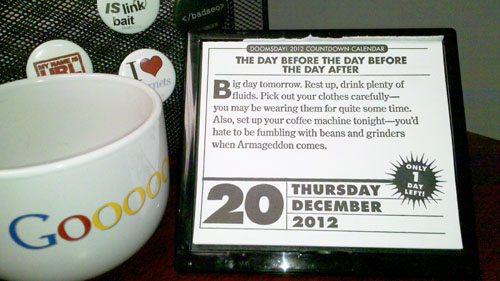 Today's entry was espe­cially poignant. I'll type it here in case it's too hard to read in the above pic:
The Day Before The Day Before The Day After
Big day tomor­row.
Rest up, drink plenty of flu­ids.
Pick out your clothes care­fully–
you may be wear­ing them for quite some time.
Also, set up your cof­fee machine tonight–
you'd hate to be fum­bling with beans and grinders
when Armaged­don comes.
You see what I mean? That's the kind of prac­ti­cal wis­dom this cal­en­dar is full of.