This week The League is trad­ing our unwanted stuff ! I've got plenty of that around here, but I tried to pick some­thing that I know you guys in The League might actu­ally want–that is, unless any of you are inter­ested in Hello Kitty stuff or Insane Clown Posse CDs… Any­one? Bueller?
Didn't think so.
So, here's what I'm hop­ing to unload:
Are you sur­prised I have Cat­woman comics? See, back in the 90s I was obsessed with X-MEN after get­ting hooked on the car­toon, so I started col­lect­ing the comics. I still have hun­dreds of them, between X-MEN, Uncanny X-MEN, X-Factor, X-Force, X-MEN 2099, X-MEN Adven­tures, all the character-centric titles like Wolver­ine, Cable, Storm, etc. etc. etc. I even have some Avengers crossovers. Here's a glimpse: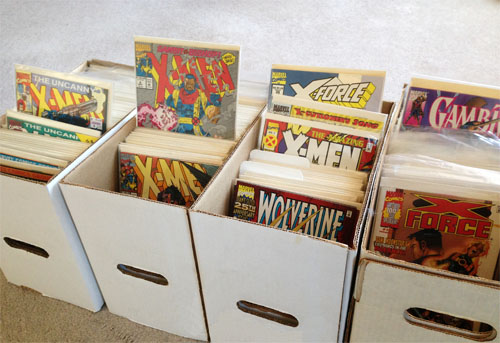 Feel­ing overly entrenched in the Mar­vel uni­verse, I decided at some point to branch out a lit­tle and try some­thing new. For what­ever rea­son, Cat­woman is the book I chose to do that with. I loved Bat­man, but was over­whelmed by the vol­ume of Bat­man comics out there and didn't know where to start. I've also never been one to col­lect comic books just for the sake of collecting–I actu­ally do read the sto­ries and I won't buy a book that I'm not "into" story or character-wise. When I saw Cat­woman #1 hit the stands back in 1993, I thought here was good chance to get into some­thing Batman-related from the start so I jumped on it.
Plus, the cover is embossed, so you can totally feel up Selina Kyle's cat-bewbz. Fun, right?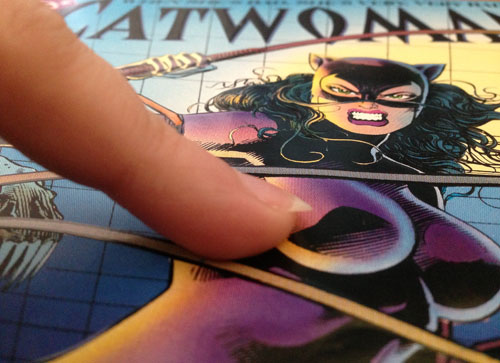 I tried my best to get into Cat­woman, col­lect­ing it for about a year or so, but unfor­tu­nately it never grabbed me the way X-MEN did, so I gave up. It did, how­ever, teach me a valu­able les­son: that I shouldn't have to "try" to get into some­thing. If you're try­ing too hard to like some­thing, it prob­a­bly means you don't. And if you don't like some­thing, stop col­lect­ing it. Oth­er­wise it's just a waste of time and money. That's what these books rep­re­sent to me–a waste of time and money. I have no emo­tional invest­ment in them what­so­ever, and I'd be more than happy to pass them on to some­one who'll actu­ally appre­ci­ate them.
So here's exactly what I have up for trade: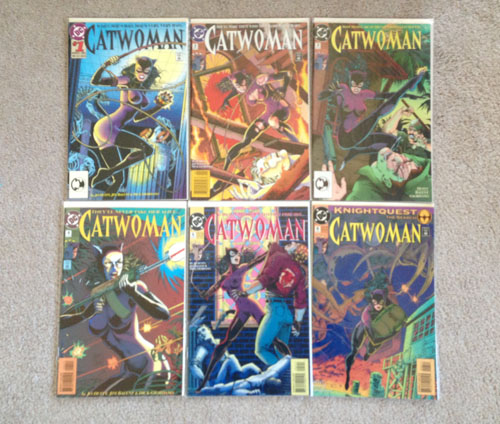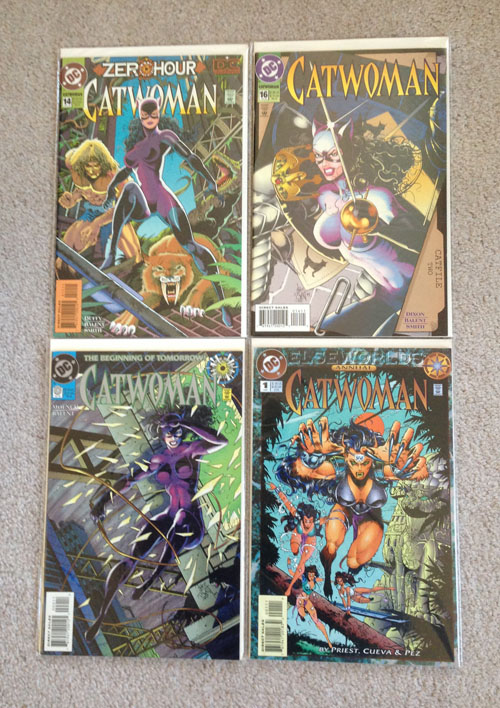 Cat­woman #1 — Aug 1993
Cat­woman #2 — Sep 1993
Cat­woman #3 — Oct 1993
Cat­woman #4 — Nov 1993
Cat­woman #5 — Dec 1993
Cat­woman #6 — Jan 1994 (2x copies of this one)
Cat­woman #7 — Feb 1994
Cat­woman #8 — Mar 1994
Cat­woman #9 — Apr 1994
Cat­woman #10 — May 1994
Cat­woman #11 — Jun 1994
(I don't have #12 for some rea­son…)
Cat­woman #13 — Aug 1994
Cat­woman #14 — Sep 1994 (2x copies of this one)
(I don't have #15 either)
Cat­woman #16 — Dec 1994
Cat­woman #0 — Oct 1994
Cat­woman Annual #1 — 1994
All of these comics are bagged and boarded and have been rest­ing undis­turbed in my comic boxes since 1994. In other words, they're in great condition.
And here's what I'm inter­ested in for trade:
Teenage Mutant Ninja Tur­tles any­thing, espe­cially if it's related to the first movie
Retro gam­ing stuff (

NES

carts, Atari, Sega Gen­e­sis, etc.)
Choose Your Own Adven­ture Books (Hardcover)
Vin­tage board games or card games
Atari Hot Wheels (I need the 2600

GMC

Motorhome and the Cen­tipede van)
Of course, money's always good too if you'd rather just out­right buy them. I have no idea what the're worth though, so you could prob­a­bly swin­dle me pretty good.
Let's make a deal.
Won­der­ing what this is all about? This week's assign­ment from The League of Extra­or­di­nary Blog­gers was to post items we want to trade or sell . Here's what we've got on the trad­ing post: