The first story I ever wrote was about a pur­ple pen­guin named Flippy who was dif­fer­ent from all the other pen­guins because he was pur­ple, you see. Look, I was five, what do you want from me?
I did it on this typewriter: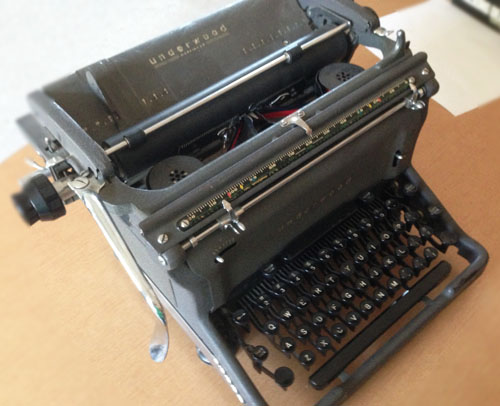 This is an Under­wood Rhythm Touch De Luxe model from 1949 (the only rea­son I know that is because I did some Googling and found this vin­tage adver­tise­ment  for one) that used to reside in my grandmother's old house. When I was lit­tle, I used to get dropped off there before school with noth­ing to do but find ways to keep myself enter­tained all day. One of them was this typewriter.
It weighs some­where in the neigh­bor­hood of HOLY SHIT and METRIC FUCK TON and it's faster to watch paint dry than it is to actu­ally type on the darn thing, but I'm sure back when Tru­man was pres­i­dent this was a pretty sophis­ti­cated piece of tech­nol­ogy. Just don't ever drop it on your foot, or you'll no longer have one.
Typ­ing on it the same way we do our mod­ern com­puter key­boards is impos­si­ble as every key punch requires near-mutant strength. I remem­ber hav­ing to  press down on each key with two fin­gers, and even then I wasn't always suc­cess­ful, leav­ing only a faint out­line of illeg­i­ble ink where my let­ter was sup­posed to go.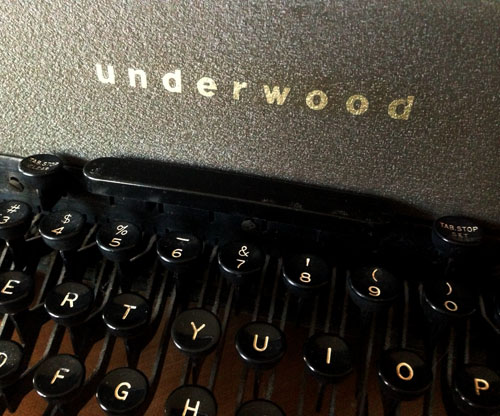 The keys would also fre­quently jam up and I'd have to reach my fin­gers into the machine's guts to un-stick them, get­ting ink all over me in the process. It was all worth it though, just to hear that glo­ri­ous clickety-clack sound. The only thing bet­ter was when you reached the edge of the page and got the hard car­riage return, result­ing in a cheer­ful "ding!" Call me old school, but I like tech­nol­ogy that rewards you with bells for your hard work. Not that I was writ­ing the great Amer­i­can novel at age five or anything–I mostly just liked to fid­dle with the var­i­ous levers, knobs and but­tons pro­trud­ing from all over this thing while pre­tend­ing I was doing some­thing important.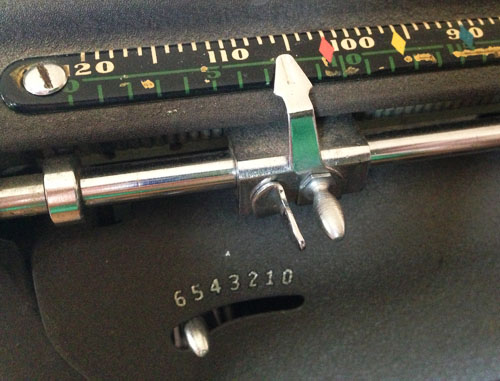 When my grandma got too old to take care of her­self and moved in with my par­ents, this type­writer was one of the few things I inher­ited from her estate–and by estate I mean a small rancher with an inte­rior like an episode of Hoard­ers . I'm glad she never got rid of this type­writer, though. I never both­ered to look up what it's worth, but to me its price­less. I credit this hunk of iron with inspir­ing me to want to write, even if all I have to show for my "tal­ent" is this silly blog and a half-finished book I've never shown to any­one. One day…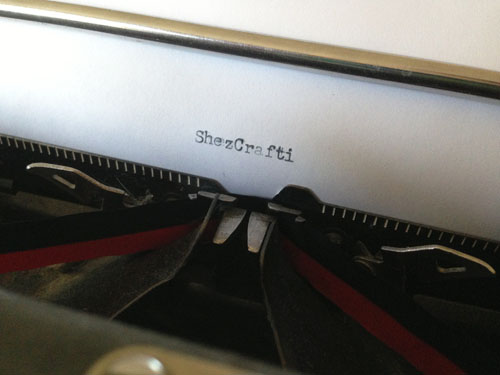 What is it with old type­writ­ers and grandmas?
Here's another old type­writer I inher­ited from a grand­mother, though not my own (my ex-boyfriend's). It's an elec­tric model Smith Corona "Coro­net Super 12″ from the 1970s that sur­pris­ingly still works.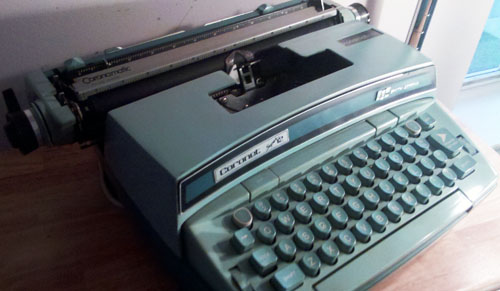 I say sur­pris­ingly because when you plug this thing in it makes this god-awful hum­ming sound like you can hear the cur­rent flow­ing through its 40-year-old parts, caus­ing me to have seri­ous doubts about its elec­tri­cal safety. But know­ing it could burst into flames at any moment makes typ­ing on the Super 12 all the more fun.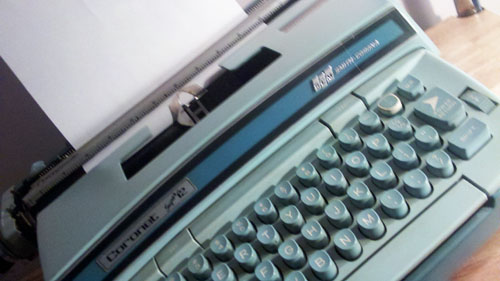 Plus, I just love the color. When's the last time you saw elec­tron­ics in robin's egg blue?
I like toy type­writ­ers, too.
As it turns out, my affin­ity for type­writ­ers goes deeper than I thought. Appar­ently this was one of my favorite baby toys: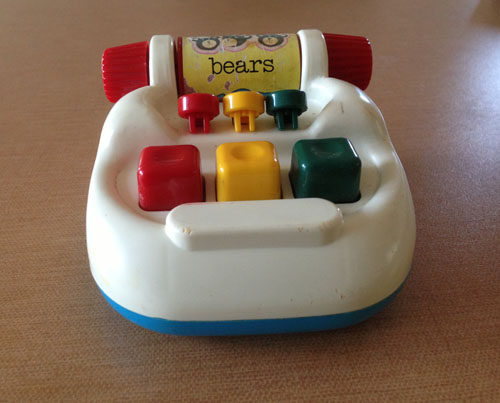 So much so that my par­ents have held onto it for 30 years. I recov­ered it last week­end when I went search­ing for child­hood trea­sures over at their house and was delighted to see it still works, even though it's kind of beaten up. There's a crank you can turn to scroll through the dif­fer­ent words–bears, cats, and apple. The but­tons make a great "ding!" sound when you press them, and col­ored ham­mers strike the cylin­der, which turns slowly as you "type." It's a lit­tle less sophis­ti­cated than the Under­wood and Super 12, obviously.