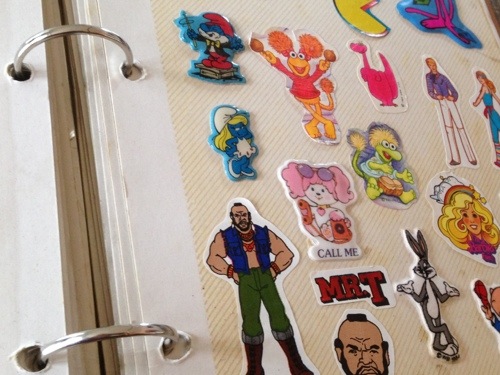 My older sis­ter and I didn't have much in com­mon grow­ing up, aside from hav­ing been pushed through the same vag and the few mor­ti­fy­ing occa­sions our mom forced us to wear match­ing out­fits. My sis­ter, the prissy straight "A" stu­dent who was into clothes and make-up, ver­sus me, the tomboy who was into pretty much all the same (read: much cooler) crap I'm still into now.
One of the few ways our inter­ests over­lapped was our mutual love for stick­ers. Then again, every kid in the 80s col­lected stick­ers, so say­ing we had this in com­mon is like say­ing we're both fans of breathing.
We were never "hard­core" in our sticker-acquiring aspi­ra­tions, but we did enjoy fill­ing up this sticker book with our shared trea­sures, giv­ing care­ful thought and atten­tion as to how they should be arranged. Well, sometimes.
I'm sure at the time it seemed like a good idea to "pro­tect" our stick­ers inside this old album meant for pho­tos, with its sticky pages and clear plas­tic page cov­ers that would yel­low and wither over time. I may not have learned much in the 20 years since I last touched this sticker book, but I think I can safely say that was a fuck­ing hor­ri­ble idea. Of course it wasn't mine.
Also not my idea was the inclu­sion of lame-ass stick­ers like Padding­ton Bear, but one of the rea­sons I love this sticker book so much is that it's a time cap­sule that reveals the dif­fer­ences (and some­times sim­i­lar­i­ties) between its two curators.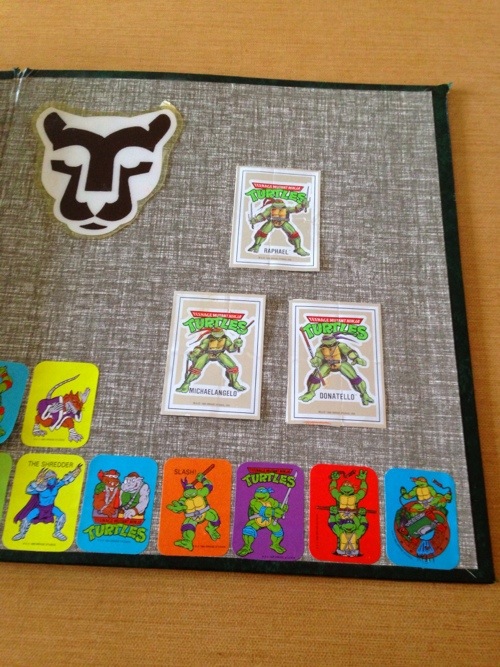 Those Teenage Mutant Ninja Tur­tles plas­tered on the inside back cover? All me.
It's fun to flip through these worn pages and try to remem­ber who con­tributed what in cases where it's less cut and dry. That Poochie sticker could have been either of us.
Also worth not­ing are the loosely adhered-to "themes" we attempted to cre­ate on some of the pages, which I've pro­vided my best guesses for below (when it isn't some­thing obvi­ous, like uni­corns). As was often the case, my sis­ter, ever the more cau­tious and detail-oriented daugh­ter, would get a good theme going until I came along and fucked it all up with my ran­dom sticker bombs and less than art­ful place­ment. STICKER ANARCHY!
And now, to sim­u­late the full expe­ri­ence of trad­ing stick­ers back in the 80s…
"
GUYS

!

GUYS

!

GUYS

!

LOOK

AT

MY

STICKERS

!"
Page 1 — Candy
&

Sweets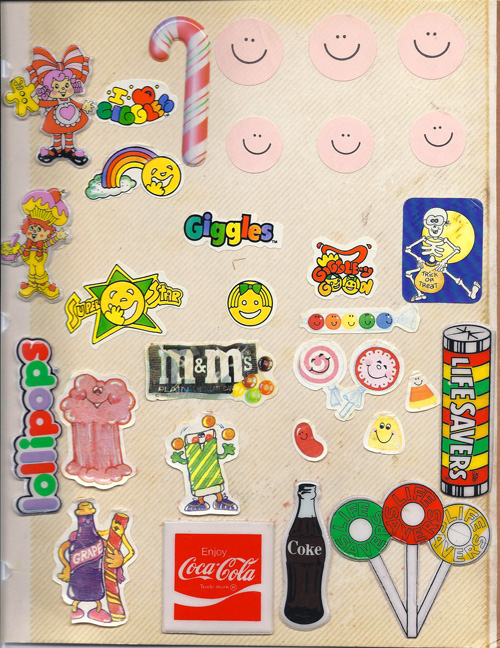 Page 2 — Moodies
Who remem­bers these lit­tle guys?
Page 3 — Metal­lic Mes­sages
&

 Music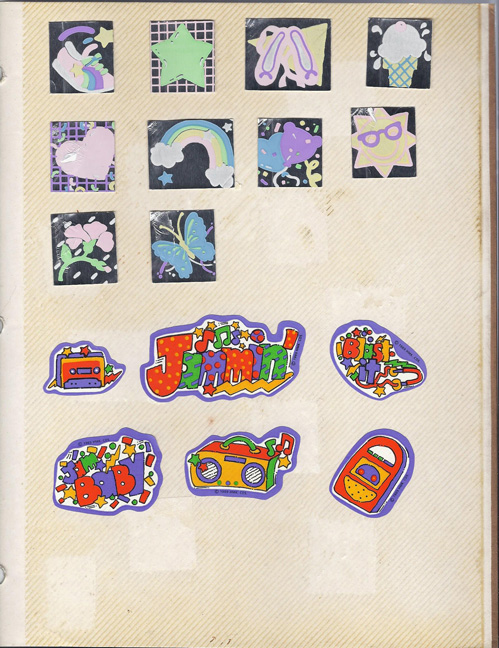 Page 4 — Hearts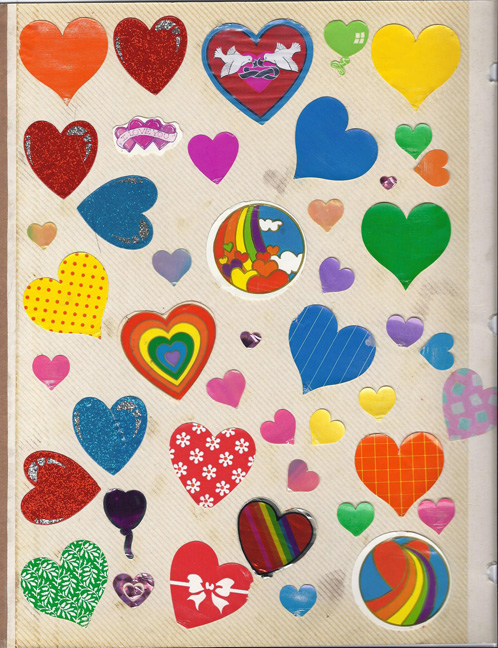 Page 5 — Bears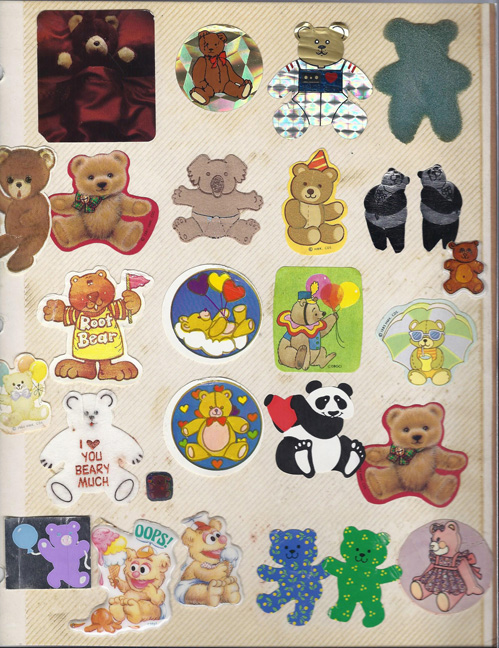 Page 6 — Fuzzy Things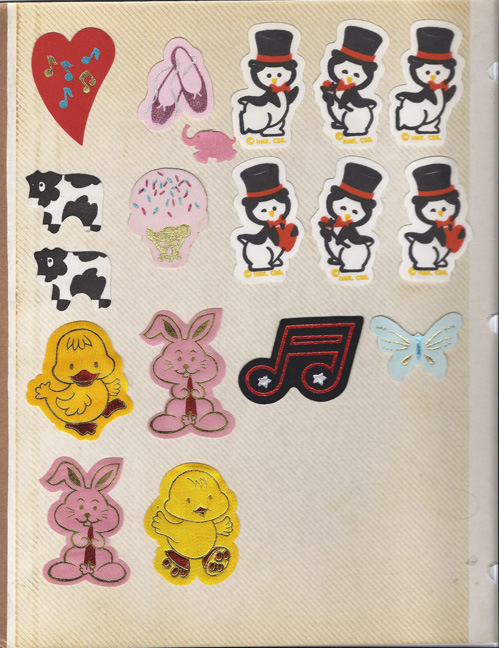 Page 7 — Kittens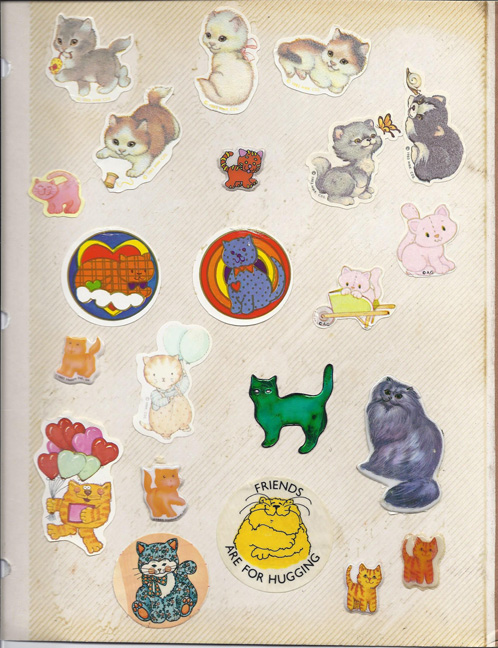 Page 8 — Hot Air Bal­loons
&

Garfield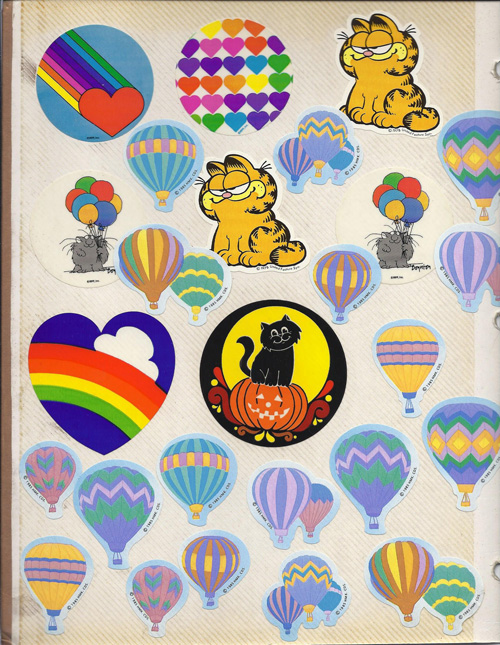 Page 9 — Ice Cream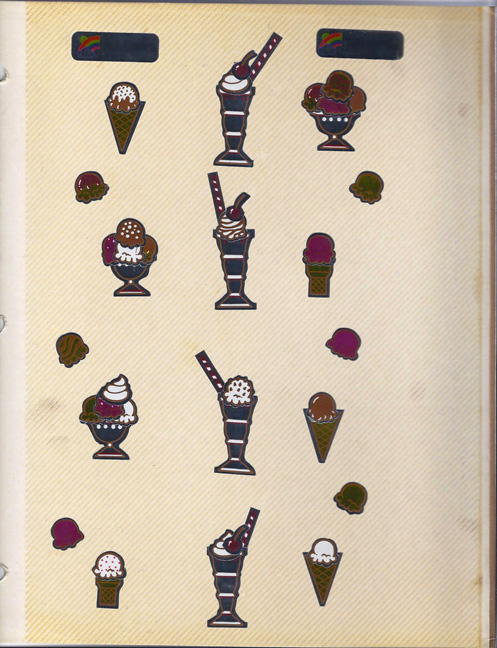 Page 10 — More Ice Cream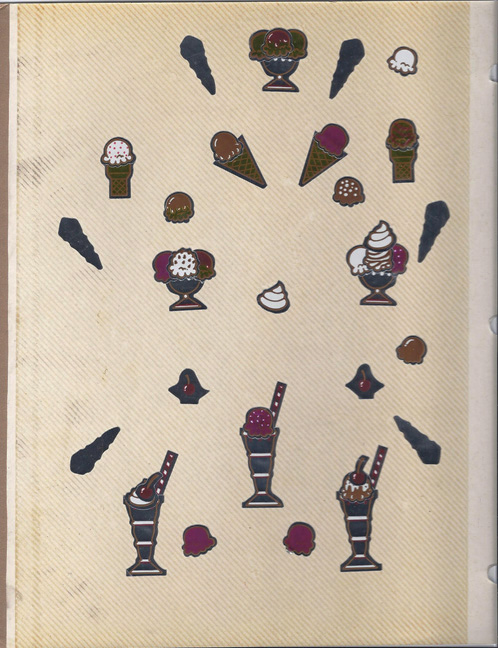 Page 11 — Peaches 'n Cream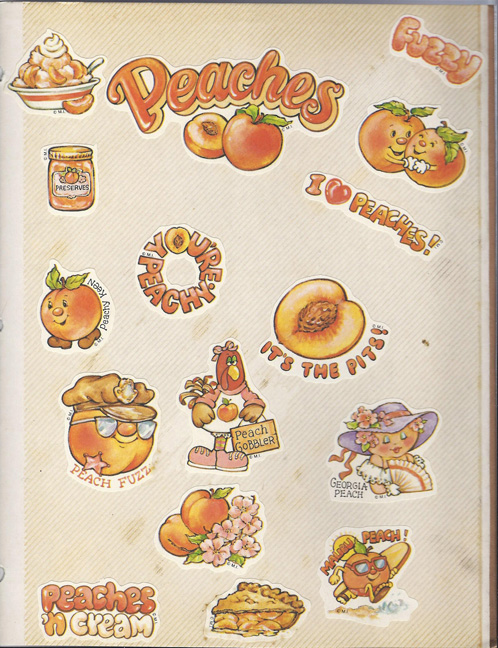 Page 12 — Junk Food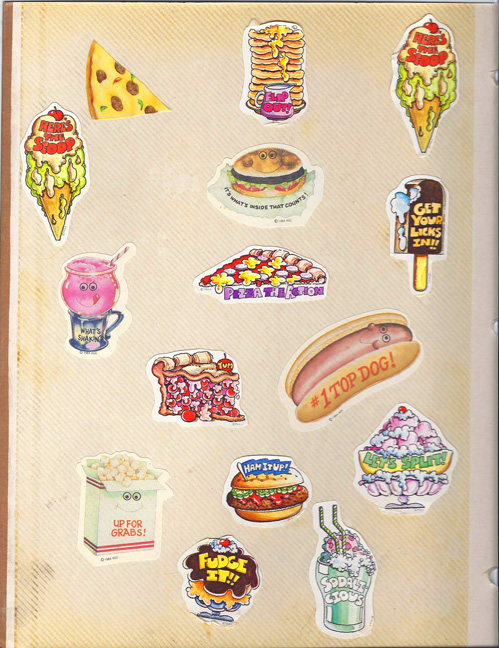 Page 13 — 80s-Tastic!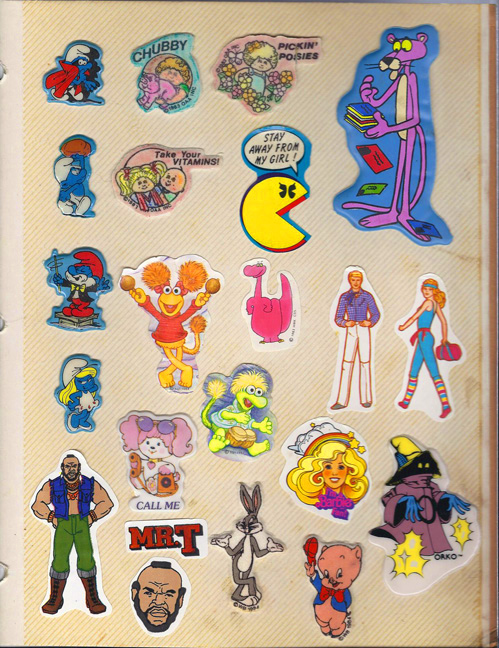 Page 14 — Easter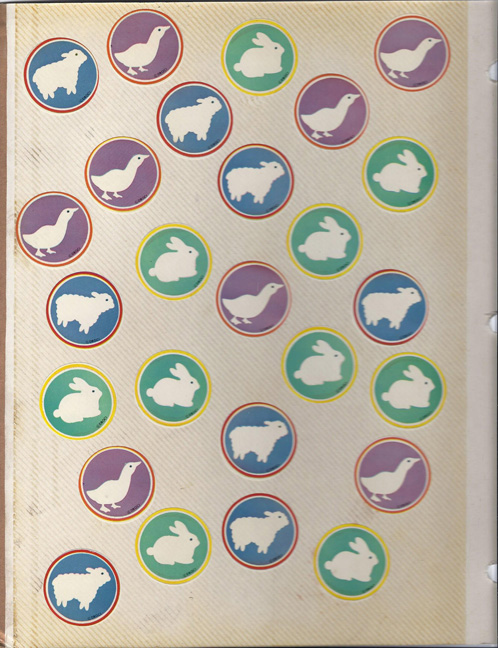 Page 15 — Skat­ing
&

Ballerinas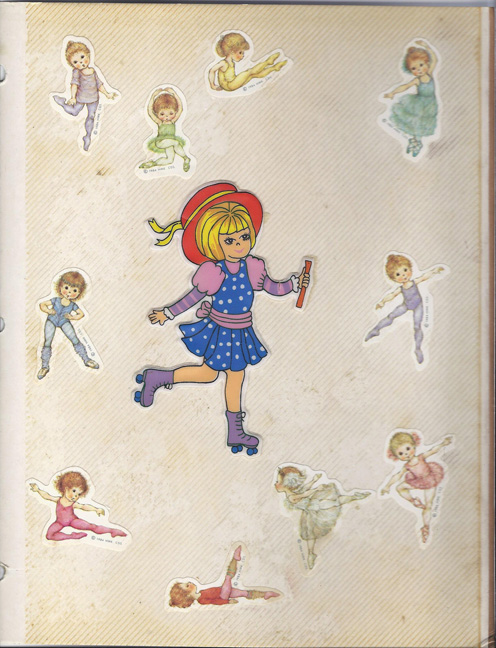 Page 16 — Sparkles
&

Shiny Objects
Page 17 — School
Page 18 — Cab­bage Patch Kids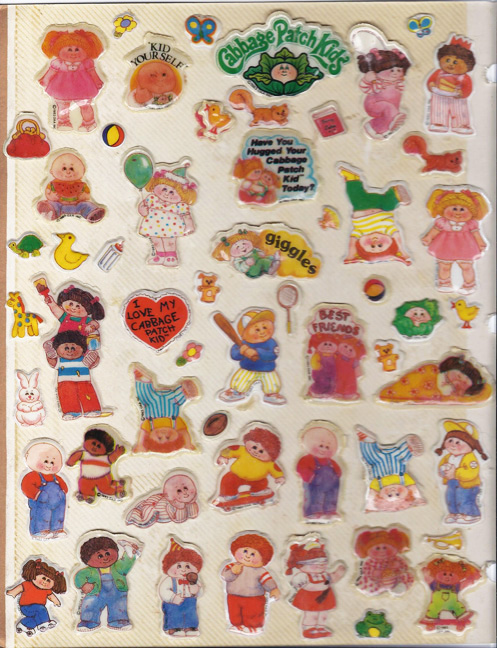 Page 19 — Mup­pet Babies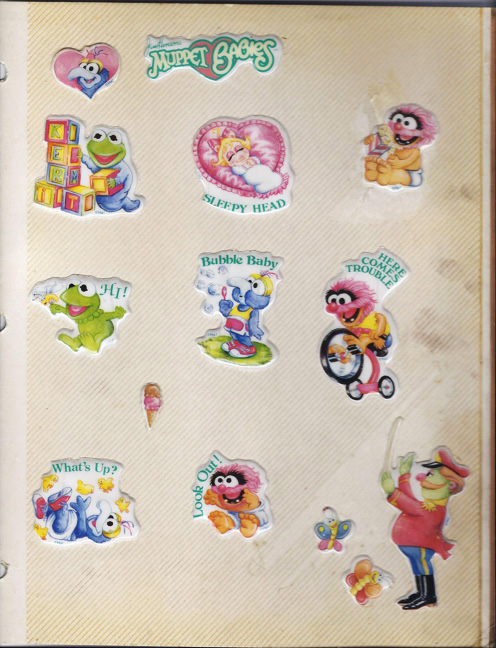 Page 20 — Puffy Stick­ers
&

Goo­gly Eyes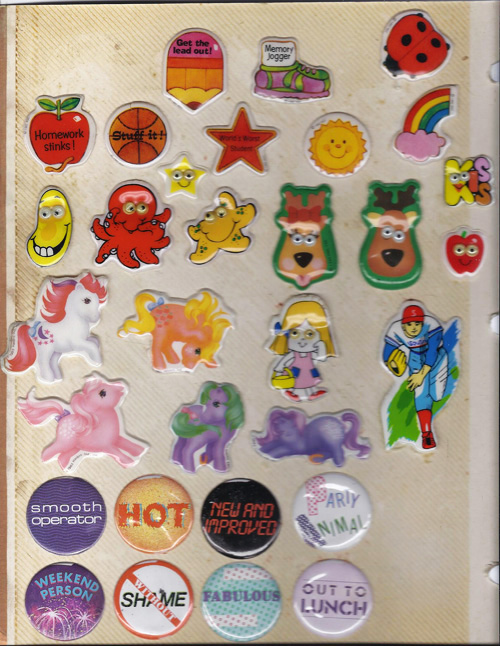 Page 21 — Lemons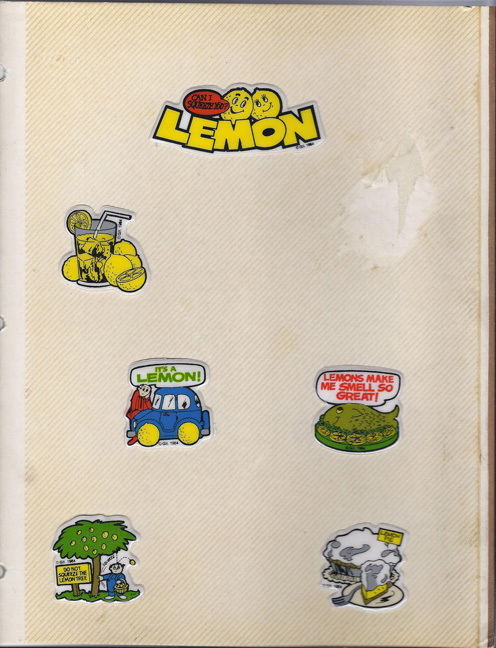 Page 22 — Valentines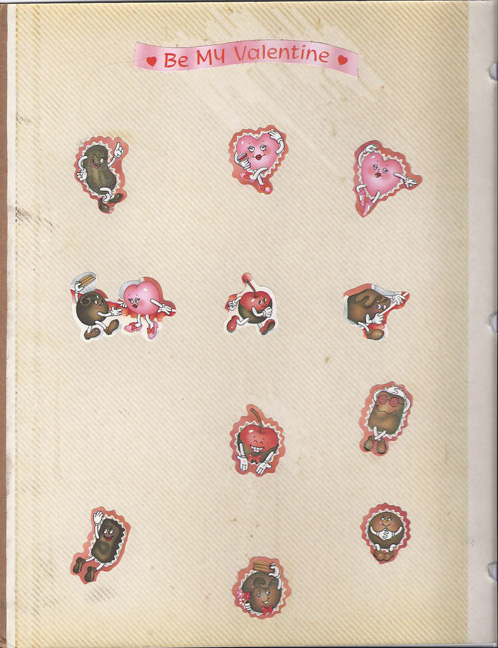 Page 23 — Chore Rewards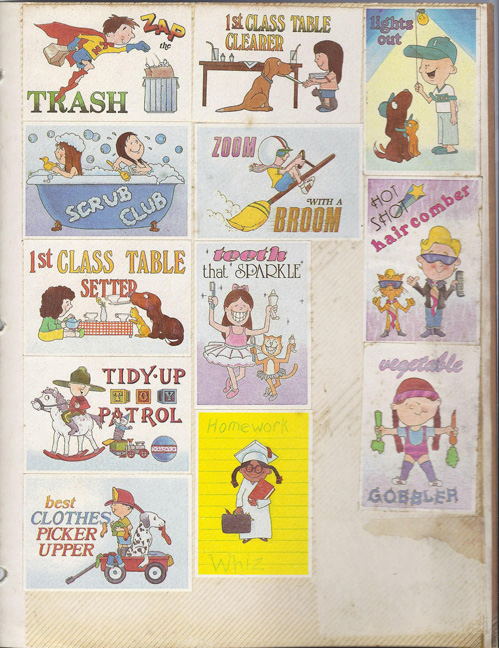 Page 24 — Straw­berry Shortcake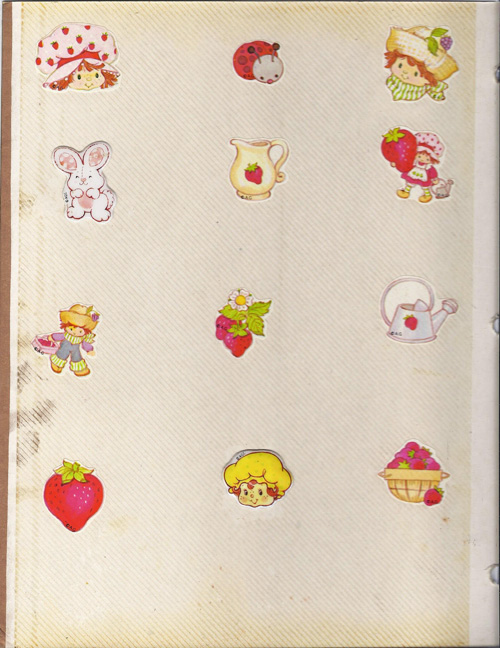 Page 25 — Dogs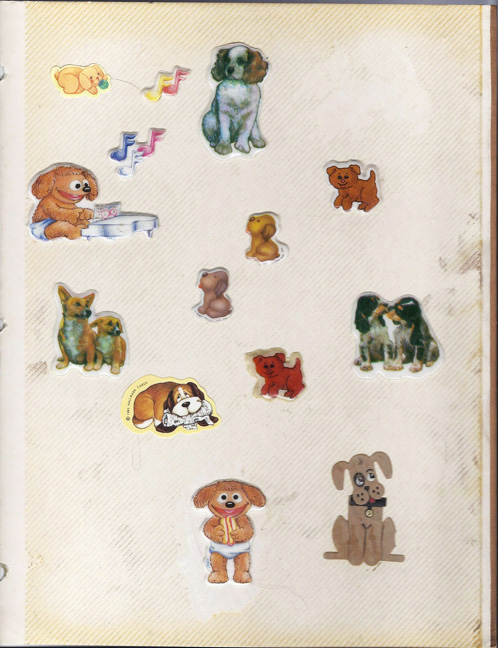 Page 26 — Teddy Bears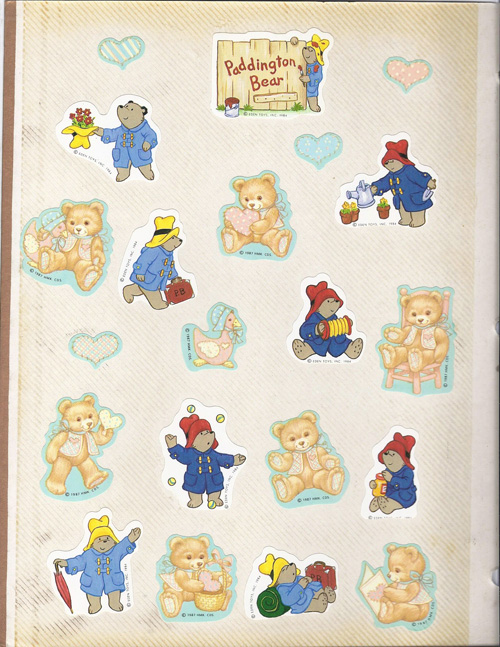 Page 27 — (Not Really) Balloons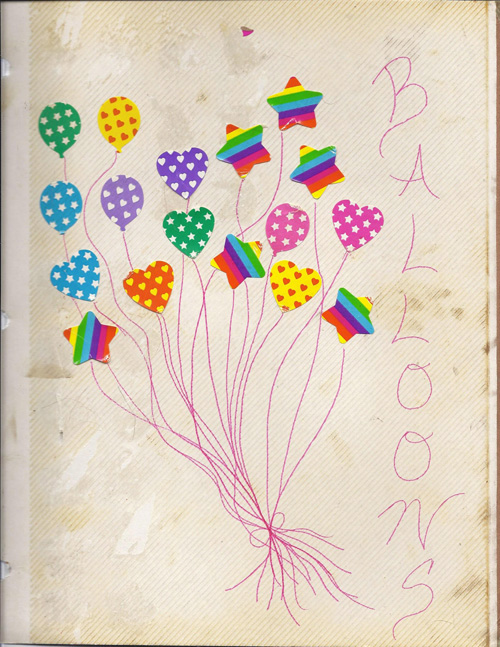 Page 28 — Unicorns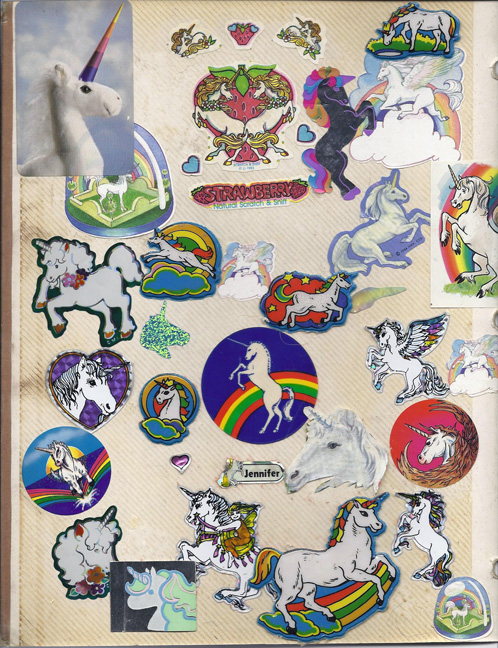 Who wants to trade stickers?
Hav­ing got­ten reac­quainted with my check­ered sticker col­lect­ing past, I think I'm inspired now to start an adult sticker book (NOT the kind you're think­ing of) to give a proper home to all of the rad stick­ers I've accu­mu­lated from my blog­ging friends lately, between Branded in the 80s , Top Hat Sasquatch , Strange Kids Club , etc. which reminds me–have you seen the totally kick­ass Cult Film Club stick­ers we're selling?
Do also check out Redis­cover the 80s totally rad sticker album from 1984 ! It puts this col­lec­tion to shame.