As usual, I fail when it comes to pro­mot­ing Cult Film Club , being over a week late in announc­ing that we have TOTALLY RAD STICKER PACKS for sale!
I'm hop­ing the all caps will make up for my lack­adaisi­cal­ness (it's a word, I checked) and put me back in the good graces of my co-hosts Pax and Shawn who've been (prob­a­bly) talk­ing behind my back.
Take a look at these bad boys: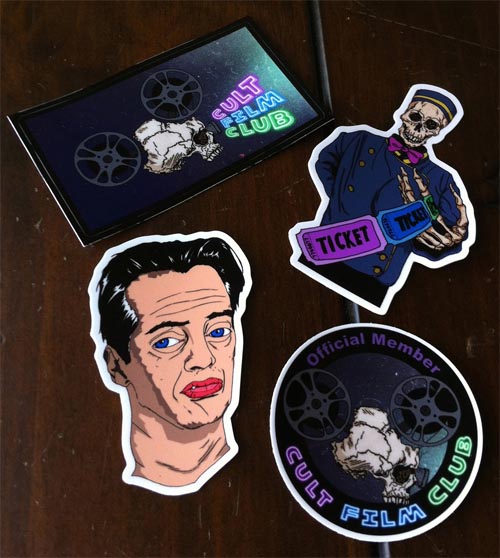 These lim­ited run stick­ers were designed by our own Shawn Robare and fea­ture his orig­i­nal art­work (again, I do noth­ing around here). Instead of beg­ging you guys for tips and dona­tions to help with pro­duc­tion and host­ing costs, Shawn had the bril­liant idea to win you over with "no tip­ping" Steve Buscemi stickerlust.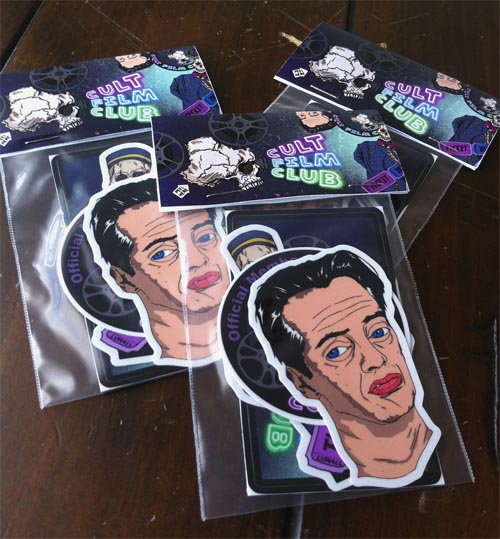 Each pack is $7 and includes the Cult Film Club logo, Offi­cial Mem­ber Badge, Phan­tom Ticket Taker, and Mr. No Tip­ping him­self, Steve Buscemi.
All pro­ceeds go directly toward our pro­duc­tion and host­ing costs, and not, I repeat NOT toward cans of Four Loko, which is how we make the magic happen.