As we get closer and closer to the Sep­tem­ber 29 pre­miere date of Nickelodeon's new  Teenage Mutant Ninja Tur­tles show, it's get­ting harder for me to keep my rabid fan­girlism in check which means this blog is at risk of becom­ing all TMNT, all the time. It's tak­ing every­thing I have not to let that happen.
This behind-the-scenes look at the new show is the lat­est slice of Nick­Tur­tles I'm obsess­ing over:
It shows us some pretty cool things we haven't really seen yet , like Don's defen­sive­ness over his alleged crush on April, a frus­trated Leo try­ing to keep his broth­ers in line, and–my per­sonal favorite–Raph's inter­ac­tion with his pet tur­tle Spike.
And here's my favorite screencap: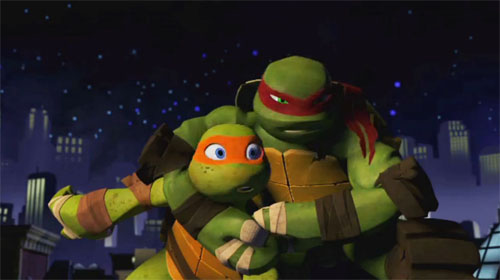 If you're look­ing for­ward to the new show and haven't seen this video yet, I promise it's worth the four and a half min­utes of your time.