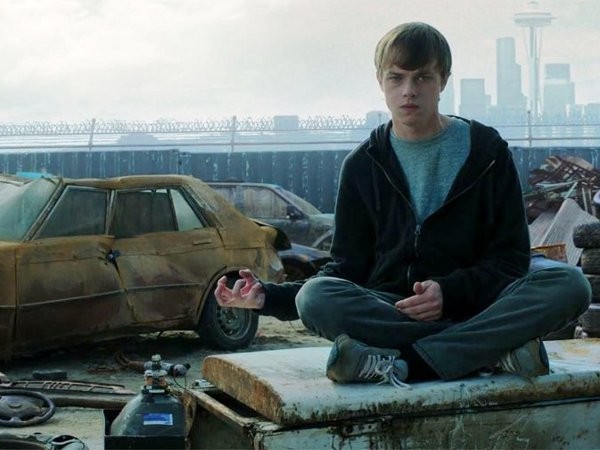 Chron­i­cle is a sci-fi thriller about three teenage boys who come into con­tact with a strange, radioac­tive sub­stance found in a well near their Seat­tle home, and weeks later dis­cover that they've devel­oped telekinesis-like abilities.
The story cen­ters on angsty high­schooler Andrew Det­mer, who begins doc­u­ment­ing his trou­bled life with video.  He con­stantly gets picked on, his dad is an abu­sive drunk, and his mother lay dying of can­cer.  It doesn't get much worse than Andrew's life.  And so he finds solace behind the cam­era, con­stantly film­ing at every oppor­tu­nity (much to the annoy­ance of his friends and classmates).
The first part of the film is pretty much what you'd expect: through Andrew's lens, we get a good intro­duc­tory glimpse of his life, his friends, and his prob­lems. About 12 min­utes in, every­thing changes after he and his friends Matt and Steve stum­ble across the mys­te­ri­ous well.  From there after­ward the boys begin doc­u­ment­ing their pow­ers on video, test­ing the lim­its of their abil­i­ties with gen­uine awe at what they're capa­ble of, often in humor­ous ways (for instance play­ing pranks on unsus­pect­ing peo­ple).  With the new­found sense of belong­ing that Matt and Steve pro­vide, Andrew's per­sonal life begins to trans­form as well, gain­ing more con­fi­dence and con­trol in his social life even when things are falling apart at home.
And this is where Chron­i­cle  really gets inter­est­ing. Rather than focus­ing too much on the "Hey, look at my awe­some super pow­ers, isn't this cool?" aspect of Andrew's story, the film takes a much darker turn as we learn that Andrew's inten­tions and moti­va­tions aren't exactly pure.  Tired of being bul­lied and his mis­er­able home life, Andrew beings to rec­og­nize that hav­ing such power also means hav­ing the abil­ity to pun­ish those who would do him harm.  And power in the hands of some­one who is so obvi­ously dis­turbed is a very dan­ger­ous thing.
The film's unspo­ken ques­tion: if you sud­denly devel­oped super pow­ers, what kind of per­son would you  be?
Shock­u­men­tary hor­ror films like Blair Witch and Clover­field that favor the shaky, first-person hand­cam method to tell the story as if it were "real" footage usu­ally come across as highly unbe­liev­able because, hon­estly, what kind of fuck­ing idiot would keep the cam­era rolling in ter­ri­fy­ing life-or-death sit­u­a­tions? (For what it's worth,  REC  was one of the only films to get the 'found footage' for­mula right.)  But In a non-horror film like  Chron­i­cle,  the found footage style makes more sense to me. In the age of YouTube, I have no prob­lems believ­ing that a bunch of bored teenagers who sud­denly develop super pow­ers would want to film all the awe­some things they can do.
That's why I was pleas­antly sur­prised by how well Chron­i­cle  works. Direc­tor Josh Trank, who is only 26 years old, by the way, is to be com­mended for putting his unique twist on the found footage trend with this direc­to­r­ial debut. Rather than mind­lessly mimic the first-person shoot­ing style like so many other films have done, he cre­ates char­ac­ter sit­u­a­tions that allow for dif­fer­ent film­ing per­spec­tives, bet­ter cam­era angles, and more inter­est­ing frames of reference.
For exam­ple, there's a pretty insane action sequence toward the end of the film where we get to wit­ness the events unfold through traf­fic and secu­rity cam­eras posi­tioned all around down­town Seat­tle. In some other cases, how­ever, it felt like the film­ing sit­u­a­tions were far too con­trived.  But over­all I think the direc­tion was appro­pri­ate and var­ied enough so that you don't feel like you're trudg­ing through loads of raw footage wait­ing for some­thing cool to hap­pen (fuck you, Para­nor­mal Activ­ity ).  Cool stuff def­i­nitely hap­pens in this movie. I don't want to give too much away, but I can promise there are some fan­tas­tic "WTF" moments that come out of nowhere, and awe­some action sequences that must be seen to be believed.
I believe Chron­i­cle  is an amaz­ing achieve­ment in low-budget film­mak­ing.  If you can put aside your expec­ta­tions of what found footage films are typ­i­cally like and just let your­self get immersed in the story, this movie can be a lot of fun.
ShezCrafti's Rating:










7 out of 10 stars.