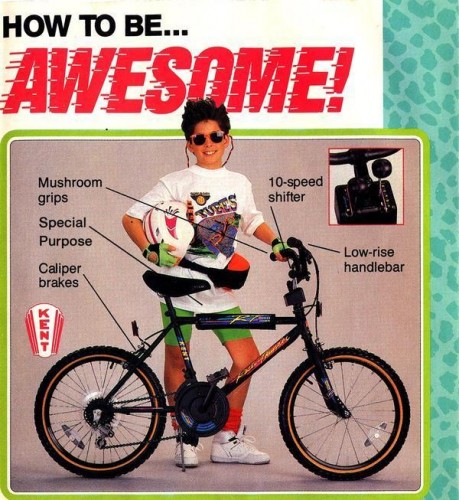 Unless we're count­ing my Cab­bage Patch Big Wheel and that fugly red and yel­low Lit­tle Tikes car that nearly every child born in the early 80s had, my first ride was a bitchin' rainbow-covered Care Bears bike with han­dle­bar stream­ers and train­ing wheels. Over the years many other bikes came and went in my life, each one cooler than the pre­vi­ous (or so I was con­vinced at the time), includ­ing a hot pink cruiser with a banana seat, a pas­tel 10-speed, and of course my Ninja Tur­tles BMX.
But back in the 80s,  hav­ing a nice bike–even if it was plas­tered with socially accept­able licensed characters–wasn't enough. No, in my neigh­bor­hood, your ride wasn't cool unless it was tricked out with at least one or more of these pimp bike accessories:
Spokey Dokeys Bike Beads
This was your entry-level vehi­cle cus­tomiza­tion in the 80s. Spokey Dokeys were lit­tle plas­tic col­ored beads, usu­ally neon, that clipped onto your bike's wheel spokes. As your wheels turned, they slide up and down your spokes mak­ing a delight­fully rau­cous noise that was sure to annoy all the neigh­bors. The really cool kids had glow-in-the dark Spokey Dokeys.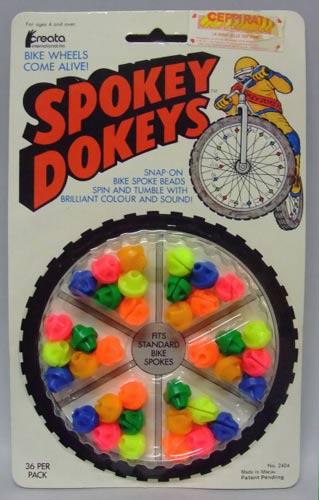 (Image credit:  Tons-of-Toys.com )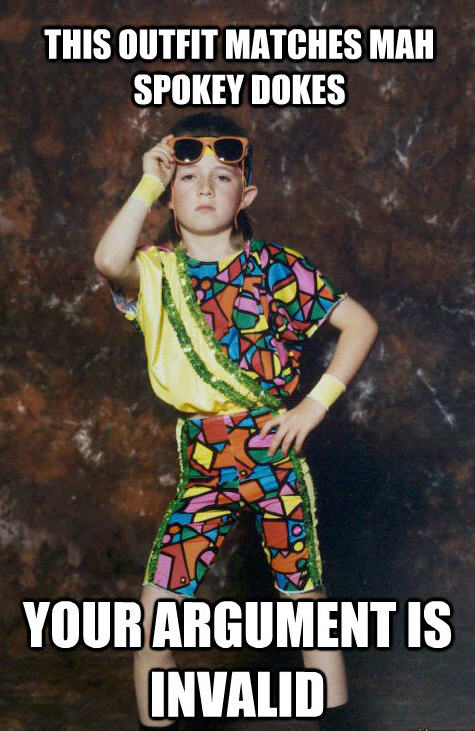 Han­dle­bar Streamers
Com­pletely use­less but 100% nec­es­sary (for girls, at least). The hard part was find­ing stream­ers that coor­di­nated with your bike's design and color scheme. You couldn't get away with primary-colored stream­ers on a neon-accented bike. Mis­matched bike acces­sories were a major fash­ion faux pas.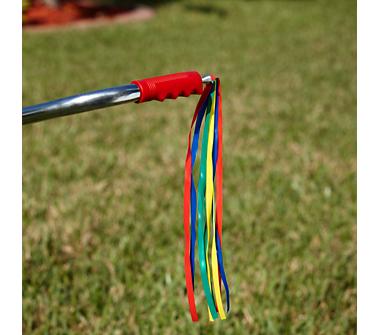 Reflectors
Bike safety was uncool back then, so man­u­fac­tur­ers had to make it more appeal­ing to kids with pop­u­lar licensed char­ac­ters and gim­micky free­bies. Whether you bought SnapOns or got them out of a cereal box, bike reflec­tors were a must-have acces­sory for express­ing your per­sonal style . Nobody cared that they also helped you not to get by cars.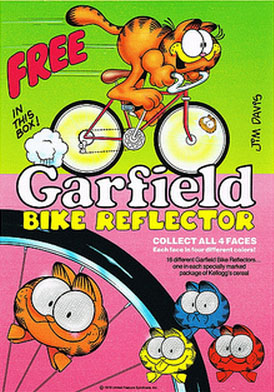 (Image credt:  bolio88 Flickr )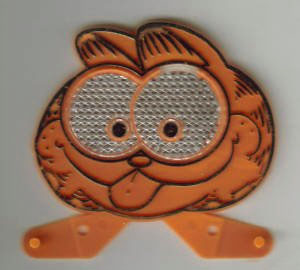 Han­dle­bar Radio
Only for the true ballers. These clunky AM/FM radios attached to your bike so you could lis­ten to Casey Kasem's Top 40 Count­down as you cruised by all your less for­tu­nate friends' houses, pray­ing that a  really cool song  would be play­ing. The rest of us had to fake it with  Pocket Rock­ers  fas­tened to our handlebars.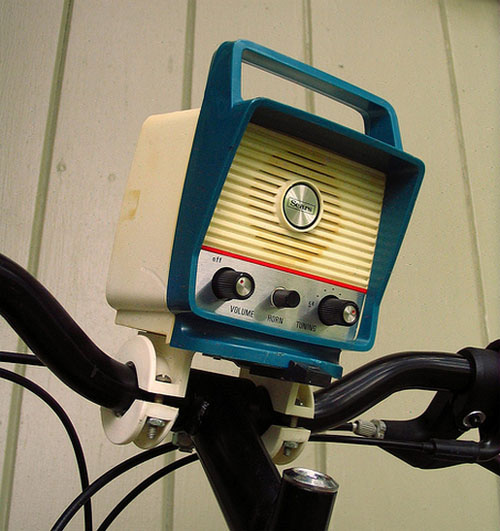 (Image credit:  nhwilber Flickr )
Bike Horn/Siren
Though use­ful for assert­ing dom­i­nance over younger kids on their Big Wheels and cut­ting paths through crowded side­walks, your basic bike horn was pretty bor­ing. That's why you had to have a cool one that made police noises or had your favorite car­toon and comic book char­ac­ters on it, like Bat­man, Spider-Man, or this bad boy: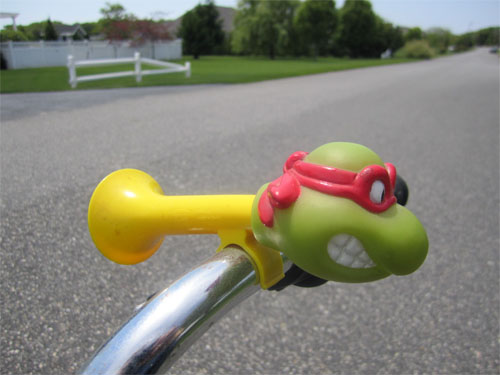 (Image credit: The Sewer Den )
I only ever knew one kid in my neigh­bor­hood who had a replica tiger bike siren just like Pee Wee Herman's. Leg­end has it he could beat the Teenage Mutant Ninja Tur­tles NES game with­out dying once and also, this one time, he made out with two girls at the same time.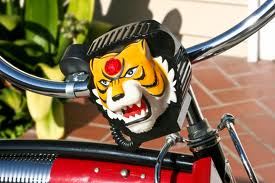 (Image credit:  Rat Rod Bikes )  
How Not to Be Awesome:
To achieve max­i­mum cool sta­tus, these bike acces­sories should be avoided:
Old-timey bells
Bas­kets, espe­cially if it had flow­ers woven into it
Hel­mets, knee pads, or any other wear­able safety gear. We lived on the edge back then.