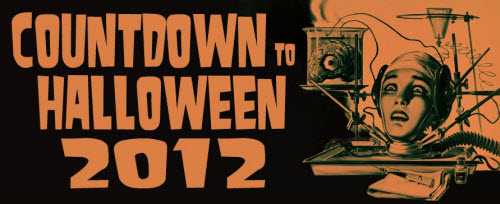 It is now past mid­night on the first of Octo­ber, which means the Count­down to Hal­loween has offi­cially started! As if on cue, the fall weather has arrived here in north­ern Mary­land almost overnight; I had to put on a sweat­shirt today from the chill. Last night I got my first whiff of that unmis­tak­able scent that's in the air this time of year–something like burn­ing embers, dead leaves and damp earth. I wish I could bot­tle that scent.
The Countdown
You may have already seen a cou­ple of Halloween-related posts around here, but those were just a warm up. From here on out until Octo­ber 31st, there'll be at least one Halloween-themed post from me each day. The Count­down is, after all, a month-long Hal­loween blog­ging chal­lenge. There'll still be plenty of non-Halloween posts, too, because not even my favorite hol­i­day can com­pletely derail me from my typ­i­cal geeky repertoire–and I fully expect there to be a good amount of over­lap between my interests.
I've got a lot of great Hal­loween ideas, to-do's, fun-tivities (a word I totally just made up!) reviews, lists, and other cool things I want to show you. The chal­lenge now is to find the time to write about them all (and in some cases get cre­ative and make stuff ) in what is already a very busy month for me. To be quite hon­est, I'm a lit­tle ner­vous about the com­mit­ment, as this is the first marathon blog­ging chal­lenge I've ever taken on. On the other hand, I'm also really look­ing for­ward to see what my fel­low Cryp­t­keep­ers will be post­ing dur­ing the Countdown–especially those of you in The League –and I'm thank­ful for the cama­raderie and shared chal­lenge, which should help to keep us all moti­vated and in the Hal­loween spirit.
I'm ready, Octo­ber. Bring it on!
This Is Halloween
Because I can't think of a more appro­pri­ate song to kick off the season.
P.S. — 31 Days 'Til Halloween