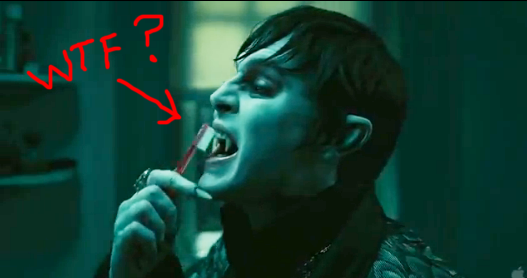 Well, I was   look­ing for­ward to Tim Burton's upcom­ing film Dark Shad­ows …
After wait­ing months and months for any hint of a teaser, the full blown trailer arrived out of nowhere last night. And man what a fuck­ing dis­ap­point­ment it is.
Ok seri­ously, Tim Bur­ton, what the hell? This was your chance to make a seri­ous film for Dark Shad­ows fans and you've com­pletely blown it.
I mean this has to be some kind of joke, right? Nobody asked for  "Austin Pow­ers with Fangs,"  as the Boston Her­ald puts it.
Yes, we know Dark Shad­ows was a campy, low-budget soap opera, but it wasn't this ( what­ever the hell "this" is).  The orig­i­nal TV show had more integrity than that.
Despite its lim­i­ta­tions, Dark Shad­ows  at least tried to be a seri­ous show and stuck to its unique (at the time) for­mula of hor­ror, mys­tery and romance. It was never con­sid­ered a com­edy (well, at least not inten­tion­ally) and never had to resort to cheap jokes.
I love Tim Bur­ton and all, but this makes two films in a row now ( Alice in Won­der­land ) where he's com­pletely missed the mark and ruined beloved char­ac­ters and fan­doms with his flam­boy­ant, style-over-substance treat­ment of the material.
Oh well. I guess we'll always have the orig­i­nal Dark Shad­ows  to fall back on.