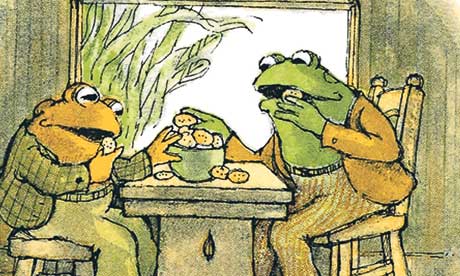 My five year old self smiled today when I heard The Jim Hen­son Com­pany is bring­ing one of my favorite series of books from child­hood , Frog and Toad , to the big screen in the form of an ani­mated fea­ture film.
From the press release :
The Jim Hen­son Com­pany has acquired rights to the beloved children's books FROG AND TOAD and is devel­op­ing an ani­mated fea­ture film. Writ­ten and illus­trated by Arnold Lobel in the 1970s each of the four FROG AND TOAD books include five short sto­ries chron­i­cling the exploits of a frog and his friend, a toad, sim­ply named Frog and Toad.

Lisa Hen­son will pro­duce for The Jim Hen­son Com­pany. Adam Lobel and Adri­anne Lobel will exec­u­tive pro­duce. Craig Bartlett ("Dinosaur Train" and "Hey Arnold!") will write the screen­play and Cory Edwards ("Hood­winked") is attached to direct.
I fondly recall rainy days at my grandmother's house curled up on her bed with Frog and Toad books. One of my favorite sto­ries was Frog and Toad Together , the one where they eat too many cook­ies (pic­tured above) and have to learn to use their willpower to stop eat­ing before they get sick. You'd think read­ing a story like that at such a young age would have instilled me with some bet­ter eat­ing habits, but nope. I still eat way too many cookies.
Speak­ing of Frog and Toad and cook­ies, some­one from the inter­nets made these adorable things that I'm shar­ing just because: