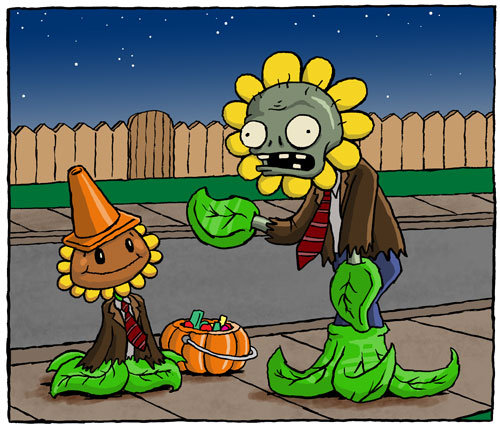 Hal­loween candy has always been the bane of the Amer­i­can Den­tal Association's exis­tence and every year it seems they're out there, some­where, actively pro­mot­ing non-sugary Hal­loween treats and ruin­ing everybody's fun. I've always blamed them for those houses that give out raisins.
Well this year the Amer­i­can Den­tal Asso­ci­a­tion is actu­ally doing some­thing kind of cool. They've teamed up with Pop­Cap to offer free copies of everybody's favorite adorable tower defense game , Plants vs. Zom­bies  to "Stop Zom­bie Mouth."  (Zom­bie mouth = tooth decay, hurr hurr, I get it!) Treat-givers are encour­aged to hand out these print­able coupons marked with redeemable free game codes, which are valid from Octo­ber 30 — Novem­ber 10.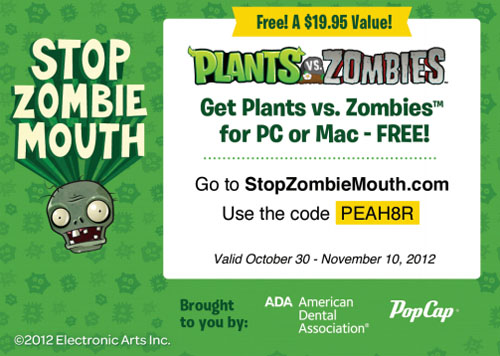 Of course, this cam­paign isn't going to stop ass­holes like me from hand­ing these out to all my trick-or-treaters in addi­tion to  piles of sac­cha­r­if­er­ous, tooth-rotting candy. That's right, kids, I'm an enabler.
And for those of you too old to go trick-or-treating, hey, free game!