Today I'm going back to school…by kickin' it old school.
The first thing that popped into my head when I read this week's rather vague but sim­ple League topic of "Back to School" was this song by the short-lived, early 90s hip hop group, Fifth Pla­toon  (who are evi­dently so obscure they don't even have a Wikipedia page –some­body needs to get on that):
TMNT fans should rec­og­nize it from the sound­track to the 1991 sequel film, Teenage Mutant Ninja Tur­tles II: The Secret of the Ooze . It has hokey lyrics like "Back to school, 'cause it's cool–don't be no fool!" and talks about Trap­per Keep­ers and video games. Basi­cally every­thing that was impor­tant to me in fifth grade, which is when this movie came out.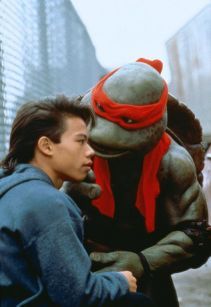 I've always been fas­ci­nated by the rea­sons behind why songs get cho­sen for movie sound­tracks and how they're used in the film. "Back to School" can be heard briefly dur­ing the part where Raph and Keno stake out the Foot Clan's hide­out, which I always thought was kind of funny in the con­text of the scene. After a sar­cas­tic exchange with Raph in which he acts like he knows every­thing, Keno infil­trates The Foot in an attempt to let him­self get recruited, but pan­ics dur­ing the bell test–something he couldn't have passed with­out Raph's help, of course–so I always took it to mean that Raph had "schooled" him; or at least that's my own silly inter­pre­ta­tion of why this song is on the soundtrack.
The real rea­son is prob­a­bly much sim­pler: the song is kid-friendly hip hop with a pos­i­tive mes­sage, and I'm guess­ing it was super cheap to get the rights to. What­ever the actual rea­son, I do like this song quite a bit and couldn't imag­ine The Secret of the Ooze sound­track with­out it. It's a shame Fifth Pla­toon fiz­zled as a hip hop group because I really dig their old school sound and the whole party vibe they had going on, which can also be heard on their mod­er­ately suc­cess­ful but still pretty obscure sin­gle "Party­line" and its even rarer but ban­gin' b-side, "Hal­lelu­jah The Fifth is Here."
I had both Teenage Mutant Ninja Tur­tles movie sound­tracks on cas­sette tape and played them so much I destroyed the tapes. The per­fo­rated, fold-out inserts were also a wreck as I used to spread them out on my bed and read along with the lyrics and look at the pho­tos as I lis­tened to the album. In fact, I still lis­ten to both of these sound­tracks on a reg­u­lar basis (and to a much lesser extent, the TMNT III sound­track, which sucks and is full of filler) only now I stream them from Google Music.
The tech­nol­ogy has changed, but my love for cheesy movie sound­tracks lives on.
I'll trade you my Fruit By the Foot for your Tur­tle Pie…
Won­der­ing what this is all about? This week, The League of Extra­or­di­nary Blog­gers is going back to school ' inter­pret­ing the topic how­ever we wish! Here's who I'm giv­ing extra credit to: