Going through stuff in my base­ment, I dis­cov­ered  a box full of old crap I've been hold­ing onto for one rea­son or another. Found a few gems in there, like this Teenage Mutant Ninja Tur­tles post­card book­let from 1990. I don't recall if it's some­thing I bought myself, or was given to me as a gift, but evi­dently it cost $4.95 at the time.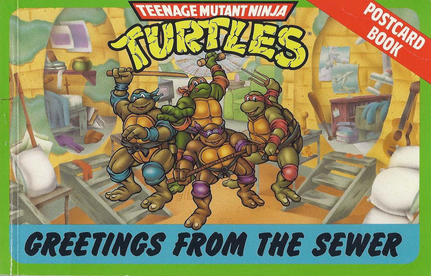 Though I'm quite sure I thought these were the coolest things ever when I was 10 years old (so cool that I felt they were pre­cious enough not to rip out and use) but look­ing at them now? Not so much.
The art­work is pretty sad. The Tur­tles look like they need bariatric surgery and every­one is drawn in extremely awkward-looking poses.
It's so awful you know I just had to scan in all 24 post­cards just to share with you. Let's make fun of them together!
By the way, sorry to inun­date this blog with so many Turtles-related posts lately, but my TMNT fan­girlism has been kicked into high gear this week, what with the news of the upcom­ing Nick­elodeon show , live-action film , and doc­u­men­tary .