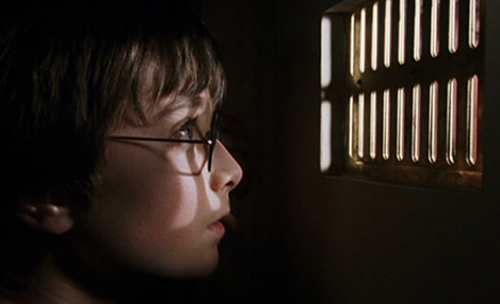 Today I came across this weird arti­cle in my news feed, which dis­cusses a the­ory about the Harry Pot­ter books I had never heard before:
"Here's one that might be new to you: there's a rumor going around that the entirety of the  Harry Pot­ter  fran­chise existed com­pletely within the realm of one trou­bled boy's imag­i­na­tion — and that his abu­sive aunt and uncle drove him to insan­ity by mak­ing him live in a cupboard."
Fas­ci­nat­ing. I did some addi­tional pok­ing around and found this lengthy post  (extreme tl:dr warn­ing!) on a phi­los­o­phy board about "The True Mean­ing of Harry Pot­ter" which sug­gests that the Harry Pot­ter series is about men­tal ill­ness and that Hog­warts is an insane asy­lum. "I've heard it sug­gested to me more than once that Harry actu­ally did go mad in the cup­board, and that every­thing that hap­pened sub­se­quently was some sort of fan­tasy life he devel­oped to save him­self," Rowl­ing said in a behind-the-scenes inter­view with Steve Kloves for the Harry Pot­ter Wiz­ards' Col­lec­tion box set. It's inter­est­ing that she didn't con­firm or deny it, though.
There's cer­tainly plenty of evi­dence to sug­gest the "Harry is insane" the­ory could be true:
The Magic realm is invis­i­ble to Mug­gles (for the most part).
Harry's pre-Hogwarts life with the Durs­leys could def­i­nitely be clas­si­fied as child abuse
The Durs­leys' embar­rass­ment, fear and over-zealousness to rid Harry of any and all abnormalities
And per­haps most con­vinc­ingly, this quote spo­ken to Harry by Dum­b­le­dore toward the end of the last book: "Of course it is hap­pen­ing inside your head, Harry, but why on earth should that mean that it is not real?"
I'm sure you can con­jure up many addi­tional exam­ples that I haven't both­ered to list. How­ever, I don't believe any of these the­o­ries are true, or that mak­ing us believe some­thing wasn't quite right in Harry's head (other than that whole Volde­mort mind con­nec­tion thing) was ever J.K. Rowling's intent.
These insan­ity the­o­ries are always fun to knock around, but they're com­pletely sub­jec­tive and like most cre­ative inter­pre­ta­tions, you can find always find evi­dence to sup­port your wild the­o­ries if you squint your eyes and blur the details enough. Some peo­ple have a hard time sim­ply accept­ing things at face value and always try to search for a hid­den mean­ing; I guess in this case it's because they don't feel Harry Pot­ter is awe­some enough with­out some extra layer of head­trippy LIKE WHOA Sixth Sense "He was dead the whole time!" bullshit.
Not every­thing is a con­spir­acy the­ory, guys.