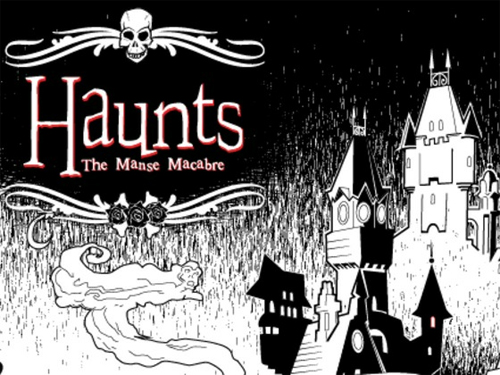 Haunts: The Manse Macabre, the upcoming turn-based horror game from Mob Rules Games has just met its $25,000 KickStarter goal today–and there's still 9 days left in the campaign.
This haunted house game pits players against each other–taking up either the side of Light or Darkness–who secretly choose forces and abilities to use against their opponent. As an Intruder (the Light), you'll recruit a squad of people to explore the horrifying rooms of Tyree Manse using weapons, psychic and magic powers to cleanse the house of its evil spirits, solve mysteries or recover dark artifacts. As a Denizen (the Darkness) you'll have to defend against the Intruders by haunting them with Phantasms, the Undying, Cultists, Abominations and other creatures of the night.
Players have no idea what their opponent is doing, until they discover it for themselves during the game. Light and darkness have crucial roles in determining how the game plays out, since it's always in your best interest to hide your movements from your foe even as you try to suss out what they're up to. With its mercurial maps, hidden agendas, and stealthy maneuvers punctuated by macabre attacks, Haunts: The Manse Macabre builds tension like a great ghost story should. Whether or not it has a happy ending depends, of course, on your point of view.
Haunts has an extremely cool and unique art style that looks sort of like Edward Gorey meets Emily the Strange, which is perfect because according to today's project update, Haunts: The Manse Macabre will be arriving in time for Halloween!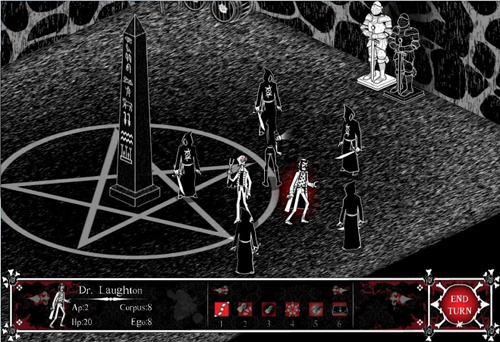 The developers are doing something pretty interesting with this crowdfunding project. For every $5 you pledge, you'll earn extra copies of the game that you can share or even sell to your friends. That's right, if you wanted, you could spend $5 for a copy of Haunts and legally sell it for a million dollars…theoretically, anyway.
For pledging just $5 on KickStarter, you can score  a copy of this sweet little indie game for yourself. Hurry up, though; there's only 9 days left!