Alter­nate title for this post: "Why I Shouldn't Have Gone Inside Rite-Aid."
This past week­end my boyfriend stopped at Rite-Aid to pick up some NyQuil (Side­bar: Since when did they start requir­ing you to pro­vide your birth date for cough med­i­cine pur­chases? Crazy!) for his cough and I made the mis­take of going inside to look at Hal­loween stuff instead of stay­ing in the car to fin­ish jam­ming to that AWOLNATION song .
Sit­u­ated inno­cently among an end cap of potato chips and plain old pret­zels I found these festive-looking bags of Herr's Choco­late Flavor-Drizzled Pump­kin Shaped Pret­zels.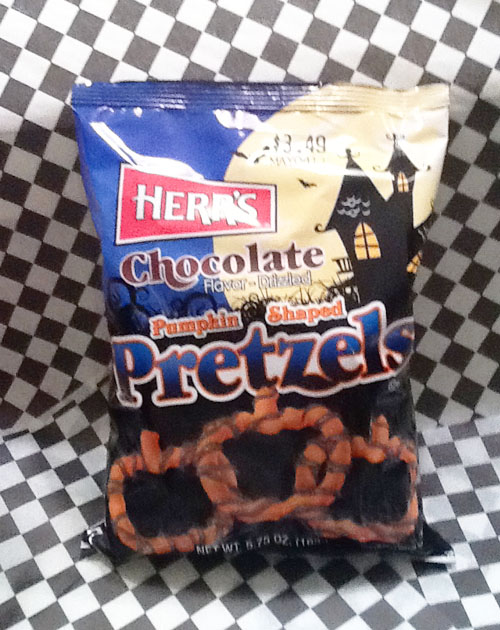 (Another alter­nate title idea for this post: "iPad Takes Shitty Pictures")
Now, I don't know who at Herr's is in charge of nam­ing prod­ucts, but surely they could have come up with some­thing a lit­tle catch­ier and not quite as wordy as "Herr's Choco­late Flavor-Drizzled Pump­kin Shaped Pret­zels." Surely they could have elim­i­nated a word or two and still have given you all the infor­ma­tion you need to know. The way "Choco­late Flavor-Drizzled" is sep­a­rated out leads me to believe there could be other fla­vors of this prod­uct I'm unaware of–perhaps caramel or white choco­late? And why is "Flavor-Drizzled" hyphen­ated but "Pump­kin Shaped" is not? #ShitNobodyCaresAboutExceptMe
I love the haunted house-themed pack­ag­ing with the giant moon in the back­ground. It's a sub­tle color scheme that lets the Pump­kin Shaped Pret­zels take cen­ter stage. On the back there's also this silly Hal­loween mes­sage that sug­gests pret­zels dress up for Hal­loween just like kids. DAT HERR'S BE CRAY. I love it.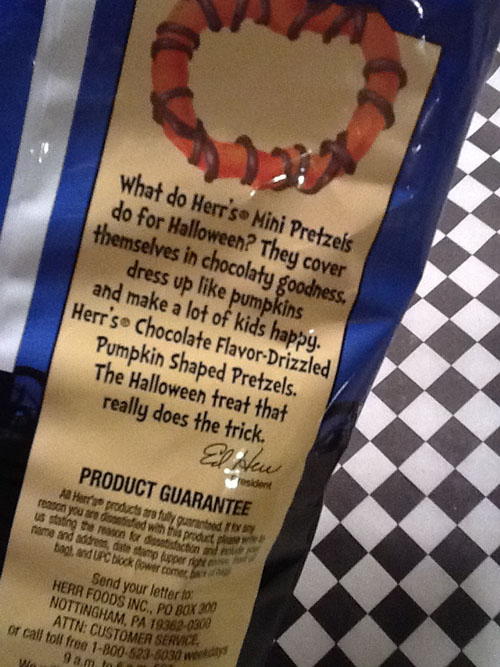 At first I was a lit­tle put off by the $3.49 price tag for what looks like such a small bag of pret­zels, but then my nat­ural instincts for seek­ing out deli­cious Hal­loween snack prod­ucts against all costs took over.
As it turns out, the size of the bag is deceitful.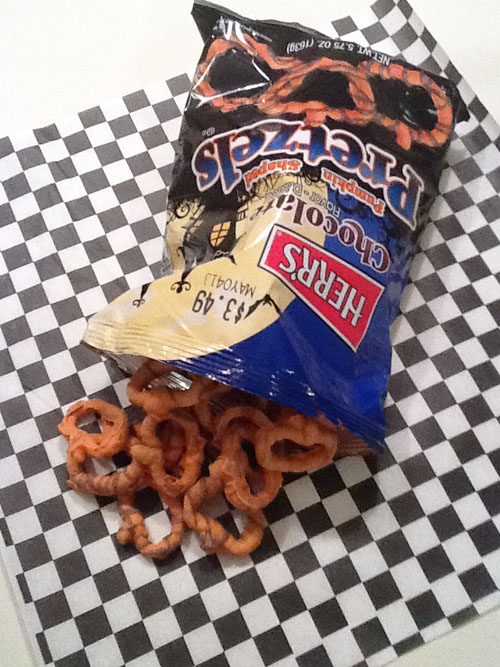 There's plenty of pret­zels inside: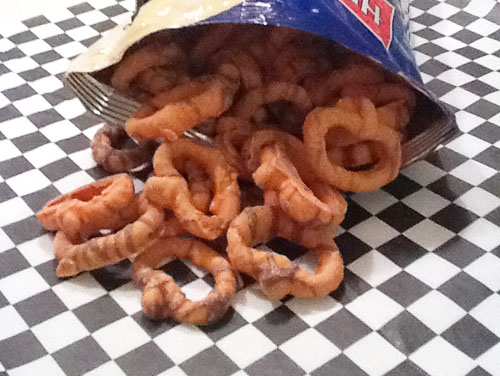 Taste wise, these Pump­kin Pret­zels have the right mix of salty and sweet with a hint of choco­late fla­vor. Other than the fes­tive col­or­ing and shape, they don't seem that much dif­fer­ent than your aver­age chocolate-covered pret­zels, but make no mistake–these things are addic­tive. The orange frost­ing has a but­tery taste on the tongue and the inner pret­zel core has a nice crunch. They're not too sweet or overly salty; they're just perfect.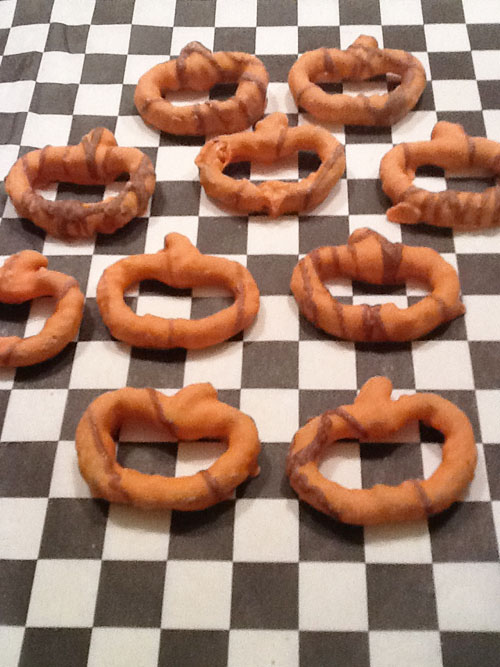 As far as Hal­loween food prod­ucts go, Herr's Choco­late Flavor-Drizzled Pump­kin Shaped Pret­zels (god damn that's get­ting tire­some to type out) aren't the most excit­ing or cre­ative of Hal­loween confections–like, say, Candy Corn Oreos or those green, gooey Cad­bury Scream Eggs. But they look great, taste deli­cious, and more than made my trip into that Rite-Aid worthwhile.