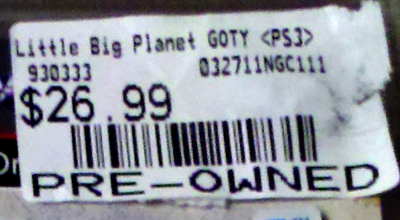 Being a gamer is an expen­sive hobby. There's always a ton of new games to buy, new sys­tems, DLC, periph­er­als,  acces­sories, sub­scrip­tions…  To help keep costs down, I try to buy pre-owned games when I can—especially the titles that have been on my radar for a while, but I never quite got around to play­ing.  When GameStop is run­ning a "Buy One, Get One" or "Buy Two, Get One" pro­mo­tion, I'm usu­ally all over it.   (By the way, don't you just hate the term "pre-owned"?)
If you don't mind own­ing games sec­ond­hand, you can get some good deals this way.  Unfor­tu­nately, buy­ing used also means your game's case and paper insert are likely to be cov­ered in mul­ti­ple lay­ers of price tags, stick­ers and gunky residue. It's enough to make the col­lec­tor in me twitch.
Here's how you can clean up your pre-owned games and make them look (almost) new.
What You'll Need:
A bot­tle of Goo Gone
Roll of paper towels
A plas­tic scraper tool, or your fin­ger­nail (if it's long and sturdy enough)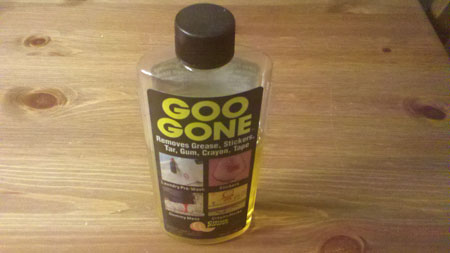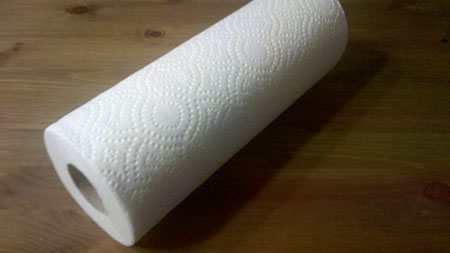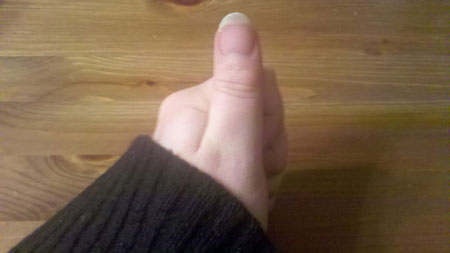 Before
Here's some "before" pic­tures of Lit­tle Big Planet , one of the used games I started with: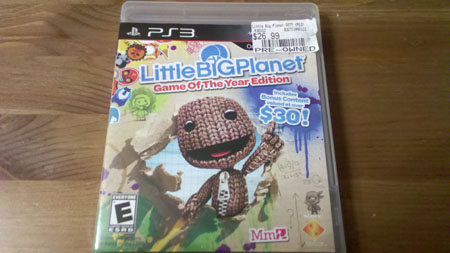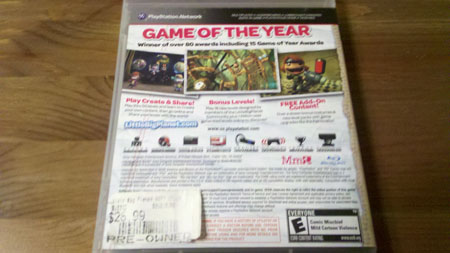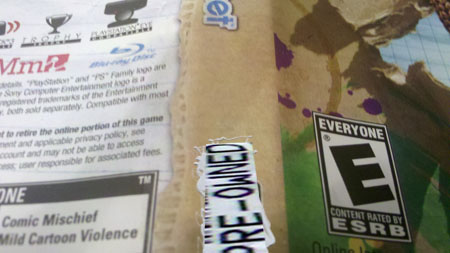 There was even a sticker on the game's paper insert.  GameStop is espe­cially guilty of putting stick­ers here, which really pisses me off.  But that's OK; we can take care of it.
Step 1: First, wrap a paper towel around your index fin­ger and wet it with a few squirts of Goo Gone. (It's safe for skin con­tact, and even has a pleas­ant lemon-fresh scent!)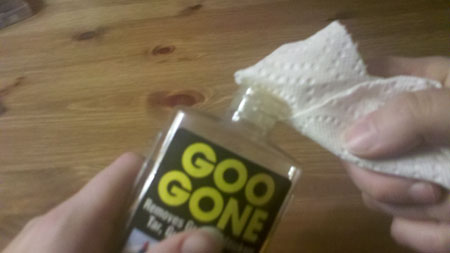 Step 2: Apply the moist­ened paper towel directly to the sticker.  Press down hard all over the sticker to make the Goo Gone pen­e­trate the lay­ers of paper; usu­ally there's a glossy top layer and a thin, fuzzy back­ing (which is the crap that leaves the most residue).
For extremely stub­born residue, you might need to pour Goo Gone directly on the sticker, com­pletely sat­u­rat­ing it: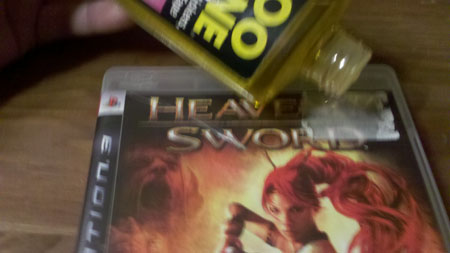 Step 3: Gen­tly peel away the  sticker with your fin­ger­nail or plas­tic scraper tool.  I would rec­om­mend NOT using a razor blade, which could acci­den­tally pierce right through the plas­tic case.  Rub the edges until you can slip your fin­ger­nail or scraper under­neath, then slowly and gen­tly scrape until the sticker comes off; if you're lucky, in one piece.
Step 4: You'll most likely have a fine layer of sticky gunk left behind on the case when after remov­ing the sticker, like this: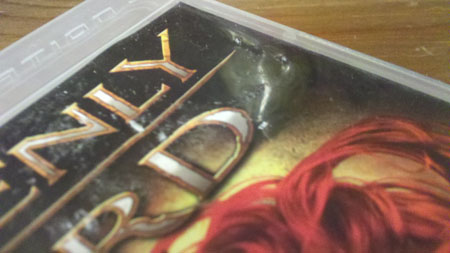 Dampen another paper towel with more Goo Gone and rub it all over the sticky sur­face.  The Goo Gone will remove all the tiny bits of crap.  Keep pol­ish­ing the plas­tic with the moist­ened paper towel until the sur­face is smooth and shiny.
Step 5: If there are stick­ers on your game's cover insert (the hor­ror!), you'll need to remove it from the plas­tic case.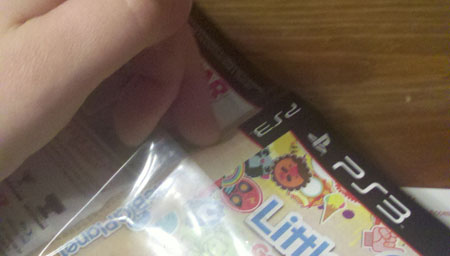 Step 6: This part is tricky, and much harder than remov­ing stick­ers on the plas­tic case because you won't be able to use Goo Gone, which could dam­age the paper.  With your fin­ger­nail or scraper, slowly and gen­tly scrape at the edges of the sticker until it starts to "roll up" under your nail or scraper edge.  Work from the edges toward the cen­ter of the sticker, rolling it up bit by bit until you can peel it away.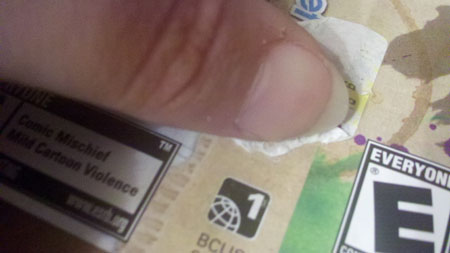 The cover inserts are pretty glossy, so usu­ally the sticker will come off clean, as long as you're careful…it's just an annoy­ingly slow process.  Put the cover insert back inside of the plas­tic case when it's clean.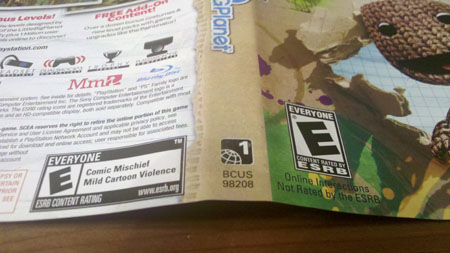 After
Ta-da! When you're all fin­ished, you should have a rel­a­tively new-looking game before you:
Of course, there's a cou­ple of things you can do while you're shop­ping to avoid sticker frus­tra­tion and buy the newest-looking games pos­si­ble. Here are some tips:
Closely inspect the games before you buy them. Is the cover insert torn? Are there scratches or frayed edges on the plas­tic cover?  Try to find the newest-looking copy you can.  At GameStop, the game box you pull of the shelf is the one you're tak­ing home.
If a game doesn't have a cover or book­let (or both), don't buy it. There's usu­ally mul­ti­ple copies of the same game float­ing around, some with and some with­out all the pack­ag­ing.  And retard­edly, they're usu­ally the same price no mat­ter what con­di­tion they're in.
Test-peel the stick­ers while you're still in the store to see if they seem like they'll come off cleanly. Avoid the boxes with mul­ti­ple lay­ers of sticker build-up and go for the ones that look like they haven't been sit­ting on the shelves for months on end.
Yes, I real­ize this all seems a bit anal-retentive, but when you love your games as much as I do and enjoy show­ing off your col­lec­tion, it's worth tak­ing the extra time to make 'em look shiny and new.  And who doesn't love shiny things?