Last year a  Weg­mans  store opened up in my town. Unless you live in the North East, you might not be famil­iar with the chain, but basi­cally it's like a super-mega-ultra gro­cery store. Think of a depart­ment store, except all gro­ceries and pre­pared foods. It is a super­mar­ket to rule all other supermarkets.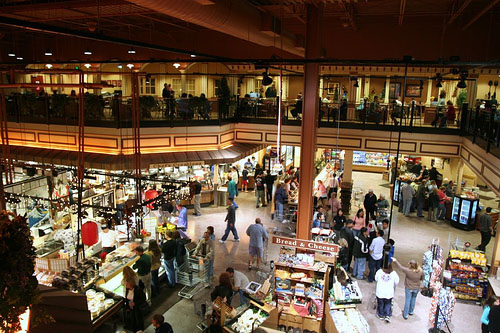 Within the walls of this mam­moth struc­ture you can find every type of food imag­in­able, strate­gi­cally orga­nized into smaller store-like departments.There's the organic food sec­tion, which is like a minia­ture Trader Joe's ; the candy shoppe with its over­flow­ing of bins of bulk sweets; a huge, ridicu­lous pre­pared foods sec­tion, which is a restaurant-like smörgås­bord of cuisines from around the world; these are just a few exam­ples of Weg­mans' greatness.
How­ever, I don't typ­i­cally do my shop­ping there because, evi­dently, higher prices are the trade-off for so much awe­some­ness. Not to men­tion it's on the other side of town and I'm lazy. So for me Weg­mans is more of an expe­ri­ence; a once-in-a-while type of treat that I'll occa­sion­ally go out of my way for when I'm crav­ing some­thing I can only get from Wegmans–like the scrumptrules­cent shrimp in cream sauce from their Asian food bar.
This past week­end I dis­cov­ered some­thing I hadn't really noticed before: the Inter­na­tional Foods aisle. I soon learned it is a dan­ger­ous, dan­ger­ous place for me because I walked out of there with more Japan­ese snacks than I could carry: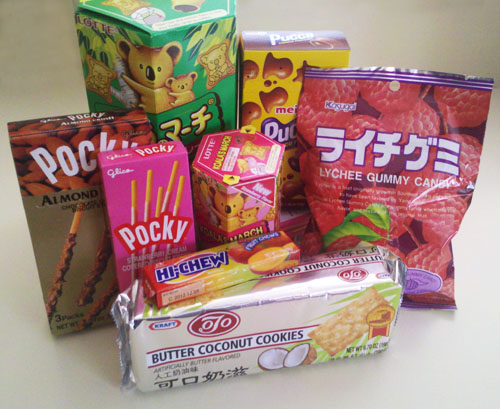 There aren't many places you can buy Pocky and Koala's March around here. They even had my favorite fla­vor of Pocky, Almond Crush. I couldn't resist pick­ing up a few other treats that looked tempt­ing, like Mango-flavored Hi-Chew, Ojo But­ter Coconut Cook­ies (which are made by Kraft?), Kasugai Lychee Gum­mies, and Meiji Pucca Choco Pret­zels, which are adorably shaped like lit­tle fish. Why does food taste bet­ter when it's cute?
All I can say is thank good­ness this store is such a has­sle for me to get to, oth­er­wise this could become a reg­u­lar habit.