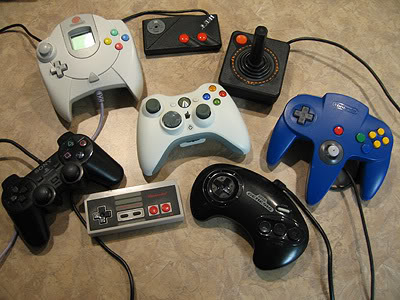 Ever hear this famil­iar warn­ing as a kid?  "You've been play­ing too many video games!" I'm begin­ning to think my Mom had a point (although in her case, she was prob­a­bly refer­ring to my reg­u­lar habit of neglect­ing chores in favor of more qual­ity time with my Sega Gen­e­sis, but I digress).  Anyway—lately I've been buzzing back and forth between video games like a fly in a field full of cow shit, with no real pur­pose or agenda.  The result is an over­whelm­ing amount of men­tal clut­ter in the form of half-finished games.
Just for shig­gles, here's the abridged list of what I'm play­ing right now:
Alan Wake (360)
Dragon Age: Ori­gins (360)
Red Dead Redemp­tion (

PS3

)
Super Mario Galaxy 2 (Wii)
Black Mir­ror

II

 (

PC

)
Dark­fall 3:  Lost Souls (

PC

)
Phoenix Wright: Ace Attor­ney (

DS

)
Hotel Dusk: Room 215 (

DS

)
I was won­der­ing if any­one else has ever put a name to this afflic­tion, and sure enough a quick Google search turned up this blog post which sums it up quite nicely: "Gamer Atten­tion Deficit Dis­or­der, or Gamer ADD, is a term used by many gamers to describe the behav­ior of flit­ting from one [game] to another, never stick­ing with one [game] for any appre­cia­ble amount of time; also, being eas­ily dis­tracted by new games and sys­tems at the expense of your wal­let, focus, or both."
The last time I can remem­ber play­ing a game from start to fin­ish with­out any dis­trac­tions what­so­ever was when I played through Uncharted , which, begs the ques­tion: Is Gamer ADD per­haps just a symp­tom of mediocre games?  Uncharted is a phe­nom­e­nal game, and one I sim­ply couldn't put down.   So what does that say about these other titles I'm play­ing?  Why can't any of them hold my atten­tion for more than an hour or two in one session?
Maybe some of us play games like we watch TV: aim­lessly flip­ping the chan­nels, seek­ing a vari­ety of choices in our enter­tain­ment.  Or does it have more to do with a game's design & playa­bil­ity?  I know with some games, the stress level is much higher than oth­ers: frus­trat­ing sequences where I keep dying, puz­zles I can't solve, or tedious amounts of read­ing, grind­ing, or back­track­ing.  These are prob­a­bly the times when I'm most likely to power down one game and go fire up another.
What­ever the answer, it's at least com­fort­ing to know I'm not the only one with this prob­lem.  How about you—do you ever get Gamer ADD?