I'm sorry, was that too harsh?
Last night's con­clu­sion to A&E's "four-hour epic mini-series" COMA  left me feel­ing incred­i­bly under­whelmed after what I felt was a solid opener. I'll admit to falling prey to clever mar­ket­ing: for a made-for-TV movie, phrases like "pre­sented by Rid­ley Scott" and "star-studded cast" tend to res­onate with me. I mean, just look at the names at the top of this poster: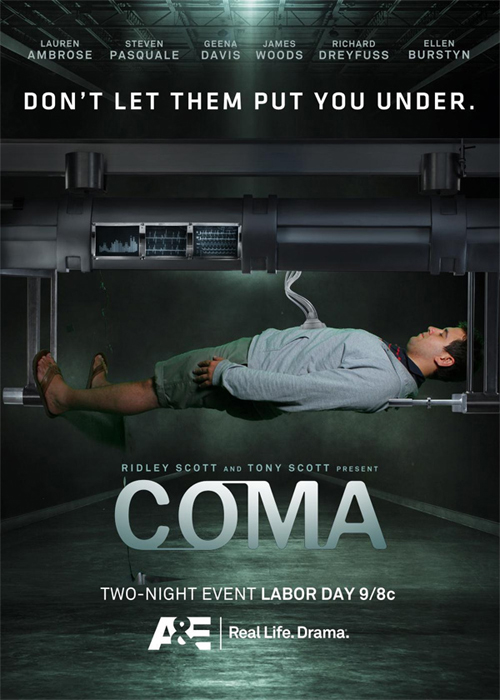 Geena Davis? James Woods? Richard Drey­fuss? Ellen Burstyn? Rid­ley and Tony Scott (R.I.P.)? Plus, a dis­turbingly creepy sci-fi/medical mys­tery? How can this go wrong?
The answer is every which way imag­in­able . First of all, even though it's "pre­sented" by the Scotts, it's not directed by either one of them so don't bother get­ting excited about that. Sec­ondly, even though it boasts some big names, the major­ity of COMA stars Lau­ren Ambrose and Steven Pasquale, and nei­ther of them are exactly what I'd call a great actor. Out­side of the big stars, the act­ing was pretty atro­cious all around, but bad dia­logue is cer­tainly to blame as well. Though it had slick pro­duc­tion val­ues and looked good for a TV movie, the direc­tion and edit­ing felt on par with an episode of CSI. Blah.
The biggest prob­lem with COMA, how­ever, is how painfully obvi­ous the plot is. I con­fess, I have not read the best­selling book this movie was based on, nor have I seen the orig­i­nal 1978 film. From what I under­stand, it's one of those twisty-turny thriller types with a lot of slow-building ten­sion and a huge twist end­ing. That's a movie I would like to see. A&E's ver­sion, how­ever, seems to spoil the mys­tery early and spends the rest of the time beat­ing you over the head with it. Once you know what's really going on at the creepy Jef­fer­son Insti­tute, there's no rea­son to keep watch­ing. Every scene is painfully dragged out and felt like it was padded to fill up the four-hour time slot. By the third hour, I was bored out of my mind and kept watch­ing out of sheer des­per­a­tion that it would get better.
This is one of the first times in a long time that I've actu­ally made an effort to com­mit to a "two-night tele­vi­sion event," as I typ­i­cally pre­fer to let them pass me by and wait for the reviews to roll in before decid­ing if it's worth my time. I sorely regret not hav­ing done so in this case. I mean, four hours is a LOT of time to com­mit to some­thing that sucks this much, so con­sider this a pub­lic ser­vice announce­ment if you haven't seen it yet.
ShezCrafti's Rating:
4 out of 10 stars.