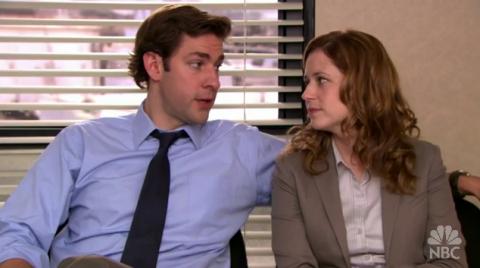 You know, I've been say­ing how bor­ing Jim and Pam are get­ting lately.
Last week's episode of The Office ended on a very inter­est­ing note, which you may not have noticed unless you stuck around to watch until the very last three sec­onds.  In the final scene, Kathy is over­heard talk­ing on her cell­phone about Jim, and pretty much flat out said she plans to try to sleep with him.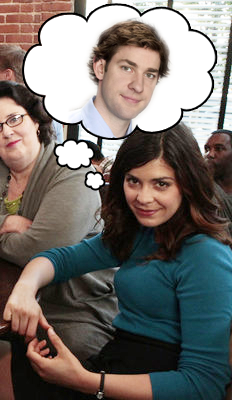 Jim and Kathy are part of a small task force of Dun­der Mif­flin employ­ees (which con­ve­niently doesn't include Pam) who were cho­sen by Dwight to go on a busi­ness trip to Tal­la­has­see, Florida, to help open up a chain of new Sabre stores.  Hmm, let's see—the beach, hotel rooms, and Robert Cal­i­for­nia.  Obvi­ously this is the per­fect setup for infidelity!
Kathy Simms (pic­tured right), oth­er­wise known as "the new girl", was intro­duced ear­lier this sea­son in the episode clev­erly named with the dou­ble enten­dre  "Pam's Replace­ment."  Pam has been on mater­nity leave since the birth of her sec­ond child with Jim, and has been notice­ably absent for most of this season.
I was pretty sus­pi­cious right off the bat when Kathy's char­ac­ter was intro­duced. She wasted no time cozy­ing up to Jim, and in gen­eral just comes across as a back­stab­ber.  The show has dropped a few small hints before that Kathy was kind of into Jim, but noth­ing quite so bla­tant as what we saw last week.
I can't wait to tune in tonight to find out what hap­pens. The next few episodes should get real interesting
Update 2/17/12:  Well, it didn't hap­pen last night, but Kathy sure couldn't take her eyes off Jim. They're going to be in Florida for a few more episodes, and I'm sure it's just a mat­ter of time before she puts the moves on him.  And when she does, I have faith Jim will stay true to Pam; that's a rock solid rela­tion­ship.  How­ever, I'm pre­dict­ing some kind of Three's Company-like mix-up where Kathy goes for it, gets shot down by Jim, but some­one else catches wind of what's hap­pen­ing and com­pletely mis­in­ter­prets the sit­u­a­tion, word gets back to Pam, and shit­storm ensues.  Guess we'll just have to wait and see.
Spoiler Alert!
Update 2/24/12: OMG Kathy is such a whore!  Last night she was all over Jim like Stan­ley on pret­zels. After invent­ing some totally lame excuse about her room being too cold (yet she's pranc­ing around in box­ers and a tank top), she invited her­self into Jim's room and tried her damnedest to get him to sleep with her. Of course Jim didn't go for it, and Kathy tried to pre­tend he was mis­read­ing the sit­u­a­tion. But that sure didn't stop her from try­ing.  Some­where in the mid­dle of all that, Stan­ley stag­gers drunk­enly into Jim's room to raid his mini-fridge and totally gives Jim a lit­tle wink/nudge, much to Jim's dis­may.  What hap­pens after that might be one of the fun­ni­est "Dwight to the res­cue" moments ever. The only ques­tion now is whether word about Jim's close encounter will get back to Pam…
Well there you have it, folks. Did I totally call this or what??