So, I turned 31 today. I was kinda hop­ing the day would fly under most people's radar because get­ting old sucks and I've never enjoyed being fussed over. It's bad enough that there's manda­tory cake and singing at my office when­ever it's someone's birth­day (although we do get a day off as a birth­day gift, which is pretty great). Plus, the older I get the more glar­ing it becomes that I'm just a child pre­tend­ing to be an adult. I'd much pre­fer to bury myself in video games and Ninja Tur­tle car­toons and let the day pass by with­out any fanfare…except Face­book makes that nearly impossible–but thanks for the birth­day wishes, everyone!
And then there was this mes­sage from fel­low Lea­guer Team Hel­lions on Twitter:
Whoa! Its @shezcrafti birth­day! That explains why the TMNT aisle was empty.

— Kevin Hel­lions (@TeamHellions) Sep­tem­ber 22, 2012
Oh Kevin, you so silly! You don't know how true that is. Last night my boyfriend sur­prised me with a cou­ple of awe­some early birth­day gifts:
Awe­some Gift #1 — Power Sound
FX

Turtles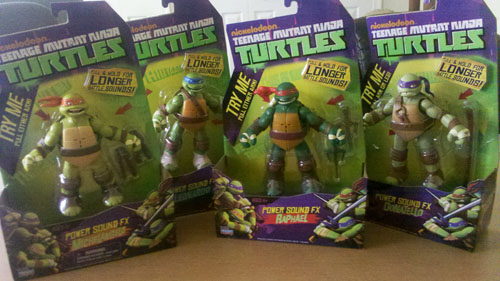 These guys are about two-thirds big­ger than the basic Nick Tur­tles fig­ures and shout out bat­tle cries like "HIIIIYAAAA!!" and "BRING IT!" when you pull their arms and legs. As far as I can tell, the voices are all con­tributed by the same actors who voice each Tur­tle on the new show. I'm a lit­tle bummed that Raph doesn't have the notch miss­ing from his shell, however.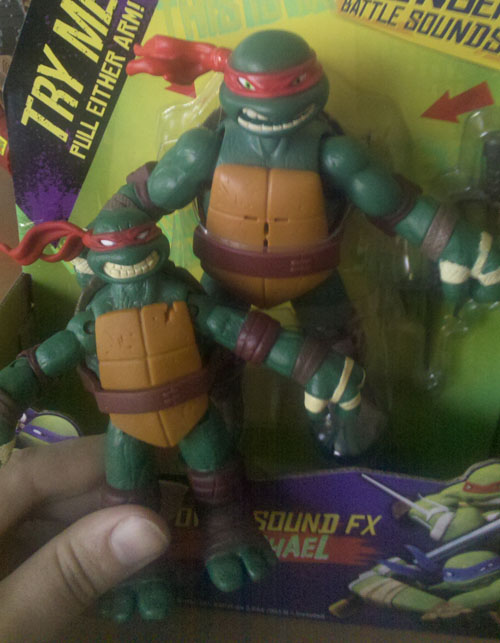 Their faces are also much more detailed–for exam­ple, they have painted-on eyes as opposed to the all white eyes that the basic fig­ures have. One of the unique things about the new show is that the Tur­tles have all been designed with dif­fer­ent eye colors–Leo's are blue, Mikey's are blue, Raph's are green and Donnie's are brown. I like that you can see that on these toys.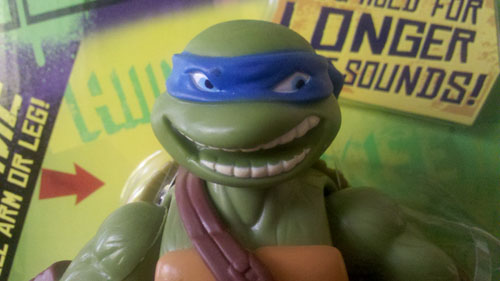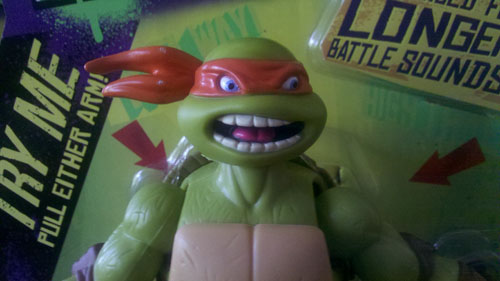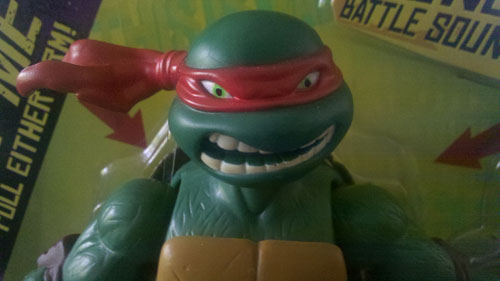 Although I do think Donatello looks mildly constipated: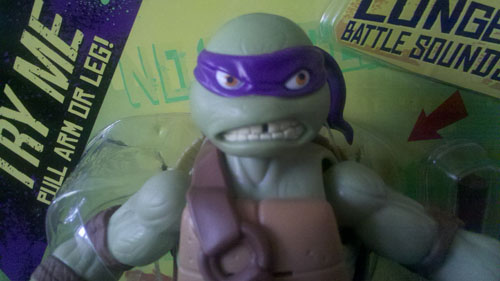 Minor com­plaints aside, these are awe­some toys that'll be right at home with my now "seri­ous" Nick­elodeon TMNT col­lec­tion. Now I just need Power Sound FX Shred­der! Yes, I need him.
Awe­some Gift #2 — Sewer Spin­nin' Skateboard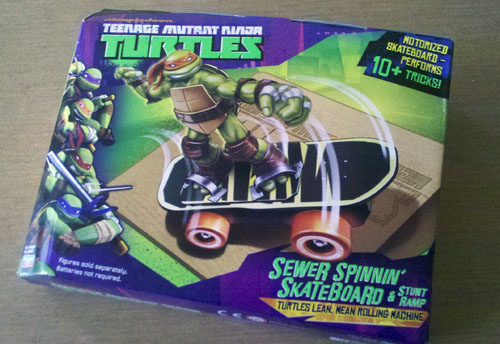 The Sewer Spin­nin' Skate­board was the only vehi­cle I didn't have yet, so this worked out well. I'd say my boyfriend did pretty good for not know­ing jack about the Tur­tles or what all I had in my col­lec­tion already. The decals, par­tic­u­larly the wheel stick­ers, were kind of a pain to peel off del­i­cately (but nowhere nearly as dif­fi­cult as what I had to go through for the Shell­raiser) but other than that, no problems.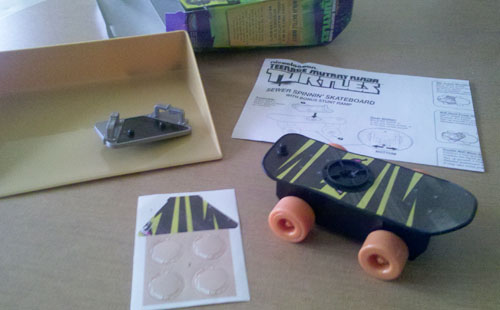 Mikey seemed pretty happy with the final result.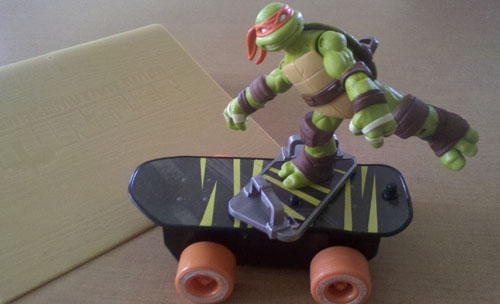 Ninja Tur­tles + Cup­cakes, but not Ninja Tur­tle Cupcakes.
The Tur­tles decided to throw an impromptu cup­cake party for me! Really, cup­cakes are the only pos­si­ble thing I can think of that makes Ninja Tur­tle toys even better.
Here's what I'm guess­ing is hap­pen­ing in this picture:
Leonardo, ever the valiant war­rior, is proudly pro­tect­ing my cup­cakes with his mighty katanas.
Raphael, always eager to show off, is demon­strat­ing his sig­na­ture Statue of Lib­erty move.
Donatello has sci­en­tif­i­cally ana­lyzed my cup­cakes and decided the ratio of sprin­kles to cup­cake was insufficient.
Michae­lan­gelo, mean­while, is attempt­ing to sneak off with one unnoticed.
Happy birth­day to me and stuff.