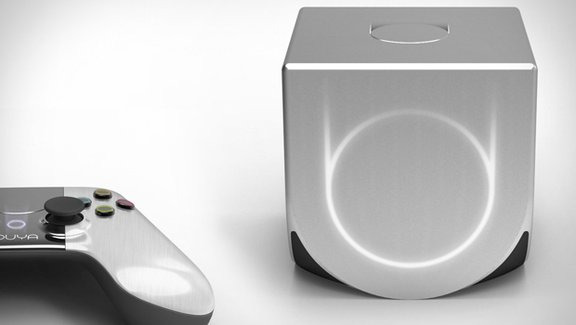 This week I caved to the lit­tle voice inside my head—the one that fre­quently pres­sures me into spend­ing money on fun plas­tic things—and decided to back Ouya , the $99, open-source, Android-based gam­ing con­sole that is being crowd­funded on Kickstarter.
I already own a gam­ing PC, a 360, a PS3, a Wii, an Android phone and now an iPad —so why the hell would I want or need this thing? Fur­ther, how can I feel com­fort­able shelling out over $100 (ship­ping and han­dling plus a sec­ond con­troller costs extra) for a con­sole with sub­par hard­ware specs (com­pared to 360 and PS3) that doesn't exist yet and for which only a very small selec­tion of games have been con­firmed? These are all good questions.
Sup­port­ing a project as ambi­tious as Ouya—a chal­lenger to the core busi­ness model of the gam­ing indus­try that nat­u­rally already has many in the gam­ing press already pre­dict­ing its demise—doesn't come with­out risks:
The end prod­uct might not live up to everyone's expectations.
The types of devel­op­ers Ouya is hop­ing to attract could fail to climb on board.
How­ever, I believe very strongly in the idea  of the Ouya and what it's all about. I believe Ouya is the answer to the gap that exists between core and casual gam­ing. I believe Ouya  could  upset the sta­tus quo and rev­o­lu­tion­ize gam­ing. That's some­thing I want to be a part of and why I'm excited to be tak­ing a risk on Ouya, even if it means going down with the ship if it were to fail. I can live with los­ing a lit­tle bit of money know­ing that it went toward a wor­thy cause.
Here are five per­sonal rea­sons why I'm sup­port­ing Ouya:
#1 — Pride in being an early adopter.
Ouya's run­away Kick­starter suc­cess has proven that there is a mar­ket for this type of gam­ing con­sole and that there are a whole lot of gamers out there who share the platform's ideals. I am one of them. But Ouya's "tele­vised rev­o­lu­tion" can't hap­pen with­out the sup­port of peo­ple like me who rec­og­nize what it's capa­ble of and how it could trans­form the way we think about and con­sume games. Of course, gamers who are expect­ing this con­sole to com­pete with 360 or PS3 who only want to play AAA titles like Call of Duty and Skyrim are NOT the tar­get mar­ket for this product.
#2 — Sup­port of indie game development.
The Ouya's open design means it will be eas­ier for indie devel­op­ers to make games with­out the major hur­dles and huge mar­ket­ing costs required to develop games for plat­forms like 360 and PS3.
Ex-World of War­craft lead and CEO of Red5 Stu­dios (devel­oper of Fire­fall) Michael Kern recently did an  inter­view with Eurogamer  that sums up many of the prob­lems fac­ing the cur­rent gen. Here's the rel­e­vant meat from the article:
The big appeal of Ouya to Kern is the open-platform. Accord­ing to him, the plat­form hold­ers' closed dis­tri­b­u­tion model is sti­fling inno­va­tion and com­mon house­hold tech­nolo­gies are ren­der­ing the cur­rent con­sole cli­mate moot.

Speak­ing of the cur­rent con­soles' closed dis­tri­b­u­tion chan­nel he said, "in order to stand out from the crowd you have to spend as much on mar­ket­ing as you did devel­op­ing it… this is not a sus­tain­able model. Teams have got­ten to have to be larger and larger and larger to jus­tify the $60 up front model."

"It's killing inno­va­tion because no one can take those risks any­more or try some­thing new with those kinds of num­bers. I think that's bad for gamers and I think that's crip­plingly bad for devel­op­ers. And to be hon­est, I don't see Sony or Microsoft embrac­ing the open­ness of the changes that are hap­pen­ing in the gam­ing indus­try right now."

"The rea­son we have no inno­va­tion left on con­soles is because you have to spend so much money to make your game appeal to widest pos­si­ble audi­ence on that plat­form which is a closed plat­form, so that's a lim­ited num­ber of users, right? Ver­sus a PC with a free or open dis­tri­b­u­tion model you can build a com­mu­nity around your game."
#3 — Poten­tial for a lot of good, platform-exclusive games.
The very first one is an awesome-looking zom­bie apoc­a­lypse sur­vival game called Human Ele­ment . Though the  game isn't sched­uled for release until 2015, it's announce­ment and bid of finan­cial and moral sup­port from ex-Call of Duty devel­oper Robert Bowl­ing sig­nals an impor­tant shift: that estab­lished devel­op­ers want to make excit­ing games for Ouya, not to men­tion all the indie exclu­sives that are sure to fol­low as this console's open design was meant to attract them. It's still very early and I hope there will be many more announce­ments like Bowling's, and if there are, I would hate to miss out on any­thing by not own­ing one of these very afford­able devices.
#4 — It's more suited to my play style.
There are a lot of great mobile games for Android and iOS that I love. But I don't love not being able to play them on my huge high-def TV with­out a cum­ber­some rig of wires, extra hard­ware, and con­trollers. Mobile gam­ing is great, but it's not the most com­fort­able of affairs for long gam­ing ses­sions and noth­ing can replace the famil­iar, tac­tile feel­ing of hold­ing a con­troller in your hands. I don't want my Android phone or iPad to have to pull double-duty, espe­cially if I'm using them for other pur­poses like calls and web surf­ing while I'm gam­ing. I would rather have a ded­i­cated piece of hard­ware with a small foot­print in my liv­ing room that han­dles mobile games and that lets me play them the way I want to expe­ri­ence them.
#5 — Home­brew, hacks
&

emu­la­tion that won't void my warranty.

Per­haps the thing that most excites me about Ouya is its "hack­ing encour­aged" phi­los­o­phy. This has the poten­tial to be a killer con­sole for emu­la­tion and home­brew. There are already a bunch of awe­some emu­la­tors on Android for Nin­tendo, Super Nin­tendo, Gen­e­sis, and other con­soles that I'll be able to play on Ouya. As an avid retro gamer, this one machine could replace my col­lec­tion of legacy gam­ing con­soles (even though I'll never get rid of my babies!) and eas­ily let me play all the old clas­sics I love on my big screen TV with­out the has­sles I've men­tioned above. For the $99 price point, I don't think I could put together a decent, com­pact gam­ing com­puter that would let me do all these things and look as nice in my liv­ing room.
Your thoughts?
Are you a gamer? What are your thoughts on Ouya? I'm inter­ested in hear­ing the rea­sons why you would or would not buy one.