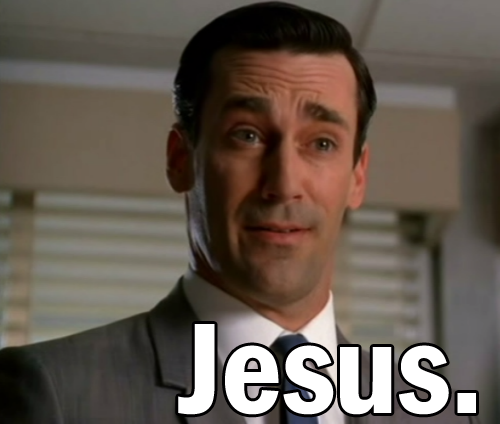 If you've watched a lot of Mad Men , you may have noticed that Don Draper uses the word "Jesus" like a painter uses oils–he ele­vates drop­ping J-bombs to the level of art.
From this sin­gle word, Don Draper ably expresses annoy­ance, shock, com­pre­hen­sion, anger, suave­ness, smug­ness, speech­less­ness, mock­ery, sym­pa­thy, aston­ish­ment, impa­tience, amuse­ment, dis­be­lief, sor­row, com­fort, self-righteousness, con­de­scen­sion, and resignation.
Watch this "Come to Jesus" super­cut and join me in my appre­ci­a­tion for Jon Hamm's deft manip­u­la­tion of the Lord's name:
Fun Bonus Game
See if you can match each of the above words to the clips in the video!