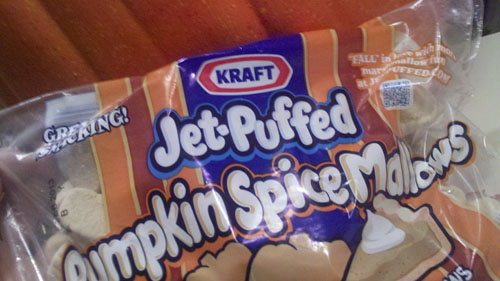 Here's a sweet sea­sonal food prod­uct that until yes­ter­day I had never tried before: pump­kin spice-flavored marsh­mal­lows! (Try as I may, I can never bring myself to call marsh­mal­lows "mal­lows." It just doesn't have the same appeal.) Appar­ently these have been around since last year and were a huge hit on a lot of bak­ing and cook­ing sites, but since they're new to me I decided to review them any­way. For shiggles.
Believe it or not, I received this pack­age of Kraft Jet-Puffed Pump­kin Spice Mal­lows as part of a Halloween-themed birth­day gift. The first thing I noticed was the very pumpkin-y scent, which I could smell through the bag before I even opened it.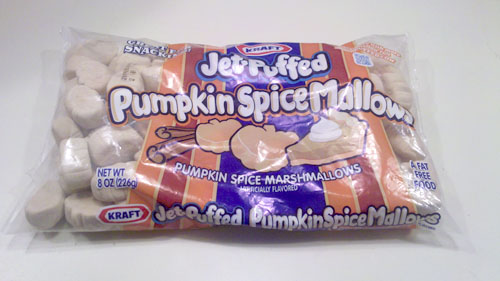 In addi­tion to being fla­vored with pumpkin-spice and dusted with a sub­tle orangey-brown color, these marsh­mal­lows are pumpkin-shaped. That's fun and exciting…right?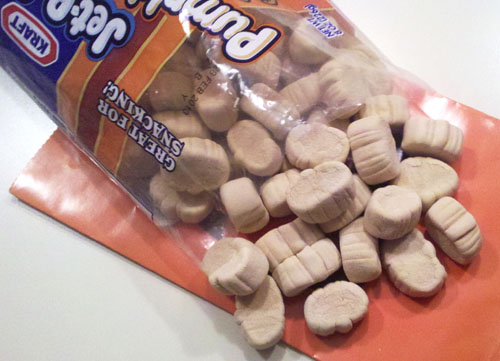 Once again I'm feel­ing the need to apol­o­gize for my phone's crappy cam­era and my com­plete lack of pho­tog­ra­phy skill. So, yeah, sorry about that. On the plus side I dis­cov­ered that tak­ing pic­tures of pumpkin-shaped marsh­mal­lows is more fun than it should be.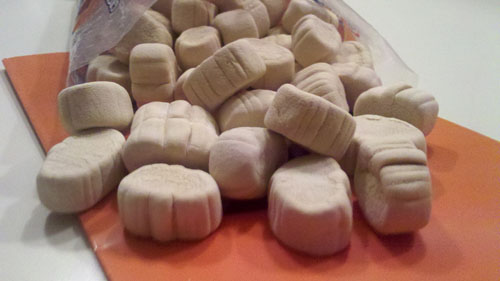 I was a lit­tle wor­ried they wouldn't taste good since the smell of pump­kin spice in these is so over-powering, but I was pleas­antly sur­prised. The pumpkin-y taste is, thank­fully, much more sub­tle than the smell. On the other hand, because these are just marsh­mal­lows, it's also kind of a tease.  It's a bit like hov­er­ing over a freshly-baked pump­kin pie and breath­ing in the fumes. But I'd much rather eat marsh­mal­lows that are faintly kissed with fake pump­kin fla­vor than marsh­mal­lows that taste over­whelm­ingly like fake pump­kin flavor–so these get a pass from me.
The All-Important Hot Choco­late Test
Because what good is a marsh­mal­low if it doesn't taste good in hot choco­late? For this review I went the extra mile and brewed up a steam­ing cup of hot choco­late, which took all of a few sec­onds thanks to my Keurig–and yes, that totally qual­i­fies as "going the extra mile" for me–and plopped in a few Pump­kin Spice Mallows.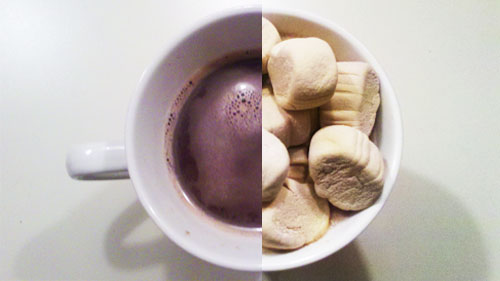 I let them sit a few moments so the marsh­mal­lows would start to dis­solve and get all melty in the choco­late before tak­ing a sip.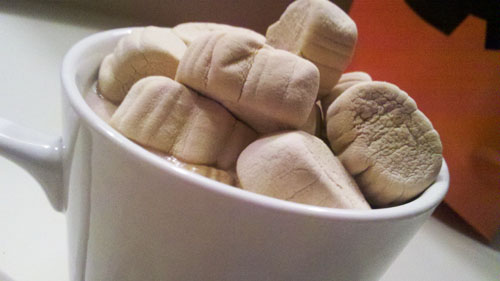 What did it taste like?
Happiness.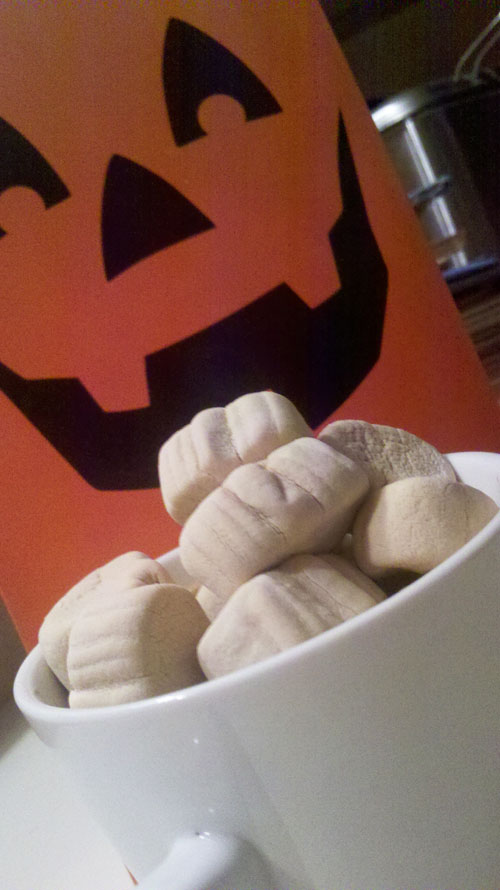 So the bot­tom line from me on Pump­kin Spice Mal­lows is this: pass­able as a stand­alone snack, AMAZING in a cup of hot chocolate.
P.S. — My Hal­loween to-do list now includes using Pump­kin Spice Mal­lows to make Pump­kin Spice Rice Krispy Treats .