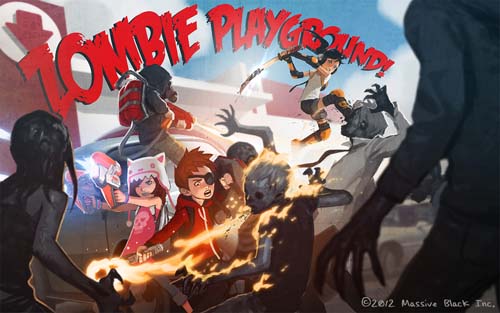 Like it or not, Kick­Starter is here to stay as a proven fundrais­ing plat­form that more game devel­op­ers are turn­ing to for crowd­sourced fund­ing for their games. I myself have backed three games on Kick­Starter  just within the past few months and if more awe­some projects keep crop­ping up, I may quickly go broke.
Take Zom­bie Play­ground , for exam­ple. It's an extremely cool-looking 3D action, online bat­tle RPG (think a more light­hearted Left 4 Dead but with action-RPG ele­ments) that drops kids into the mid­dle of the zom­bie apocalypse.
On its Kick­Starter page, devel­oper Mas­sive Black describes the game like this:
In Zom­bie Play­ground you take on the role of a kid dur­ing a zom­bie apoc­a­lypse as seen through his or her imag­i­na­tion.  Your school is over­run by the undead, and it's up to you and your friends to do what­ever it takes to survive!

Zom­bie Play­ground is an online, team based, action arena game with RPG ele­ments.  Game­play will be deep, chal­leng­ing, and reward­ing.   The game com­bines child­hood nos­tal­gia with hor­rific mon­sters, vis­ceral com­bat, and a unique atmos­phere straight out a child's night­mares.  We do want to make it very clear: this is not a game for kids!

Game­play in Zom­bie Play­ground will be a hybrid of third per­son shooter and action RPG mechan­ics set in a coop­er­a­tive zom­bie sur­vival hor­ror arena.  This is not a mind­less hack and slash!  Play­ers will have their team­work abil­i­ties, bat­tle tac­tics, and sur­vival skills put to the test as they fight to sur­vive against hordes of the undead.  As play­ers progress, their char­ac­ters will level up, allow­ing play­ers to unlock invalu­able new abil­i­ties to help them take on increas­ingly dan­ger­ous chal­lenges.  Acquir­ing new weapons, items, and arti­cles of cloth­ing will allow play­ers to fur­ther cus­tomize their char­ac­ters for even more vari­ety and tac­ti­cal ver­sa­til­ity or specialization.

The mood we want to cap­ture Zom­bie Play­ground is the feel­ing that you had as a child when you were com­pletely immersed in your imag­i­na­tion fight­ing mon­sters, shoot­ing guns, and doing things that you thought were cool from your favorite movies, comics, and video games.  For Zom­bie Play­ground, the set­ting is inspired from pop­u­lar Zom­bie fran­chises and will take place in the local mid­dle school.  We aim to deliver all of the hor­ror and ten­sion asso­ci­ated with zom­bie titles, but spiced up with some good old child­hood nos­tal­gia.  It can be eas­ily explained in the fol­low­ing formula:

Goonies + Attack the Block + Walk­ing Dead = Zom­bie Play­ground
Any­thing invok­ing the name Goonies, the Holy Grail of all kids' movies, gets my instant stamp of approval. Plus Attack the Block ? Now that sounds like one hel­luva good time.
Here's a look at the rag tag group of mid­dle school­ers you'll con­trol in Zom­bie Play­ground :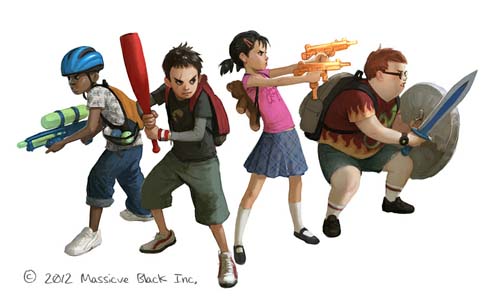 My only com­plaint about this project might be the pledge tier rewards, which are basi­cally struc­tured to tempt you into spend­ing more money if you want to play on easy-mode. For exam­ple, if you pledge $150 you'll get glow-in-the-dark shoes, an in-game item that will give you a huge advan­tage over other play­ers. Also, you might want to read the fine print care­fully as the esti­mated deliv­ery date is not until March 2013–almost two years away.
How­ever, I think it's safe to say I'll soon be count­ing Zom­bie Play­ground among the grow­ing list of Kick­Starter projects that are part­ing me from my money.
Update:  Dammit KickStarter!