I was going through a box of junk in my closet ear­lier tonight in search of some­thing com­pletely unre­lated (Chi­nese ther­apy balls–don't ask) when I dis­cov­ered a thick stack of draw­ings that I appar­ently did in mid­dle school, because they're dated circa 1993 — 1994.  I would have been in 7th and 8th grade.
Check out the hand­i­work on my cross-eyed Chun Li: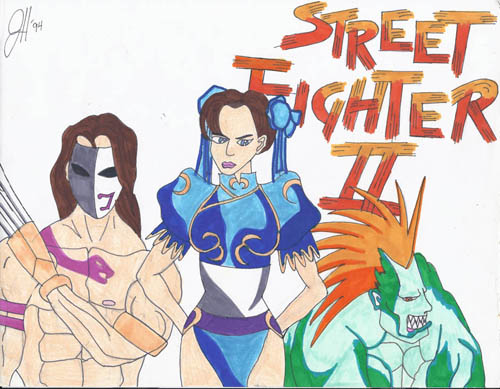 Pure skill.
The funny thing is, I'm not sure I could draw any bet­ter if I tried today. With the excep­tion of a poster-size George Har­ri­son por­trait I once drew for my boyfriend in in the early '00s, I haven't put pen­cil to paper since high school art class, where pretty much all I did was dick around and take stealth naps.
Any­way, here's the rest of the draw­ings I found:
Look­ing at these draw­ings at age 30 is like open­ing a time cap­sule of my past nerdy inter­ests: X-Men, Sega games, Ani­ma­ni­acs , Dis­ney, Teenage Mutant Ninja Tur­tles… Oh wait, I still like all that stuff.  But it's funny to exam­ine them through the lens of my twelve year old self.  For exam­ple, I must have thought Psy­locke was one of the coolest X-Men because I drew her three times.  I must have also been really obsessed with the Sega CD game  Vay at the time.
Nowa­days most of my art is done on a com­puter screen, but there was a time when I would spend hours on end sight-drawing ran­dom sub­jects from what­ever nerd para­pher­na­lia  I had lay­ing around–game man­u­als, comic books, trad­ing cards, Sega Visions magazine…
I would put on music (prob­a­bly Ace of Base, lol) and just go to town until my hands went numb and eraser shav­ings cov­ered my lap. I remem­ber insist­ing my mom buy me those nice black Pilot ink pens which I used to painstak­ingly trace over my pen­cil lines.  Also: I'm not very skilled at col­or­ing with markers.
Some­times I think about get­ting back into the habit of draw­ing regularly–I have sev­eral half-ass sketch­books that were started with the best intentions–but the prob­lem is that I tend to think of a zil­lion other more pro­duc­tive things I could be doing with my time and the nov­elty wears off right quick.
Maybe I should just start draw­ing Ninja Tur­tles every day.