Last week I was ran­domly brows­ing #TMNT on Twit­ter (I think it was some­time dur­ing the the Bayliens back­lash) when I stum­bled upon  this guy .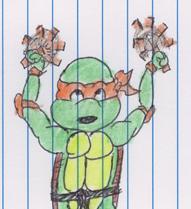 His name is Wes and he has a cute TMNT blog where he draws a new Ninja Tur­tle pic­ture every day.  Well, almost every day.
He read­ily admits that he's not an artist–which is appar­ent from the lined note­book paper and crayon scrib­bles that adorn his work–but he loves to draw Ninja Tur­tles so that's exactly what he does!
There's some­thing kind of charm­ing about a grown man who loves to draw Ninja Tur­tles with­out a care in the world about what any­one thinks or even if the draw­ings are any good.  As I men­tioned on his blog, it takes me back to my junior high days when I spent most of my time in class draw­ing Ninja Tur­tles (very poorly) and not doing what­ever it was I was sup­posed to be doing.
I asked Wes if he took requests, and he was more than happy to humor me with this amaze­balls pic­ture of Raphael, my favorite Tur­tle, crouch­ing on the rooftops of New York City: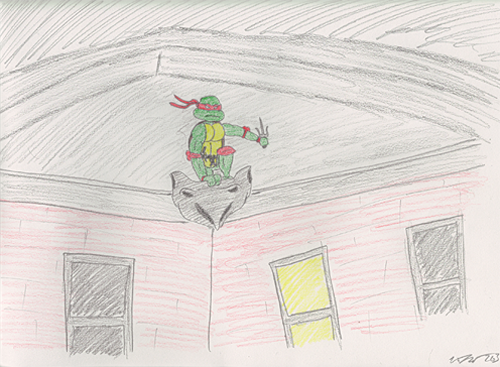 Note the gar­goyle thrown in as an added bonus! I have no idea how Wes knew that Gar­goyles was also one of my favorite shows from child­hood. I'm pretty sure that my find­ing his blog was writ in destiny.
The next day he drew me the same pic­ture but from a dif­fer­ent perspective: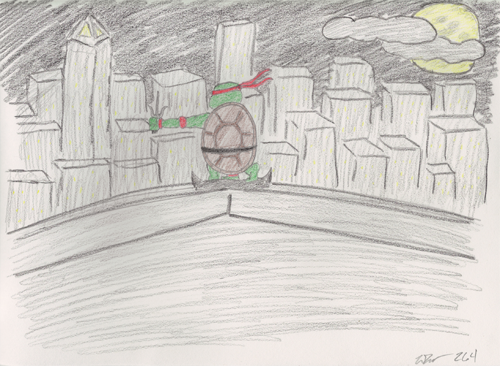 Totally shell­tas­tic AND refrig­er­a­tor worthy.
Any­way, check out Wes's "Tur­tle a Day" blog for more orig­i­nal, hand drawn Ninja Tur­tle good­ness and occa­sional reviews about the other nerdy and equally awe­some stuff he's into (which he also clev­erly illus­trates with Ninja Tur­tles).   And what a nice guy, too.